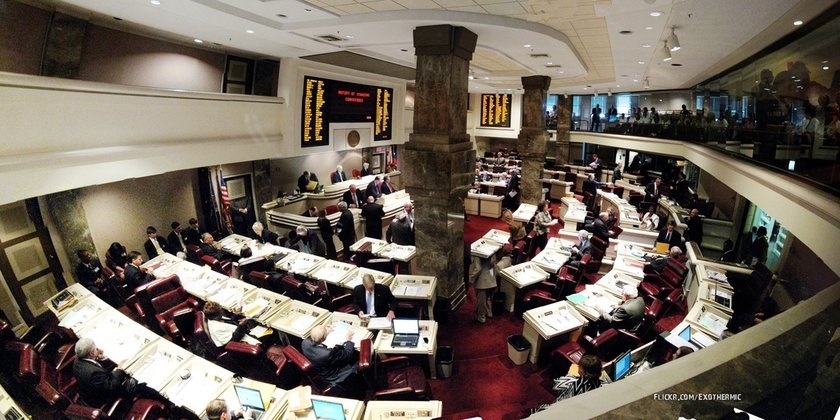 MONTGOMERY, Ala. — Representative Ed Henry (R-Hartselle) has officially filed articles of impeachment against Governor Robert Bentley after accumulating the 21 signatures needed to begin the process.
Henry's original resolution had 10 co-sponsors, but earlier this week the House passed a new rule outlining a framework for the impeachment process, which has not been tried in over 100 years. The new rule required a minimum of 21 signatures to send an impeachment resolution to the Judiciary Committee. Henry rounded up 23 signatures from his fellow legislators, including 20 Republicans and 3 Democrats.
Other legislators who signed the resolution praised Henry for his leadership through this process.
"This never would have happened against the will of the establishment of it weren't for Ed Henry's tenaciousness," said Rep. Johnny Mack Marrow (D-Red Bay).
The resolution makes reference to the two complaints filed against the governor with the Alabama Ethics Commission by State Auditor Jim Zeigler and former Morgan County Commissioner Stacy Lee George.
The resolution also claims that Bentley "violated the public trust" and accuses the governor of "willful neglect of duty" and "corruption of office," including misuse of state property, misappropriation of state resources, and acting in violation of law to promote his own personal agenda.
Here are the 23 lawmakers who signed Henry's impeachment resolution:
• Ed Henry (R-Hartselle)
• Isaac Whorton (R-Valley)
• David Sessions (R-Grand Bay)
• Mike Ball (R-Madison)
• Jim Patterson (R-Meridianville)
• Tommy Hanes (R-Bryant)
• Ritchie Whorton (R-Owens Cross Roads)
• Mike Holmes (R-Wetumpka)
• David Standridge (R-Oneonta)
• Barry Moore (R-Elba)
• Danny Crawford (R-Athens)
• Allen Farley (R-Pleasant Grove)
• Jack W. Williams (R-Georgetown)
• Will Ainsworth (R-Guntersville)
• Craig Ford (D-Gadsden)
• Patricia Todd (D-Birmingham)
• Margie Wilcox (R-Mobile)
• Mack Butler (R-Gadsden)
• Becky Nordgren (R-Gadsden)
• Phil Williams (R-Harvest)
• Johnny Mack Morrow (D-Red Bay)
• Reed Ingram (R-Montgomery)
• Arnold Mooney (R-Birmingham)
Governor Bentley has repeatedly said there are no grounds for impeachment, and has called the attempt a political attack.
Don't miss out!  Subscribe today to have Alabama's leading headlines delivered to your inbox.