The Birmingham City Council voted on Tuesday to extend the city's mask requirement for roughly six more weeks, with the ordinance now set to expire on May 24.
Alabama's statewide mandate is set to expire on April 9, pushing the question of keeping facial covering rules in place to local governments.
Extending the mandate was championed by Mayor Randall Woodfin and council president William Parker. In public remarks on Tuesday, Woodfin claimed the extension is "necessary" and noted the police will only intervene in "common sense" cases such as a request from a business owner.

While city-level data is not easily accessible, Birmingham's decision on masks comes as Jefferson County has averaged 40 new cases of the coronavirus in the past week, below the area's peak of 640 per day in late December.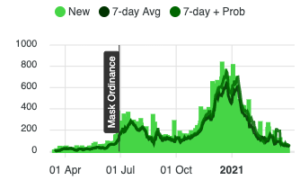 Notably, 176,151 citizens of Jefferson County have received at least one dose of the coronavirus vaccines. According to the Census Bureau, there are roughly 574,000 adults in the county, meaning roughly 31% of the area's adults have gotten a vaccine dose.
The administration of the vaccines has targeted those most vulnerable to dying of COVID-19, reducing the most tragic risk that can result from the virus.
Ultimately, the council voted 8-1 to extend the mandate. The lone no vote was councilman Hunter Williams, who represents a district on the city's southeast edge.
Birmingham is currently set to be the only one of Jefferson County's 32 cities to keep requiring masks after the state's rule ends on April 9.
Even outside of Birmingham, many citizens will face situations after the statewide mandate ends where businesses or other entities require masks for entrance.
The governor's office made signage available with messages such as "Mask required for service" and "Thank you for wearing a mask." Companies can choose to display such signs if they wish.
Henry Thornton is a staff writer for Yellowhammer News. You can contact him by email: [email protected] or on Twitter @HenryThornton95.
Don't miss out!  Subscribe today to have Alabama's leading headlines delivered to your inbox.