MONTGOMERY — Governor Kay Ivey announced Thursday that Alabama's mask mandate is being extended for the final time, with the ordinance set to cease permanently on Friday, April 9.
The decision comes as new cases of COVID-19 have plateaued in the last week at a rate far below their all-time high and below the level that initiated the mask mandate in July 2020.
In extending the order, Ivey has granted the request of the Alabama Hospital Association and health experts at UAB Medicine who felt an extension of the order was needed to help keep cases down as the vaccination process accelerates.
"There is no question that wearing masks has been one of our greatest tools in preventing spread of the virus," said Ivey during a press conference at the State Capitol.

Ivey also announced some additional changes to the State Health Order on Thursday. The entirety of the order can be read here.
Patients and residents at hospitals and nursing homes will be allowed two visitors at a time. Bars and restaurants do not have to limit the size of seated groups. At senior citizen centers, group outdoor activities may resume.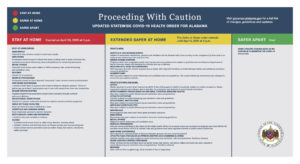 Extending the mask requirement constitutes a difference of mind between the governor and many members of her own party, including Lt. Governor Will Ainsworth.
Some conservatives have pointed to falling cases as evidence the ordinance is no longer needed. Others, like Ainsworth, have opposed the measure for the entirety of its existence saying it constitutes an overreach of government authority.
(Editor's note: The spike in new cases that appears to have occurred yesterday, March 3, in this graph is due to a provider of tests reporting a huge backlog of results, some of which date to May 2020.)
A number of federal health officials have warned in the last week that the spread of new virus variants, several of which appear to have increased levels of infectiousness, is reason to keep coronavirus precautions in place.
National officials have pointed to the plateauing of cases nationwide as a sign that the variants are taking hold and the drop in cases enjoyed by much of the nation since early January has stopped.
Texas Governor Greg Abbott removed the mask mandate from the Lone Star State this week, and Mississippi Governor Tate Reeves lifted the partial mask mandate his administration had implemented.
Both cited the reduced case levels in their states as well as the increased number of citizens who have begun receiving the coronavirus vaccines.
Ivey acknowledged the lower cases on Thursday, saying, "There are definitely indications we are moving the right direction."
"I want to urge patience as Dr. Harris and his team work to get more shots in more arms," she added.
Henry Thornton is a staff writer for Yellowhammer News. You can contact him by email: henry@new-yhn.local or on Twitter @HenryThornton95.