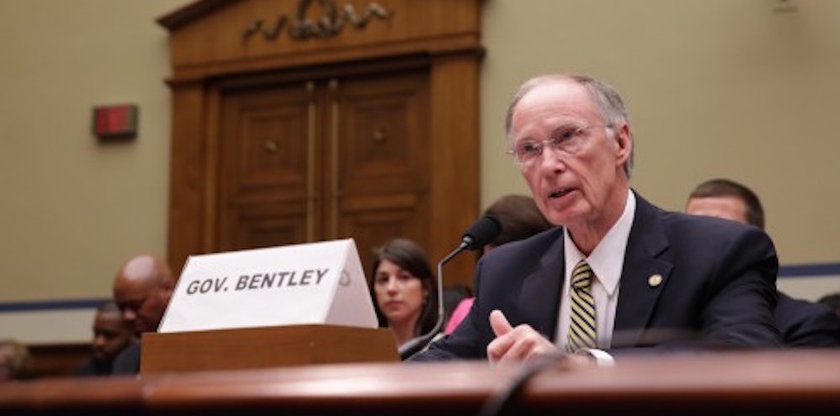 WASHINGTON, D.C. — Governor Robert Bentley (R-AL) traveled to Washington Tuesday to testify before the U.S. House of Representatives Oversight and Government Reform Committee on Alabama's prison reform efforts.
"Prison reform is an important issue in Alabama," Governor Robert Bentley explained. "Alabama has made significant progress over the last year to improve our criminal justice system, ease some of the challenges in our prison system and maximize the amount of state dollars we spend for the Alabama Department of Corrections. I believe that our prison reform efforts have created a healthy foundation that can, over time, transform the landscape of the entire criminal justice system for the better."
The goal of the committee's hearing was to share lessons on criminal justice reform from states that have successfully implemented new policies. The U.S. House and Senate currently have several criminal justice reform bills before them covering topics as varied as reducing recidivism, changing federal sentencing rules and guidelines, and changing prison practices. Many states have already enacted some components of criminal justice reform, and the experiences, the committee hopes, will help inform federal efforts.
"States can be laboratories of changes, creating unique opportunities that can address problems. I believe that Alabama is a national model for prison reform, and it was an honor to share our efforts with Congress," Bentley said.
In March, the Alabama Legislature passed sweeping prison reform with only 5 dissenting votes, culminating several years of work by a broad coalition seeking to ease overcrowding in the system while maintaining public safety.
The bill is expected to shrink the prison system's population by 4,500 inmates over the next 5 years. It also reduces the penalties for some nonviolent and drug-related crimes and strengthens the state's parole program in an effort to reduce recidivism.
But while the prison reform legislation has drawn almost universal praise, it still needs funding. Legislators must patch an estimated $250 million hole in the state's General Fund Budget during the special session called by the governor to ensure the implementation of the bill's new mandates and programs.
Don't miss out!  Subscribe today to have Alabama's leading headlines delivered to your inbox.