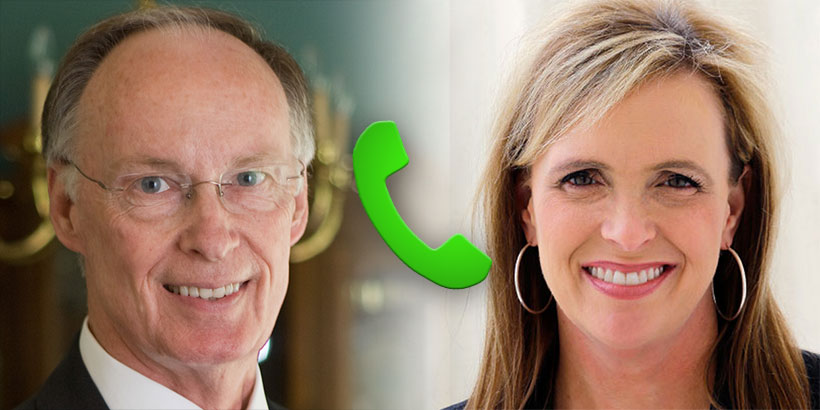 Alabama Governor Robert Bentley insists he did not have a physical relationship with his senior advisor Rebekah Mason, but his own words — captured in a recording made by his then-wife — suggest he is not being entirely forthcoming.
"I want everyone to know though that I have never had a physical affair with Mrs. Mason," Bentley said in a press conference last week.
Longtime political observers noted the similarities between Bentley's statement and then-President Bill Clinton's assertion that he "did not have sexual relations with that woman, Ms. Lewinsky."
DNA evidence ultimately proved that Clinton was lying. Audio recordings obtained by Yellowhammer News seem to do the same in Bentley's case.
Here are four comments made by Bentley during phone conversations with Mrs. Mason that reference past physical contact between the two.
Comment 1:
You'd kiss me? I love that. You know I do love that. You know what? When I stand behind you and I put my arms around you, and I put my hands on your breasts, and I put my hands on you and pull you in real close. Hey, I love that, too.
This is probably the clearest example. Governor Bentley does not say he would "like to," or "wishes (he) could," he says "when I…"
Comment 2:
I love touching you. I do. Hey, I do, I do love putting my hands (inaudible) and just pulling you in real tight. I do, I do, I do enjoy that.
How can you "love touching" someone with whom you have "never had a physical relationship"?
Comment 3:
But, baby, let me tell you what we're gonna have to do. We're gon' have to start locking the door. If we're gonna do what we did the other day we're gonna have to start locking the door. You know what, it is kinda scary. Somebody open that door? Mmm.
Do people who are not having a "physical relationship" need to lock the door?
Comment 4:
He came this morning before I had my clothes on… He just got to see my boxer shorts. Hey, you've seen those!
This one does not necessarily prove they had a "physical relationship." Mrs. Mason may have just been looking at governor's boxer shorts. ¯\_(ツ)_/¯
The bottom line is that Governor Bentley's public and private comments do not match up.
The only question really is, do we believe the Bentley who was publicly standing behind a lectern trying to salvage his governorship, or do we believe the Bentley who was privately — and sometime explicitly — recalling past events?
Don't miss out!  Subscribe today to have Alabama's leading headlines delivered to your inbox.