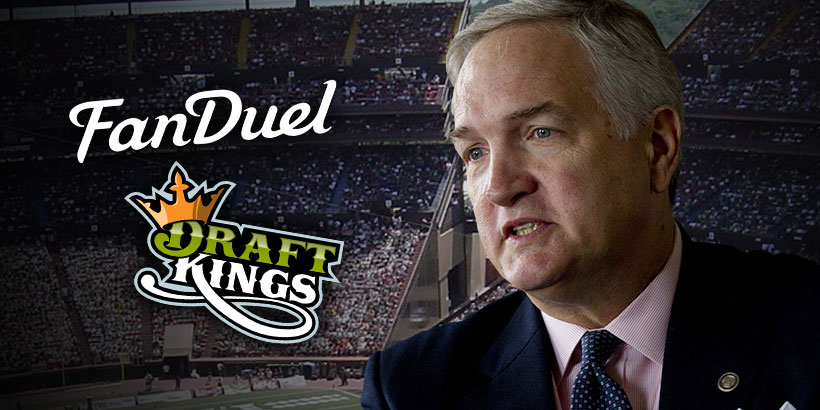 According to American Express, nearly 75 million people are playing fantasy sports this year in the United States, spending a jaw-dropping $4.6 billion in the process.
Season-long fantasy leagues often consist of groups of friends who play for free on websites like ESPN and Yahoo. Daily and weekly fantasy games, however, begin by team managers paying an entry fee — ranging from as little as 25 cents up to $1,000 — to compete against opponents — ranging from dozens of them, to hundreds — for a prize pool that can sometimes be as large as $2 million. Team managers bid on real-life players to assemble a roster, then win or lose based on how their fantasy players perform in real games.
Fantasy sports have come under increased scrutiny after revelations that an employee of one of the industry's top companies used his access to insider information to win hundreds of thousands of dollars playing fantasy football on a rival company's site.
A 2006 federal law signed by President George W. Bush banned Internet gambling, but carved out space for games of skill to continue to be played online with the chance of winning a prize.
As daily fantasy sports have gained in popularity, the government's push to regulate them has increased as well. Many conservatives are reminded of President Ronald Reagan's famous description of the government's view of the economy: "If it moves, tax it. If it keeps moving, regulate it. And if it stops moving, subsidize it."
Two weeks ago, New York Attorney General Eric Schneiderman (D) ordered DraftKings and FanDuel, two of the top fantasy sports companies, to cease operations in the Empire State. Nevada gaming authorities made a similar order, at least until the companies obtain gambling licenses. And California Attorney General Kamala D. Harris (D) has launched an active investigation into fantasy sports, too.
The topic even came up during a recent Republican Presidential Debate, with New Jersey Governor Chris Christie winning loud applause by incredulously declaring, "Fantasy Football! We have ISIS and al Qaeda attacking us and we're talking about fantasy football?"
With all of this in mind, Yellowhammer reached out to the office of Alabama Attorney General Luther Strange (R) to see if the issue is on his radar.
When asked if AG Strange had considered taking any action to shut down fantasy sports, a spokesperson for his office said, "As a general rule, the Attorney General's Office refrains from commenting on whether we are investigating or not investigating a case unless we are ready to do so."
THE DEBATE


(Video above: Russell Crow cracks the code as John Nash in A Beautiful Mind)
The debate over daily fantasy sports really boils down to one fundamental question: Are they games of chance, or contests of skill?
When Yellowhammer asked for the Attorney General's personal view on the matter, his spokesperson again declined to comment.
Top tier fantasy sports players crunch more numbers than Russell Crowe in A Beautiful Mind. Many fantasy football team managers, for instance, not only take into account surface-level statistics like receiving, passing and rushing yardage, but much more nuanced considerations. These may include how each player has historically performed against the team he is facing; how the weather may impact each player's output; whether a player may be extra motivated against a rival; and even what time of day the game is taking place. In paid games, these deeper considerations could also include which players are relatively under-or-overvalued, based on what other players are bidding to have them on their team.
Thousands of experts compile and analyze the data and fantasy team managers consume as much of it as possible in hopes of getting a leg up on the competition. It is for this reason that the top level fantasy leagues see their most skilled players win on a regular basis.
This is an important point, because if fantasy sports are games of chance, why is it that the best players win on a regular basis, while others never even get close?
Fantasy sports advocates point to the similarities between their contests and fishing or golf tournaments. Players pay an entry fee prior to playing. There are certain elements of chance involved. For instance, the weather could impact your round of golf differently from an opponent with a different tee time, and sometimes the fish in certain areas of a lake just happen to be biting more than in others. And yet golfers like Jordan Spieth and anglers like Aaron Martens (of Leeds, Alabama, I might add!) win tournament after tournament. The same can be said of the top fantasy football leagues. The best players just plain win more often than their competition.
These facts are not the subject of much debate. But the aforementioned insider information scandal and the large sums of money in play have led some states to consider more modest regulations to protect consumers.
Massachusetts Attorney General Maura Healey, for instance, recently announced her state would prohibit people under the age of 21 from playing the cash games.
According to Reuters, the Massachusetts regulations would also "ban fantasy competitions based on college sports, prohibit promotions of paid fantasy sports on high school and college campuses and bar professional athletes, agents and others connected to pro sports from taking part in paid fantasy contests related to their sports."
POLITICAL RAMIFICATIONS
If the percentage of Americans playing fantasy sports is applied to Alabama's population, it reveals that roughly 1.14 million Yellowhammer State residents participate in the contests. The actual number is likely much higher.
Alabama is among the most football-crazed states in the union. And Alabama's affinity for NASCAR makes fantasy racing a major business in the state, too.
Any politician who plans on putting his or her hands on anything that impacts over a quarter of Alabama's population better tread lightly. But on top of that, it is the kind of issue that drives conversations at the water cooler at work and around the family dinner table at home. Unlike many of the esoteric issues politicians tend to spend their time arguing about, a mishandling of the fantasy sports debate could be politically disastrous.
In short, as Alabama's elected officials consider exercising their regulatory authority in new ways, the power of fantasy sports as a political issue should not be taken lightly.
---
Alabama's government may have its eye on regulating or shutting down fantasy sports https://t.co/DTwBcV2uwi

— Cliff Sims (@Cliff_Sims) November 23, 2015