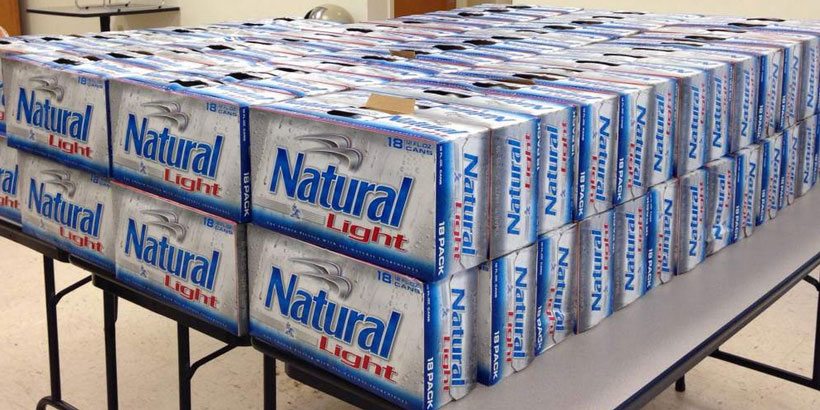 MOBILE, Ala. — Four underage young men from Louisiana State University (LSU) were caught by a sheriff's deputy in Mobile County, Alabama driving to Gulf Shores for Spring Break towing approximately 2,000 beers, five liters of boxed wine, and eight bottles of liquor.
The students were pulled over because the trailer they were towing had an expired tag. The four teens, all either 18 or 19 years old and members of Phi Kappa Psi fraternity, told deputies they were traveling to meet a larger group of people at the beach.
None of the young men were drinking or intoxicated when they were pulled over. They were issued minor in possession of alcohol summonses, and reportedly cooperated fully with deputies.
Alcohol was prohibited from being taken on the beach in Panama City Beach, Florida, during this Spring Break season after an Alabama A&M student was killed at a house party in March, and other beach towns have warned underage students not to break their law in their towns.
Last month the Gulf Shores Police Department posted a warning for "drunk and disorderly" spring breakers on its Facebook page.
This Is Your Warning

The Gulf Shores Police Department is more serious than you think about quality of life issues. A popular misconception exists that the City is more concerned with your spending than your safety or the quality of life for residents and law abiding visitors alike. This is not true and GSPD is willing to prove it to potential law breakers.

Spring Break has been busy so far. The jail has been at maximum capacity most mornings. The Gulf Shores Police Department is pressing forward with increased patrols and enforcement in all areas of the city. Thousands of college students are already in town for spring break. We want to make sure everyone understands the rules. Consequences for violating a municipal ordinance or state statute could result in physical arrest or the issuance of a citation that could require a court appearance.

If your top priorities when visiting the beach are being drunk and disorderly; breaking what you consider to be small rules like littering & leaving glass on the beach; urinating in public, using drugs, or engaging in violent or indecent behavior, Gulf Shores may not be for you. This is your warning.
---
Like this article? Hate it? Follow me and let me know how you feel on Twitter!

— Elizabeth BeShears (@LizEBeesh) January 21, 2015
Don't miss out!  Subscribe today to have Alabama's leading headlines delivered to your inbox.