Alabama unemployment remains stable at 4.1 percent — Record number of people working for sixth-consecutive month
The state's seasonally adjusted rate remained at 4.1 percent, while its non-adjusted rate stayed at 3.8 percent for October, identical to September, according to data released by the Alabama Department of Labor on Friday.
Those levels are slightly higher than those from October 2017, at 3.8 percent and 3.6 percent respectively.
However, Alabama's workforce, the number of people counted as employed, topped a record total workforce, continuing a trend that has lasted for six months.
That number for October showed 2,122,970 employed, topping the prior month's number of 2,117,359 and the October 2017′s number by more than 40,000. On the other side of the equation — the number of people counted as unemployed decreased from 90,818 in September to 89,754.
"More than 40,000 Alabamians now have jobs that didn't last year," Secretary of Labor Fitzgerald Washington said in a release. "That means that they are contributing to our state's economy and providing for their families. Our labor force continues to grow, reaching its highest level of 2018, and the vast majority of those are finding jobs, which tells us that people have confidence in our economy."
Washington also lauded the civilian labor force, which increased to 2,212,724 in October — its highest level of 2018 and a year-over-year increase of 48,254.
"Additionally, we broke the record for the number of jobs our economy is supporting – AGAIN – beating the previous record by more than 12,000 jobs. We're beginning to see retail hiring pick up in preparation for the holidays, but over-the-year gains in high wage industries like manufacturing and construction are extremely encouraging, with yearly gains of 3.88% and 2.52%, respectively."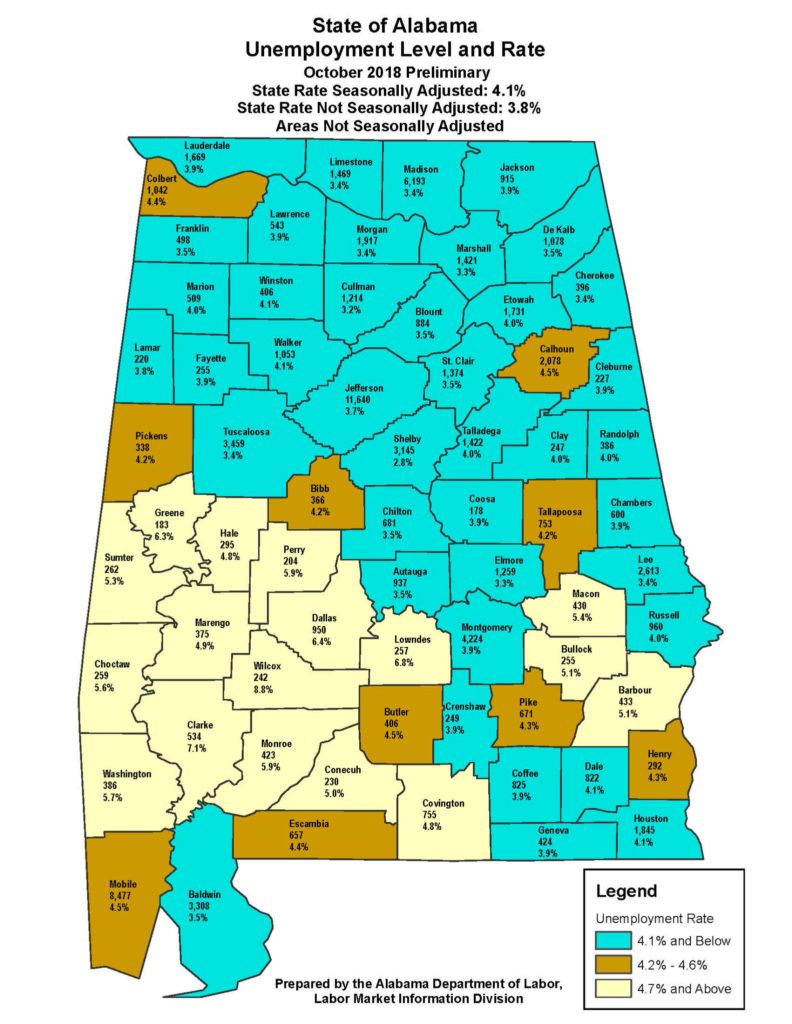 It continued to be the case that the counties topping the overall unemployment levels are the ones that traditionally struggled with high rates, including the Black Belt counties of Wilcox, in at a whopping 8.8 percent, Clarke at 7.1 percent and Lowndes at 6.8 percent.
Counties with the state's lowest unemployment levels are Shelby at 2.8 percent, a regular at the top of the Alabama Department of Labor's list for lowest unemployment, Cullman at 3.2 percent, and Marshall and Elmore, each at 3.3 percent.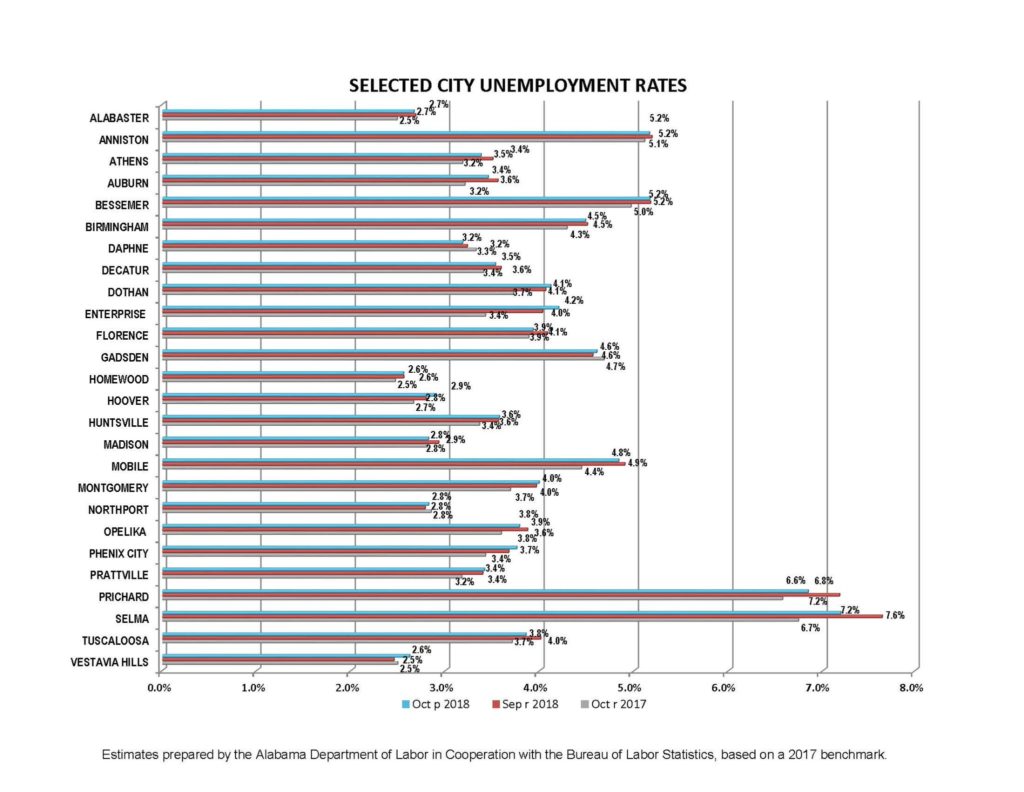 Birmingham "Over the Mountain" suburbs led the state with the cities with the lowest unemployment rates. Vestavia Hills and Homewood came in at 2.6 percent and Alabaster at 2.7 percent. Madison, near Huntsville, and Northport, near Tuscaloosa, both had levels of 2.8 percent.
The cities with the state's highest levels continued to be Selma at 7.2 percent, Prichard at 6.8 percent and Anniston and Bessemer, each at 5.2 percent.
@Jeff_Poor is a graduate of Auburn University and is the editor of Breitbart TV.