If there are three things that Alabamians take pride in most, it is their faith, their family, and their food. Not all food, however, is prepared at home.
In a shocking study from DataFiniti, it was revealed that Alabama is the state with the most fast food restaurants per capita.
Alabama came in first place with 6.3 restaurants per 10,000 residents while Nebraska took second place with 5.4 restaurants per 10,000 residents. The only non-Southern states in the top ten are Nebraska, Indiana, and Missouri — although Missouri may be have been adopted into the South when the University of Missouri joined NCAA Football's Southeastern Conference in 2012.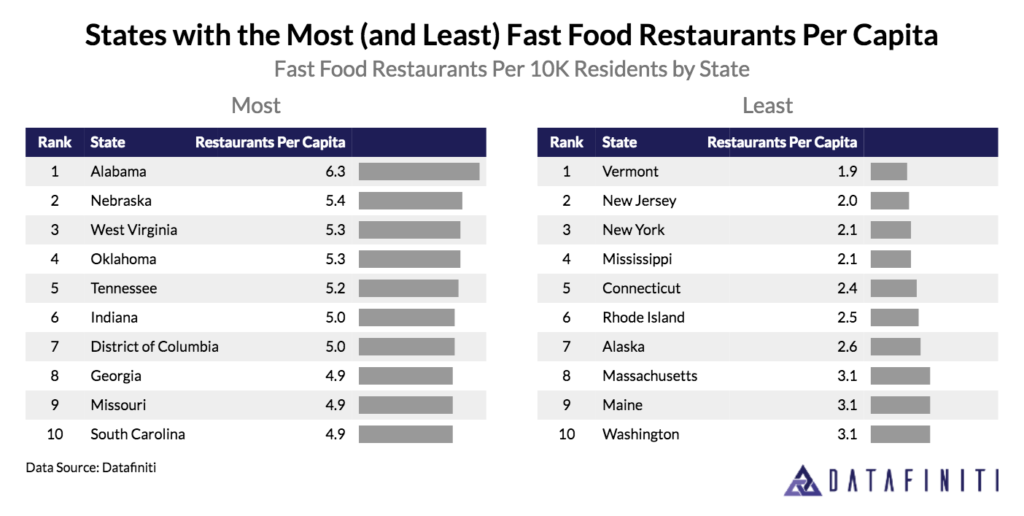 Also detailed in the research were states with the least amount of fast food restaurants per capita. Vermont took first place in that category with only 1.9 restaurants per 10,000 residents. Surprisingly, Mississippi followed closely in fourth place with only 2.1 restaurants per 10,000 residents.
With Alabama leading in the number of fast food restaurants per capita, I am curious if there is any correlation with obesity rankings. Face it, fast food is not the healthiest choice and if it becomes an addiction or habit, it can be dangerous to your personal health.
In this stateofobesity.org finding, Alabama ranked number 3 out of 51 states in 2016 for having the highest adult obesity rate in the nation. In 2016, the obesity ranking sat at 35.7 percent. That is more than a five percent jump from 10 years prior in 2006 when the adult obesity percentage was positioned at 29.4.
Adults ages 45-64 lead the obesity rankings at 42.1 percent of total adult Alabamians.
Alabama rankings for obesity-related health issues and other obesity percentages for different age groups, including children, can be found here.
It is an interesting find, to say the least. It also leads into question the correlation between obesity and the number of fast food restaurants in Alabama.
What do you think?
Do you know of an interesting or newsworthy story that you think should be told? Let's talk.
Email me: kmorris@new-yhn.local
@RealKyleMorris is a Yellowhammer News contributor and also contributes weekly to The Daily Caller