Alabama ONE Credit Union has gained approval to complete the acquisition of the First Bank of Wadley's assets and deposits.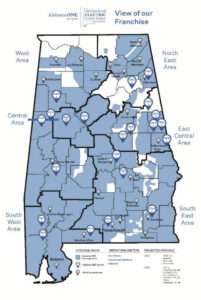 First Bank, a subsidiary of Peoples Independent Bancshares, has a total asset value of $130 million and operates in several Alabama cities including Goldwater, Hollis Crossroads, Rockford, Roanoke, and Wadley.
The transaction was unanimously approved by the Board of Directors of both institutions and is expected to close by the end of the year. This is Alabama ONE's second bank acquisition after purchasing the First Bank of Linden in June 2021.
, commented on the new acquisition.
"We are looking forward to the completion of the First Bank acquisition and welcoming the First Bank Team members and customers to our Alabama ONE family," said CEO Bill Wells. "We are eager to deliver our full-service banking solutions to our newest members."
Jared Kirby, CEO of First Bank, said his institution is excited to be a part of Alabama ONE's growth.
"We are proud to lead Alabama ONE's expansion into East Central Alabama," he said. "Our team is excited about its opportunity to introduce expanded products and services to the customers/members in the communities we serve."
The purchase of First Bank and its five branches increases Alabama ONE's branch network to 25 branches statewide. Alabama ONE will now, as a result of the transaction, extend and expand its services with a goal of eventually serving close to 4,000 additional members and businesses.
The company is planning to open a branch in Wedowee in 2024.
Alabama ONE also recently announced mergers with Brewton Mill Federal Credit Union and McIntosh Chemical Federal Credit Union.
Austen Shipley is a staff writer for Yellowhammer News.
Don't miss out!  Subscribe today to have Alabama's leading headlines delivered to your inbox.