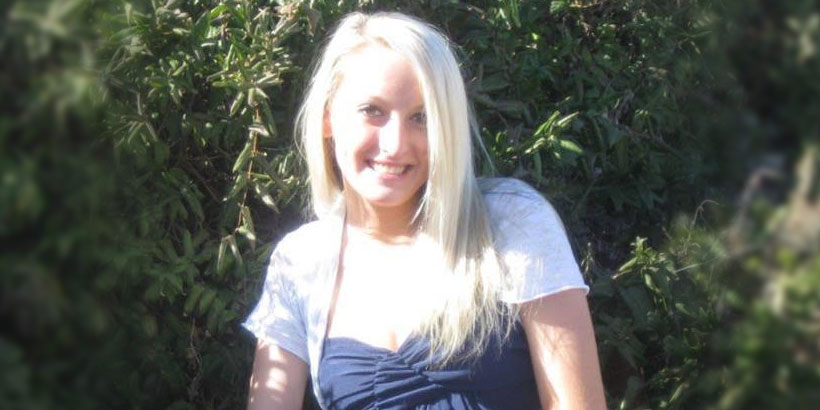 On Friday, the friends and family members of Cassidy Aspen Cochran, a 22-year-old Alabama resident who passed away over the weekend, will gather to celebrate her too-brief life. But in addition to those who knew her personally, people who have been impacted by the story behind her death will also come to pay their respects, and to continue raising awareness for an issue that rarely gets the attention it needs: heroin addiction.
Cassidy's family published her obituary earlier this week, and it has spread quickly online because of its heartfelt candor.
Cassidy Aspen Cochran was born on June 22, 1994. She was a precocious child. As soon as she could talk, she was quoting lines from Shakespeare. She loved to perform for friends and family. She called herself the "Queen of Make Believe." She was so smart, so funny. Even when times got tough, she could always make you laugh. She had a huge heart. She loved animals. All animals. Especially Harambe.

She was so beautiful; stunning really. She recently had plans to marry her fiancé, Frank Calzone. She loved him and he loved her. She wanted to create a life with him. She seemed genuinely happy over this past year with him.

Unfortunately, Cassidy also struggled with addiction. Her addiction finally won. She died of a heroin overdose in the early morning hours of November 11, 2016. We write this not to dishonor her memory but to shine some light on an illness that is taking the lives of far too many. If we allow shame, guilt or embarrassment to cause this illness to become a dark family secret, hiding in the shadows, everyone loses.

Cassidy now joins the ever expanding list of daughters, sons, sisters, brothers, and grandchildren taken far too soon by this growing healthcare epidemic. But, please remember, Cassidy isn't just a statistic, she was our sunshine, even when she kept us awake with worry. Everyone on that list was the light of someone's life. Thus, it is important to remember that Cassidy wasn't just her illness; she was our daughter and our friend. Words cannot describe how much she will be missed.

Cassidy was preceded in death by her grandmother Frances Hale and her uncle Bradley "Bo" Cochran. She is survived by her fiancé, Frank Calzone, her father, Chris Cochran, her mother, Charla Hale Bocchicchio, her step-father, John Bocchicchio, her grandparents, Tom and Barbara Cochran, her grandfather, Robert Hale and far too many aunts, uncles, and cousins to list.

Anyone who reads this is welcome to join us in celebrating her life on Friday, Nov. 18,2016 at 4:00 PM , (attire come as you are) at the Dance Foundation (f.k.a., Children's Dance Foundation), 1715 27th Court South, Homewood, Alabama 35209. In lieu of flowers, please call or write your state representative and plead with them to make Naloxone available over the counter, without a prescription.
Last year, the Alabama Attorney General's office announced that the state's overdose rate had tripled since 1999, outpacing most of the country.
"Because of a lot of factors, we're seeing a huge uptick in heroin leading to deaths," said Attorney General Luther Strange. "Imagine the outcry if there were 200 violent deaths by gunshot. It's sort of a silent killer, but it's very important that we get ahead of it."
Earlier this year it was revealed that Alabama drug dealers are lacing heroin — already one of the most powerful and addictive opioids — with a drug designed to subdue 13,000-pound African bush elephants. The resulting synthetic mix has left a trail of dead bodies in its wake.
"It's very alarming," Dr. Mark Wilson with the Jefferson County Health Department told WBRC. "Heroin was bad enough. Fenatanyl was even worse. This is 100 times worse than Fentanyl. So we want the public to know this is out there. People that are injecting things in their veins could potentially get this and get killed very quickly."
Don't miss out!  Subscribe today to have Alabama's leading headlines delivered to your inbox.