The same day that the Alabama Clean Fuels Coalition (ACFC) named a new president, Governor Kay Ivey on Tuesday announced that the non-profit organization has partnered with the Alabama Department of Economic and Community Affairs to create a statewide plan to provide more electric vehicle charging stations throughout the Yellowhammer State.
Michael Staley, a longtime chief of staff to former U.S. Rep. Spencer Bachus (AL-06), has joined the Alabama Clean Fuels Coalition as the organization's president.
According to a release, Staley brings over 17 years of experience working in political, business and governmental circles between Alabama and Washington, D.C.
"Michael will make an immediately visible positive impact on the Alabama Clean Fuels Coalition," stated Phillip Wiedmeyer, chairman of the ACFC board of directors. "His knowledge of the issues and experience working with business leaders and officials at local, state and federal levels of government will be a tremendous asset to this organization going forward."
RELATED: Electric vehicles next wave to drive Alabama's continued auto-manufacturing success
Staley previously served as field representative, district director, legislative director and chief of staff in Bachus' congressional office. He also has worked as special assistant to then-University of Alabama President Dr. Judy Bonner and as senior policy adviser at the Birmingham law firm of Waller Lansden Dortch & Davis.
"We are going to build on past success, strengthening Alabama's position as a leader in the development and deployment of alternative fuels technologies," Staley commented. "I'm excited to be tasked with engaging our members and stakeholders to advance our mutual goals."
He will reportedly continue to provide consulting and lobbying services to clients served through Chain Link Solutions, an Alabama-based company Staley started in 2016. A graduate of the UAB School of Business, he resides in Hoover.
"Michael definitely understands how cleaner burning and domestic alternative fuels boost Alabama's economy and reduce reliance on foreign oil," Alabama Clean Fuels Coalition executive director Mark Bentley added. "I've known him since his time on Spencer Bachus' staff, and he possesses deep knowledge of issues surrounding the future of transportation in Alabama."
The plan
The plan announced on Tuesday has been presented to Governor Ivey and includes input from a group of experts to develop EV infrastructure around Alabama's interstates.
According to a release from ADECA, the primary goal of the plan is to make it easier for drivers to charge their personal vehicles while traveling around the state.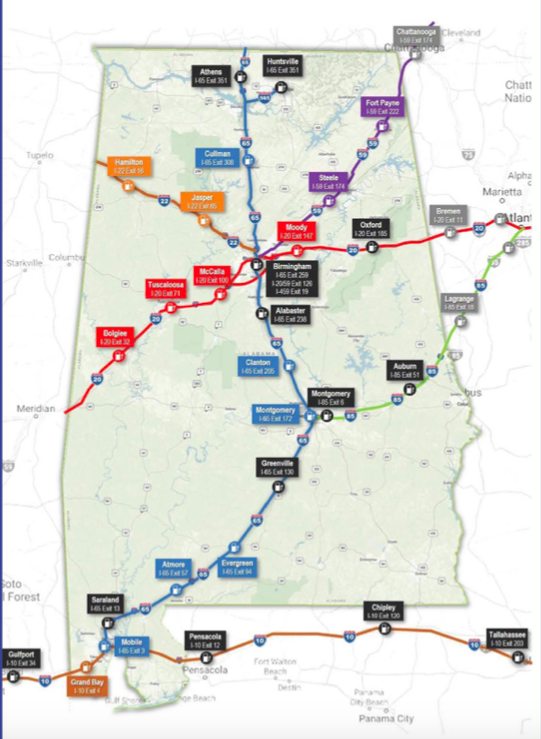 Funding for the plan will come from the Volkswagen settlement along with funding allocated by the Alabama legislature (through endeavors such as the Rebuild Alabama Act) to support projects that bring EV charging stations to the state. ADECA manages the VW settlement for Alabama.
RELATED: 'Can't even begin to tell you': Marsh, McCutcheon discuss impact of Rebuild Alabama, Port of Mobile expansion, EV revolution
"This plan will allow for grant funding opportunities that expand access to EV charging stations along heavily traveled areas of our state and invest in Alabama's future by supporting consumers' choice to adopt electric vehicles," Ivey said in a statement.
"This is the beginning stage of a great project that will continue moving Alabama forward as more automotive companies, including Mercedes Benz and the numerous other manufacturers here in Alabama, develop EV technology," she concluded.
You can view a copy of the plan here.
Sean Ross is the editor of Yellowhammer News. You can follow him on Twitter @sean_yhn