Lt. Gov. Will Ainsworth (R-AL) delivered an impassioned message to the tens of thousands of Trump supporters that were on hand this past weekend at the former president's "Save America" rally in Cullman.
The state's second-highest ranking elected official took the stage with his twin sons, Hunter and Hays, as he kicked off his speech seeking to energize rally goers.
"Alabama is known for loving four things: Our love of God, our love of country, our love of football, and our love of Donald J. Trump," said Ainsworth to the crowd's delight. "We're getting ready to turn it up a little here."
"Think for a minute how much our country has changed since Joe Biden has entered the White House back in January. He has taken our nation from first to worst in almost every category, and I promise you that if a football coach in Alabama performed as poorly as Biden has as president, he'd have already been fired and looking for another job," Ainsworth stated.
He fervently declared, "I think it's time for Joe Biden to be impeached!" He further added that he believes "it's time for Republicans to stand up."
The lieutenant governor's call for Biden's removal from the White House resonated with the exhilarated sea of Trump supporters.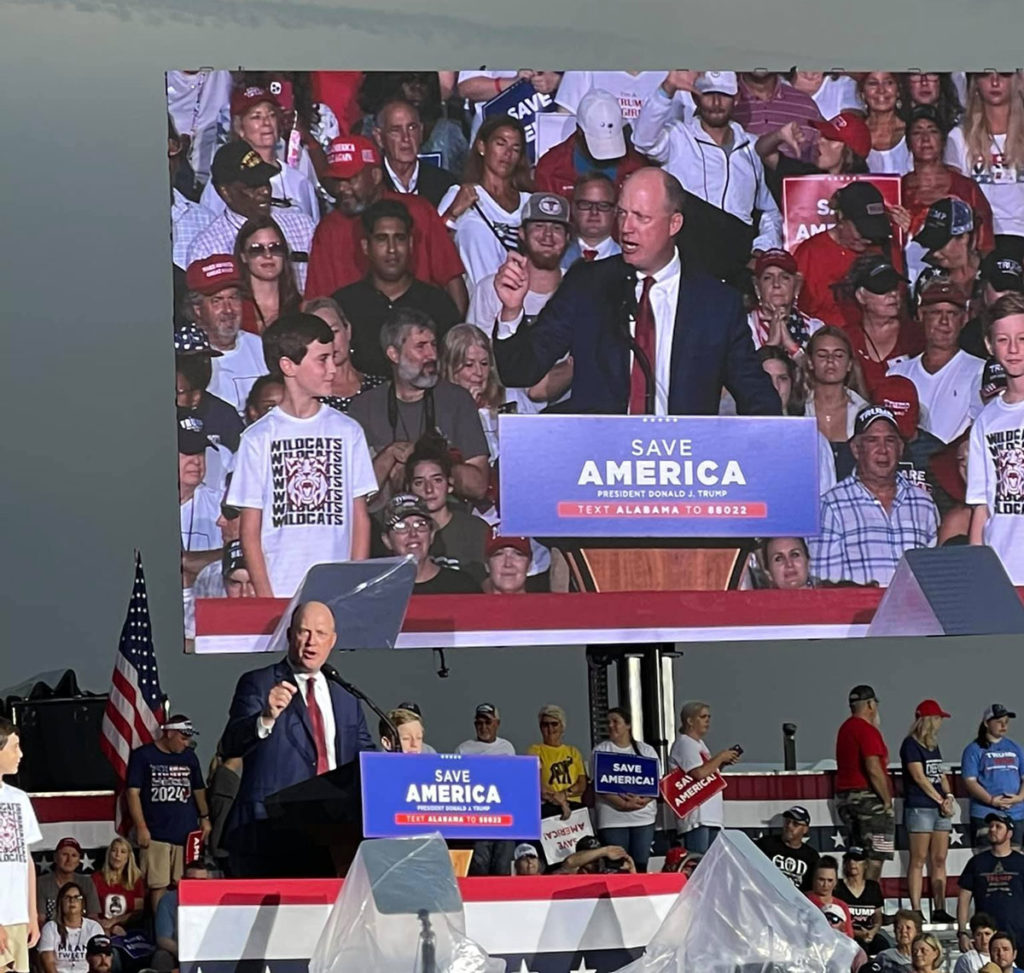 His animated speech continued as he expounded the popular belief by many on the right that the Biden administration has purposefully failed to secure the nation's southern border in an attempt to remake the United States' political demographics.
"Let's compare the liberal losses of the Joe Biden administration with the Trump record of conservative wins. Joe Biden and his open border allies are working to bring millions of illegal aliens into our country with a plan of registering to vote for Democrat candidates so they can steal our elections," he said.
Ainsworth added, "During his time in the White House, Donald Trump worked every day to secure our border, to build the wall and return everyone who broke our laws."
He then weighed in on the controversial cultural issue of Critical Race Theory.
"Joe Biden and the Critical Race Theory promoters want to teach our children that the United States is a racist nation with an evil history that should make us ashamed to be Americans," Ainsworth outlined. "Donald Trump, on the other hand, wants our children and my children to be taught that America was founded on Godly values and moral principles like liberty, freedom and opportunity for all."
Ainsworth went on to slam Democrats for their efforts to repeal Trump-era tax reform legislation. He later blasted the president and Dr. Anthony Fauci for what he sees as their support of government overreach concerning pandemic-related restrictions.
"Joe Biden and flip-flopping Fauci believe in mask mandates, vaccine passports, and padlocking our children's schools. Donald Trump believes in liberty, personal responsibility, and your ability to do what's best for you and your family," he said.
The spirited Ainsworth went on to attack the sitting president for his positions regarding energy, abortion, as well as his handling of Afghanistan.
"Joe Biden threw in the towel, dishonored our dead and wounded, abandoned Americans and allies, and gave power to hateful, anti-Christian, Muslim extremists and terrorists in Afghanistan," he declared.
Ainsworth took aim at the president's public missteps.
"President Trump had a lot of talents," he said. "He could certainly form a sentence, he could walk on a set of stairs without falling, he knows what day of the week it is. Ladies and gentlemen, Joe Biden can't do any of that and doesn't have a clue of what he's doing."
He went on to state that he wants his children to "inherit Donald Trump's America, the America our founding fathers wanted — not the socialist America that Joe Biden and the radical left want to give them."
Ainsworth concluded, "America is the greatest nation in the world. Alabama is the best state in the country. Donald J. Trump will go down as one of the greatest presidents in our country's history. And I'm damn proud to be your lieutenant governor."
In what was perhaps the boldest speech delivered during Saturday's rally, Ainsworth's passionate message struck a chord with the ardent Trump supporters in attendance. The boisterous cheers of rally goers gave assurance that the lieutenant governor certainly has his fingers on the pulse of the Republican electorate in the Yellowhammer State.
Dylan Smith is a staff writer for Yellowhammer News. You can follow him on Twitter @DylanSmithAL