The Alabama Department of Economic and Community Affairs (ADECA) has reached an important milestone in broadband expansion by hosting community broadband meetings in each of Alabama's 67 counties.
The meetings, implemented through the Alabama Community Broadband Technical Assistance Program, are designed to bring community leaders to the table and provide state-level assistance to support local efforts to expand broadband infrastructure for the benefit of the public and economic development.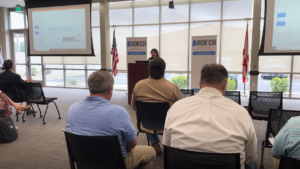 Gov. Kay Ivey recognized the importance of the sessions and thanked those involved.
"No matter where you live and what you do, being connected to the world is an absolute necessity for everyone," Ivey said. "Without it, businesses cannot thrive, students cannot excel in their studies, and families are deprived of many services and personal enrichment opportunities. Increasing high-speed internet access has been and will continue to be a top priority of my administration. My goal has been to make sure everyone in Alabama, regardless of where they live, will have the ability to achieve high-speed connectivity by the time I leave office. These meetings, which have now been held in every Alabama county, have helped lay the groundwork for our state to get across the finish line.
RELATED: Rural broadband seeing progress; still work ahead
"As I've said before, achieving full broadband coverage is a journey, not a short trip. And most importantly, it takes a team. It is evident, given the buy-in we've received from community leaders and residents across our state, that we have a winning team. There is no doubt that Alabama will be a model for the nation when it comes to achieving full broadband coverage."
ADECA's Digital Expansion Division developed the Alabama Community Broadband Technical Assistance Program in response to the critical need for high-speed internet access in communities across the state. Through this program, ADECA provides technical assistance meetings at the county level for communities seeking to expand broadband infrastructure and services.
Ivey helped kicked off the first county-level meeting in Montgomery County last December. Last Thursday in Autauga County, ADECA hosted its 67th county-level meeting.
RELATED: Alabama a model in broadband expansion
"It is no secret that one of Gov. Ivey's top priorities is the expansion of access to high-speed internet to all Alabamians, regardless of their ZIP Code," said ADECA Director Kenneth Boswell. "The State of Alabama reaching this important milestone in our broadband journey today demonstrates that we are taking the steps needed to make that happen, and I thank the governor for her leadership and support on this issue.
"We have a long way to go and a lot of hard work ahead of us, but it's important to recognize milestones such as this and to thank the countless people, including the great team we have at ADECA and all of those at the local level who have put their time and effort into this process, for making it a success."
ADECA will hold additional informational meetings, including Thursday at the MOWA Choctaw Housing Authority Administration in Washington County.
The meeting starts at 2 p.m. with a briefing of elected officials, ISPs, broadband partners, and interested parties. A local session with community comments and a Q&A period is 3:10-4:40 p.m. It is free and open to the public. The authority office is at 1080 W. Redfox Road in Mount Vernon.
Grayson Everett is a staff writer for Yellowhammer News. You can follow him on Twitter @Grayson270 for coverage of the 2023 legislative session. 
Don't miss out!  Subscribe today to have Alabama's leading headlines delivered to your inbox.