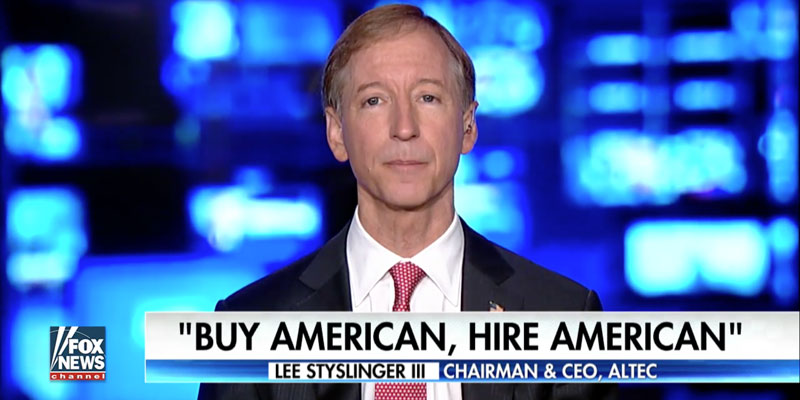 WASHINGTON, D.C. — The Birmingham-based company Altec will be at the White House today to participate in President Trump's "Made in America Week" kickoff event. Founded 88 years ago, Altec specializes in the manufacturing of bucket trucks used by electric utility and telecommunications companies.
Altec has numerous manufacturing plants in the United States and exports its trucks to more than 100 countries. It has been headquartered in Alabama since it opened its doors in 1929.
According to the White House, the Made in America Product Showcase will highlight and celebrate each state's effort and commitment to American made products by bringing in and showing off products from all 50 states that are made and produced in the United States. The event continues the president's longstanding pledge to protect domestic manufacturing interests from burdensome regulations and overseas competition.
"America is a nation that honors the work of gifted and skilled tradespeople, but for too long our government has forgotten the American workers," the White House said in a statement. "Their interests were pushed aside for global projects and their wealth was taken from their communities and shipped overseas. Under the leadership of President Trump, not only will the American worker never be forgotten, but they will be championed. President Trump has offered a new vision: the well-being of the American citizen and worker will be placed second to none."
The CEO of Altec, Inc., Lee Styslinger, III, has been serving on President Trump's commission on American manufacturing. During his presidency, Trump has signed numerous executive orders that Styslinger believes have helped roll back regulations that harm American businesses. Some such moves from the White House include the pulling out of the Paris Climate Accords and signing an executive order that requires two regulations be repealed for every new one issued.
To help promote the White House's event, Styslinger appeared on Fox and Friends this morning.
"This is really celebrating the American worker," he said. "This is a continuation of the focus by the president and the administration to celebrate, recognize, and grow jobs in America."