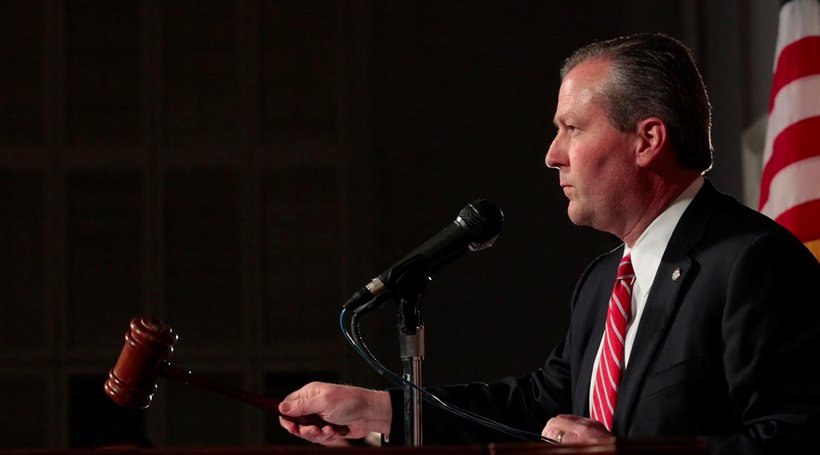 WINNERS
The Prosecution
Lead prosecutor Matt Hart's investigative methods throughout the grand jury proceedings and lead up to the trial wandered into ethical and legal gray areas that threatened to taint the entire years-long ordeal, but his team's performance in the first week of the trial has been strong.
Hart & Co. clearly did their research and came prepared to make their case to the jury. They're probably only about a quarter of the way through the process, but if they continue on in the manner in which they have thus far, they will likely go into jury deliberations feeling confident.
Bill Baxley
Hubbard's lead defense attorney is in his mid-70s but remains a savvy operator in the court room. His folksy style has drawn ridicule from the likes of MSNBC's Rachel Maddow — who poked fun at Baxley's penchant for reading notes scrawled on a napkin — but Baxley's critics are mostly elitist talking heads who don't understand how endearing his approach can be to a south Alabama jury.
MOST OF THE PRESS CORPS
The press has, with one notable exception (more on that in a minute), done a solid job of covering the trial as unbiased observers. The Montgomery Advertiser's Brian Lyman, Anniston Star's Tim Lockette, AP's Kim Chandler and ABC 33/40's Lauren Walsh (among others) have churned out a consistent stream of accurate reports, in spite of the strict rules prohibiting any reporting or social media use while in the courtroom.
With the top officials in all three branches of government currently embroiled in some sort of legal trouble, scandal fatigue has set in across the state. But Alabamians who remain interested in following the play-by-play have access to numerous outlets offering good coverage.
LOSERS
AL.com
The Alabama sports website and liberal political blog has turned into nothing more than a mouthpiece for the prosecution by sending two leftist opinion writers to Opelika to "cover" the trial. John Archibald's and Kyle Whitmire's "reporting" has blatantly embellished the testimonies of numerous witnesses. Their columns are typically presented as factual reports with very little indication that they are opinions (or in some cases pure fiction), further eroding the credibility of a publication whose influence in state politics is essentially non-existent at this point.
The Defense
Lead defense attorney Bill Baxley has performed admirably throughout the first week, but he is in the unenviable position of basically not denying anything his client is being accused of, but rather trying to argue that it may have been unseemly and greedy (his words), but wasn't illegal.
Ferrell Patrick
Testimonies during the first week of the Hubbard trial have made it pretty apparent that Patrick, a contract lobbyist, orchestrated the American Pharmacy Cooperative Inc. (APCI) deal (discussed above) while keeping almost everyone in the dark about what was actually going on. As a result, witness after witness basically portrayed him as the kind of slimy Montgomery insider that gives all of Goat Hill a bad name.
Mike Hubbard
It is too early to make any predictions about the outcome of the trial, but one thing appears certain: Hubbard is irreparably damaged politically. Numerous House Republicans Yellowhammer spoke with this week said the way he portrayed his predicament during internal caucus meetings was much different than what has come out during the trial. It is a testament to his power inside the State House that he remained speaker for two sessions after being indicted. It is hard to imagine him continuing to be the speaker at this point, even if he is ultimately acquitted.
Don't miss out!  Subscribe today to have Alabama's leading headlines delivered to your inbox.