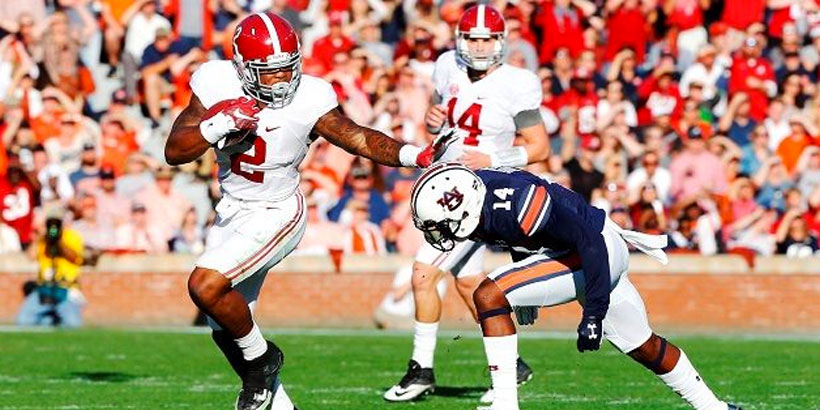 The debate has started over whether we will see college football players skip their bowl games over concerns about taking a hit when it comes to a potential NFL payout. The issue has been thrust into the headlines after former LSU's Leonard Fournette was taken fourth overall in the NFL Draft and Stanford's Christian McCaffrey was taken eighth overall. Both guys have several things in common — they both are highly-touted running backs, they both were top 10 draft picks, and they both skipped their team's bowl game last season.
In Fournette's case, he skipped the 2016 Citrus Bowl, a matchup against Louisville. The presence of Fournette ended up not being that vital to the Tigers' success, as they won the game by 20 points. McCaffrey sat out last year's Sun Bowl, a game in which his Stanford team beat North Carolina by two. Both players decided not to play in their teams' postseason games, and both were taken in the top eight draft picks. At the time, the decisions were derided by some. ESPN's Kirk Herbstreit called it a "disturbing trend" and seven-time Pro Bowl running back Marshall Faulk pointed out that the additional experience is vital in learning how to deal with a 16-game NFL schedule.
That creates an interesting precedent for future star players whose teams are playing in bowl games with no major implications. The upside for players in doing this is not risking a injury that could cost him a lot in NFL money. The downside is that it eliminates a tape for NFL scouts and evaluators to use when deciding whether to take the player. In the cases of Fournette and McCaffrey, they took the chance that the drawback of getting injured far outweighed the extra game tape that the bowls would have provided, and that risk paid off.
This would likely only occur in bowl games of no championship consequence. It would be hard to imagine any player skipping a College Football Playoff game or national title game. Even the non-playoff New Year's Six bowls should be safe from players sitting out. But when it comes to the standard lower-tier bowls, such as the Independence Bowl, Music City Bowl, Liberty Bowl or even the Birmingham Bowl, that is where you could see this phenomenon begin to gain steam.
On the one hand, heavily-talented college football players are sitting on a lot of money and need to make the best decisions for themselves and their families. But, there also seems to be an increasing erosion of many traditions and institutions that we have long held as sacred, not just in college football. At what point does a trend like this begin to damage the game of football and thereby damage the athletes skipping the games?
It's certainly a topic that is not going to go away in college football. Next bowl season, I imagine that we will see quite a few more players deciding to sit the bowl season out. What do you think? Should players play in bowl games because they love football, or should they treat it strictly as a business decision?
Don't miss out!  Subscribe today to have Alabama's leading headlines delivered to your inbox.