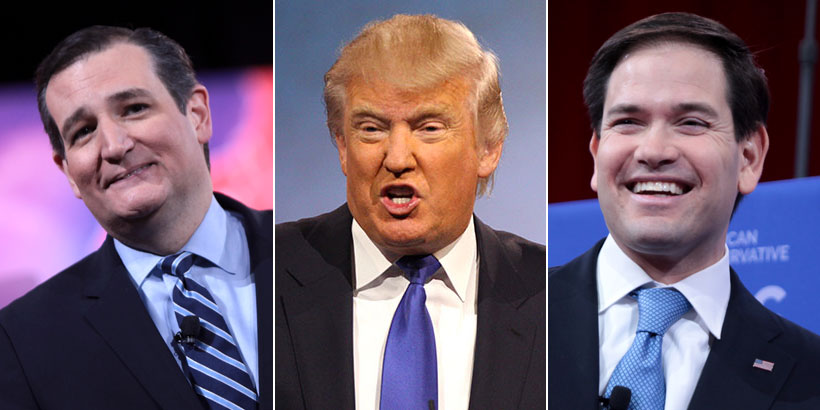 A new Monmouth University poll shows that Donald Trump has a commanding lead in Alabama, while his primary competitors, Marco Rubio and Ted Cruz, are fighting to make the delegate cut-off.
Only candidates who exceed the 20% threshold share in the delegate allocation.
For instance, if candidate A receives 40% of the popular vote, candidate B receives 20% of the vote, and no other candidate exceeds the 20% threshold, candidate A and candidate B will split the delegates, with candidate A receiving twice as many. No other candidates would receive a share of the delegates.
Alabama becomes "winner-take-all" if a candidate exceeds 50% of the vote statewide or in certain congressional districts.
Monmouth's results show that both of these rules could very well be in play tomorrow.
The poll calculates that Donald Trump holds a double-digit lead in Alabama with the support of 42% of likely GOP primary voters, compared to just 19% for Marco Rubio, 16% for Ted Cruz, 11% for Ben Carson, and 5% for John Kasich. Under this scenario, Trump is on pace to pick up anywhere from 60% to 85% of the delegate haul, depending on whether any of the other candidates meet the allocation threshold in certain districts.
Trump also has an impressive showing among evangelical voters in Alabama – he garners 43% of their support compared to 18% for Rubio and 15% for
Cruz. These numbers persist despite a dead last ranking in a biblical worldview analysis performed by a group of Alabama faith leaders.
However, just over 4-in-10 likely Republican primary voters in Alabama (43%) say they are completely decided on their candidate choice. This includes 1% who have already voted by absentee ballot. The vast majority of Trump voters (60%) say they have locked in their candidate choice.
Just this weekend, Trump secured the support of populist-conservative icon Senator Jeff Sessions (R-AL). Sessions had been hinting at an endorsement for months. No polling results have been released since the endorsement, but the support of a Yellowhammer State favorite will likely help Trump's numbers soar even higher.
The Monmouth University Poll was sponsored and conducted by the Monmouth University Polling Institute from February 25 to 28, 2016 with statewide random samples of Alabama voters drawn from a list of registered voters, who participated in a primary election in 2012 or 2014 or voted in both of the last two general elections, and indicate they will vote in the presidential primary on March 1, 2016.