Washington County public fishing lake temporarily reopens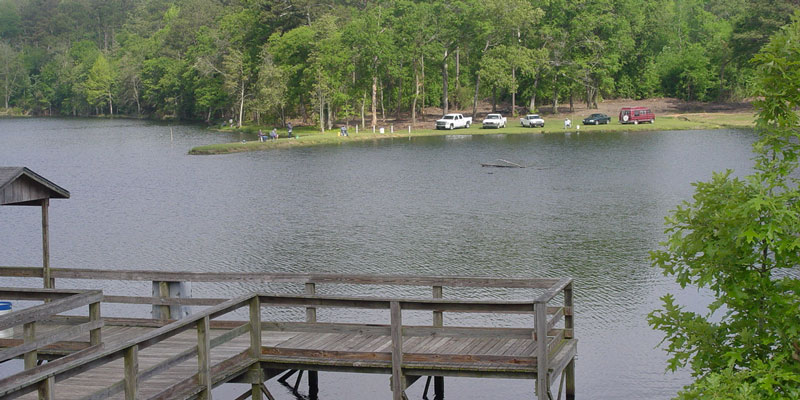 Washington County Public Fishing Lake temporarily reopened on Wednesday, February 21, 2018. The lake will close on April 30, 2018, for draining and restocking – a process that will take about two and half years to complete. Temporary operational hours will be sunrise to sunset, seven days a week. The lake is located at 809 State Lake Rd., Millry, Ala., 36558.
To fish at the lake, anglers age 16 and older will need a fishing license and a $3 daily fishing permit or a 2018 spring fishing permit ($10). The spring fishing permit is valid from February 21 to April 30, 2018. Free fishing permits for anglers 12 to 15 years of age will be available at the lake. Personal fishing boats may be launched with possession of a valid fishing permit. Daily creel limits and fishing regulations are posted at the lake.
A lake manager will not be available onsite. Anglers age 16 and older will need to purchase a fishing license and permit in one of the following ways: from a local license agent, online , through the Outdoor Alabama mobile app, at a county probate office, or by phone at 1-888-848-6887. Processing and/or convenience fees may apply.
Anglers will have to wait about two and a half years to fish at Washington County Public Fishing Lake again, but it should be well worth the wait. Typically, some of the best fishing occurs in ponds and lakes three to seven years after draining and restocking. For more information about Alabama's state-owned public fishing lakes, call the Alabama Division of Wildlife and Freshwater Fisheries, Fisheries Section at 334-242-3471; or visit this link.
The Alabama Department of Conservation and Natural Resources promotes wise stewardship, management and enjoyment of Alabama's natural resources through four divisions: Marine Resources, State Lands, State Parks, and Wildlife and Freshwater Fisheries. To learn more about ADCNR, visit this link.
(News Release/Alabama Department of Conservation and Natural Resources)