Valor's Voice helps Alabama veterans visit National World War II Museum
NEW ORLEANS – Two days before Pearl Harbor Remembrance Day and on the day of President George H.W. Bush's funeral, two Alabama World War Two veterans and their families got to visit the National World War Two Museum, thanks to the passionate work of Marshall County-based Valor's Voice.
For the nation, it was a day when politics as usual seemed to take a break. But in this place that commemorates the sacrifices made by the Greatest Generation, there is never a left vs. right divide. It is a place that takes you back to a time when there was only right vs. wrong – a time when the very fate of the world hung in the balance.
Yellowhammer News was on hand with the group from Alabama in New Orleans to cover the emotional trip, which started Tuesday evening with an explanation by Valor's Voice founder and CEO Adam Ragsdale on what the organization does and why it does it.
Along with Ragsdale, WWII veterans Richard "Dick" German and Jack Pritchett, members of their families and two veterans serving as "chaperones" made the journey.
Valor's Voice
The mission of Valor's Voice is to ensure America never forgets what happened during the Second World War, premised on the three pillars of "Remembering, Restoring and Reuniting."
Ragsdale said of the first tenet, "We think remembering is intentional."
He explained that his daughter is a high school senior in Guntersville and only had a page and a half reference to the war in her history class.
"That was it," Ragsdale lamented. "And, so my fear is that it's going to be forgotten. I think if you're not intentional about remembering, that's what happens."
So, while WWII veterans are still able, Ragsdale has made it his mission to bring them down to the museum as often as his organization can, starting with this maiden trip.
"We also do reunions," Ragsdale added. "Plus, we archive stories for posterity."
For Ragsdale, as one of the two chaperones phrased it, this is a "labor of love."
And it has to be. Ragsdale is unpaid and overworked (he works a full-time job at Boeing in Huntsville while serving as pastor of a church in Gadsden as he runs Valor's Voice by himself) but is also just about the most enthusiastic, caring organizational leader you will find in the state.
He reflected on the genesis of the organization, sharing that both of his grandfathers had been WWII veterans. While Ragsdale was able to hear about one of their experiences before he passed, Ragsdale said that he wished his grandfathers' stories, memories and lessons could have been catalogued for future generations. From that thought, Valor's Voice sprung.
The organization's work could not come at a better time, too. Soon, if these stories are not captured, they will be lost forever. Veterans of the Second World War are passing away at an all-too-rapid rate, with survivors all being over the age of 90 now.
Eventually, in the next several years, the museum trips will transition from veterans to either middle or high school students from Alabama. But, until then, Ragsdale is eager to honor them and ensure their stories will live on well beyond their time on earth.
Visiting the museum
After settling into a hotel three blocks away in the Warehouse District on Tuesday evening, the group got to the National World War Two Museum ten minutes before it opened on Wednesday morning, eager to see as much as possible of the extraordinary multi-building complex that fills a city block and then some.
We were greeted by the sounds and sights of construction, with a new mega-addition to the museum starting to stretch towards the Louisiana sky already. Then, once inside, Pritchett and German, the two WWII veterans, received greetings befitting of their status as American heroes.
For those, that have not been, the museum entrance is styled to look like a typical 1940's train station in which America's veterans would have departed their hometowns to join the war. For Pritchett and German, entering the museum was truly like taking a trip back in time.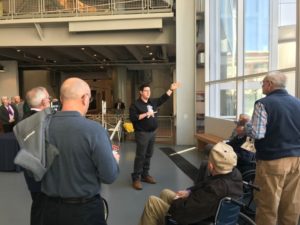 After the introductory stop past the museum entrance, Pritchett and German parted ways to embark on their own tours, matching the uniqueness of their experiences in the war.
— Sean Ross (@sean_yhn) December 5, 2018
Pritchett, who served in the Army's 737th tank battalion, known as "Patton's Spearheaders," survived the Battle of the Bulge.
German was a submariner in the Navy during World War Two and, after getting an aerospace degree following that war, reenlisted as a fighter pilot to serve his country once again in Korea.
His first stop on his museum tour was the Boeing Center, which focuses on the various aircraft used in the war, as well as featuring the USS Tang Submarine Experience on the ground floor of the US Freedom Pavilion.
Taking in the type of plane that President George H.W. Bush flew during WWII – The Avenger. pic.twitter.com/Kx6IOLpAS1

— Sean Ross (@sean_yhn) December 5, 2018
On the way from the Boeing Center to the Solomon Victory Theater, where we would experience the 4-D "Beyond All Boundaries" journey, German was stopped by a woman whose father had served in the war. She made German's day, as well as his wife's.
Passerby just came up and said, "If it wasn't for you, we wouldn't be here today" pic.twitter.com/rQir2oYegu

— Sean Ross (@sean_yhn) December 5, 2018
Such a simple display of appreciation by the woman made an extraordinary difference, with the gleam in German's eye and the smile on his face telling the story more than words ever could.
A little bit later, Pritchett had an experience with admirers, as well.
At lunchtime, the group attended a special Christmas performance by the Victory Belles at the replica BB's Stage Door Canteen. In between singing Christmas classics, the Belles brought Pritchett on stage, where they serenaded him and sent him back to his seat with significantly more lipstick on his cheeks.
— Sean Ross (@sean_yhn) December 7, 2018
When asked later that day whether he enjoyed that recognition, Pritchett immediately responded, "Oh lord, yeah."
While these stand-out moments of recognition were gratifying, the entire experience was powerful for the veterans and their families. Because, at the end of the day, the museum and Valor's Voice are shows of appreciation and respect to them. And even those closest to the veterans – their wives, children and grandchildren – said they did not nearly understand what they went through before the trip to New Orleans. Nor had they seen how it affected them.
"We've never seen him choked up like that," two of Pritchett's family members remarked afterwards.
Through alternating smiles and tears, laughter and hugs, Valor's Voice brought these two families even closer together as Pritchett and German look back on the 77th anniversary of Pearl Harbor.
They were quick to compliment the "incredible," "wonderful" Ragsdale for making this trip of a lifetime possible.
Where are we headed?
With reflection, too, comes perspective. As Ragsdale told Yellowhammer News the evening after the trip to the museum, America is at a pivotal point and the next generation of leaders must not forgo the lessons of the Greatest Generation.
He also said he was happy with the maiden trip and that he was already planning another one for Memorial Day.
"I just worry that we've got a generation that's never going to know, they're just not. And so, I think for me, this trip has validated the need to be very intentional with remembering moving forward," Ragsdale outlined.
"Even the families, they said that over and over today – that they didn't understand the scope of it. That, 'he's never really talked about it,'" he added.
It also gives context to the difference between that era and Americans today.
One WWII veteran from south Alabama even told Ragsdale one time that two men in his hometown died by suicide because they could not serve in the war.
"Because they couldn't go," he emphasized. "Just contrast that now with trigger warnings and safe spaces, and I don't know what the answer is to make us have that mindset again. To go from that generation, who came out of the Depression with absolutely nothing – and again, you just don't think about this stuff, [the veterans] were saying that all the deer pre-World War Two had been killed off because people needed to put food on the table so badly…. it's little stuff like that. And now the biggest thing is does somebody have on a cap that offends me. That's how different the 18-22 year-olds in recent generations have become."
Ragsdale continued, "I don't know. But my hope is that you can expose them to this perspective – if they are able to see why they get to use their freedom this way, who paid the price for them to live in a country that's accepting of them, even if it's goofy and even if it's crazy."
This was driven home by Mr. Pritchett, who recounted to his son how the trip had affected him emotionally.
"You know, when you're at war and you're 18 or 19 and you see medics working on your friends who've been blown all over creation, they're carrying bodies out by the dozens, you just don't think about mortality. But, I realized today that I've lived a good life. I'm in my 90's. I was here with my son, my grandchildren and people that love me. And people have been shaking my hand all day. While my friends are still buried over there. They didn't get a life. They didn't get a college degree and a career and wives and kids and grandkids," Pritchett outlined, saying it just hit him all of a sudden, some 73-plus years after the war ended.
Ragsdale remarked, "For those guys to have a moment with their families, where their families say, 'That's what it costed, that's what it costs – when he was agitated when I was growing up, that's why. When he would go quiet around Memorial Day, that's why."
"These guys being here today, as the last World War Two president is being buried, was truly special," he concluded.
How you can help Valor's Voice
While this maiden trip was a success, Valor's Voice needs the help of Alabamians to get as many trips funded and completed in the next few years as possible. The next such trip, where veterans and loved ones will visit the museum in New Orleans around Memorial Day, is quickly approaching.
So far, Ragsdale said he has four more WWII veterans already lined up, with the hope of taking 20-30 total people on that upcoming trip. He is also expanding the opportunity to Gold Star Wives – those whose husband served in the war.
"We want to do this as much as we can," Ragsdale advised. "It's lit a fire with me again… and watching that today, while we can get them here, we've got to get as many as possible."
If you feel so inclined, you can donate to Valor's Voice here. Their work is 100 percent funded by everyday people and businesses across Alabama, with zero percent of donations going towards administrative costs or salaries.
Also, if you know of a veteran who served in WWII, you can contact Ragsdale so the veteran's story can be archived and he can work on getting that veteran plugged into an upcoming trip. Valor's Voice also archives stories of veterans from other eras, while helping with veterans in need that suffer from PTSD, ALS, problems with the VA, etc.
On this Pearl Harbor Remembrance Day, it is good to know that Alabama veterans of World War Two are not being forgotten. And as long as organizations like Valor's Voice are around, we will never forget.
Sean Ross is a staff writer for Yellowhammer News. You can follow him on Twitter @sean_yhn