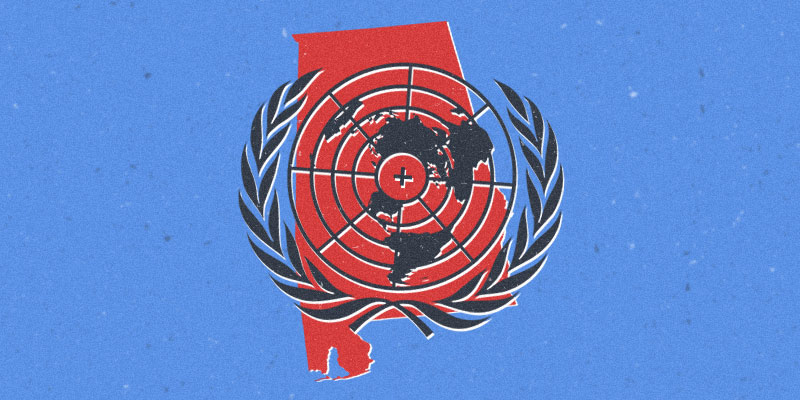 A bureaucrat from the controversial United Nation's Human Rights Council (HRC) will visit Alabama next month to "investigate government efforts to eradicate poverty" and how it relates to our "obligations under international human rights law," according to a statement from the organization.
"The United States is among the richest countries in the world, yet deep forms of poverty and inequality continue to exist in the country," said Philip Alston, the UN's special rapporteur on extreme poverty and human rights.
Why we should care: Conservatives have rightly criticized the HRC as a rogues' gallery of human rights abusers (Saudi Arabia, Pakistan, etc.) that often uses its position to take unjustified political shots at Israel and the United States. Alabama's leaders should be cautious when dealing with any representative from this organization.
What our leaders have to say about the HRC:
— President Donald Trump during his first address to the UN General Assembly in September: "It is a massive source of embarrassment for the United Nations that some governments with egregious human rights records sit on the UN Human Rights Council."
— Vice President Mike Pence speaking the same day to the UN Security Council: "The United Nations is bound by its charter to foster 'international cooperation in promoting and encouraging respect for human rights and for fundamental freedoms for all.' That was the purpose under which the (HRC) was formed. But the truth is, the Human Rights Council doesn't deserve its name."
The details:
— Alston's "fact finding visit" will occur from December 1-15.
— Along with Alabama, he will visit Washington, D.C., California, Georgia, Puerto Rico and West Virginia.
— Alston will meet with government officials at the federal, state and local level along with individuals living in poverty, civil society organizations and academic experts. 
— The topics he will examine are the human rights of the poor in relation to the criminal justice system, voting rights, political participation, and homelessness. 
— Alston will report his observations and recommendations at a press conference to be held at the end of his mission on December 15 at the United Nations Information Center in Washington, D.C.
— The United States refused to join the HRC during the administration of President George W. Bush because of the organization's political stances, but President Barrack Obama joined early in his presidency. Trump has threatened to leave.
Don't miss out!  Subscribe today to have Alabama's leading headlines delivered to your inbox.