Real-time data from soil moisture sensors built at the University of Alabama in Huntsville Earth System Science Center, a part of the University of Alabama System, played a key role in the Alabama Forestry Commission's decision to call off last month's prescribed burn at Gulf State Park.
"This is the first time our team has had real-time soil moisture measurement data at a prescribed burn site," said Alabama Forestry Commission Fire Analyst Ethan Barrett. "This data was invaluable, as we have a certain threshold of how dry the soil conditions can be to conduct a prescribed burn."
UAH Earth System Science Center Research Scientist and Associate State Climatologist Dr. Lee Ellenburg installed five soil moisture and temperature sensors within the prescribed burn area at Gulf State Park this year. The sensors were developed by Ellenburg's team at UAH, including UAH Department of Atmospheric & Earth Science Student Specialist Nick Perlaky. The sensors can measure moisture content from the surface to approximately two feet below ground.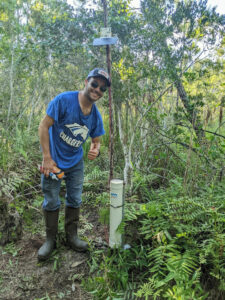 "The soil moisture sensors indicated quickly-drying soils within the prescribed burn area in late July that began to translate to a dropping water table," said Ellenburg. "This provided an early warning for conditions to come."
The Alabama Forestry Commission said the safety of its firefighters and the public is number one priority. The thresholds set by the organization considers not only how dry soils are, but also wind speed, rain and humidity that has occurred over the prescribed burn site.
"The data that UAH provided gave us a two-week heads-up of what conditions on the ground were and allowed us to plan accordingly as the window for the burn approached," said Barrett.
UAH's sensors, in conjunction with fire modeling used by the Alabama Forestry Commission, can help investigators to more intuitively monitor fire danger to accurately implement burn restrictions to prevent future wildfires.
"The soil moisture sensors are part of a broader research initiative investigating the role of soil moisture in determining the health of the vegetation on the ground, and thus how the fire will respond," said Ellenburg.
Prescribed burns are planned fires initiated to help destroy low-lying brush that can serve as fuel for wildfires. Prescribed burns are also necessary in helping to maintain healthy native ecosystems.
The information collected by the sensors can also help forest managers better understand secondary fire effects, such as tree mortality. Alabama is home to 23 million acres of timberland across the state, the second largest in the United States.
UAH will continue its partnership with the Alabama Forestry Commission. Subsequent research will include improving scientists' and fire analysts' understanding of fire behavior and secondary fire effects, such as tree mortality and impacts on wildlife.
Don't miss out!  Subscribe today to have Alabama's leading headlines delivered to your inbox.