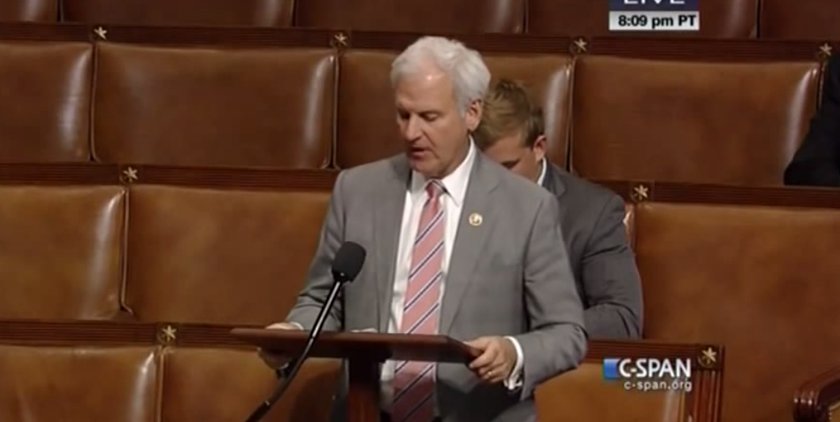 WASHINGTON — Congressman Bradley Byrne (R-AL1), a member of the House Armed Forces Committee, applauded his colleagues Thursday for voting to approve the National Defense Authorization Act that will fund the construction of three additional Littoral Combat Ships (LCS) in Alabama's first district.
"I am very proud of our efforts to secure authorization for three more Littoral Combat Ships," Byrne said after the vote. "My colleagues in Congress are continuing to realize what our Navy leaders have said all along: the LCS is a critical piece of our naval fleet. I will continue to work tirelessly to support our nation's Navy and the hardworking men and women at the Austal shipyard in Mobile."
The NDAA also included several reforms intended to provide more accountability to the Pentagon, fund further action against terror group ISIS, authorize a 2.3 percent pay increase for troops, and prohibit the closure of the prison in Guantanamo Bay.
Another member of Alabama's delegation, Congressman Gary Palmer (R-AL6) also approved the passage of the NDAA, which included an amendment offered by fellow Alabama Representative Mo Brooks (R-AL5) which would block immigrants granted amnesty under the President's executive actions from joining the military. "I do not believe Congress should ratify the Administration's illegal action," Palmer said, "nor do I believe that the NDAA is the appropriate place to legislate concerning illegal immigration."
"Keeping America safe and protecting our national interests is one of the most important jobs of the federal government. It is a top priority. A strong America is vital to our national security, and to that of our allies. The men and women who wear the uniform deserve to be given the equipment and training they need and the pay and benefits they earn."
Congressman Mo Brooks said he plans to hold Congress accountable to paying for the spending increases in the NDAA through voting for lower non-defense spending.
"Today the House passed a defense authorization bill that adequately defends America's national security," Rep. Brooks said. "Most importantly, this NDAA bypasses sequestration and eliminates the arbitrary, capricious, and dangerous national defense spending cuts that put America's long-term national security in jeopardy. It is my intention to pay for increased spending on national security by voting against non-defense appropriations bills that are excessive."
Democrat Terri Sewell (AL7) was the only member of Alabama's delegation to vote against the NDAA.
Earlier this week Rep. Byrne slammed House Democrats in a passionate speech on the House floor for threatening to play politics with the NDAA. Though the bill passed out of the Armed Forces Committee by a 60-2 vote, Minority Leader Nancy Pelosi urged members of her party to vote against the bill because she wanted more spending on unrelated domestic programs.
"The National Defense Authorization Act has long been a bipartisan bill that brings everyone together to support our nation's military men and women, It is reprehensible that some of my colleagues are now trying to use our military men and women as pawns in an effort to boost non-defense discretionary spending and make a point on issues that don't have anything to do with our military."
The NDAA passed the House with a vote of 269-151 and will go to the Senate.
---
Like this article? Hate it? Follow me and let me know how you feel on Twitter!

— Elizabeth BeShears (@LizEBeesh) January 21, 2015
Don't miss out!  Subscribe today to have Alabama's leading headlines delivered to your inbox.