Trump's popularity slips in Alabama, but Heart of Dixie still his No. 2 state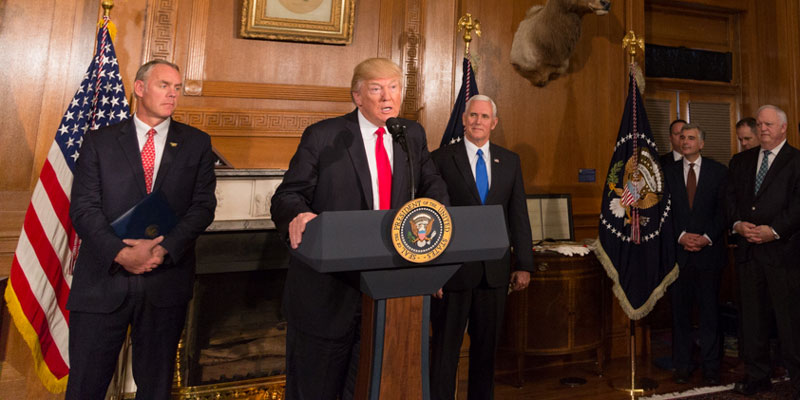 President Donald Trump's approval rating slipped nominally in Alabama last month, but the Yellowhammer State remains one of his strongest, according to a Morning Consult poll released Tuesday.
The 61 percent approval rating was down 2 percentage points from January, within the margin of error. Wyoming passed Alabama as Trump's strongest state. Trump has a 64 percent approval rating there, with 32 percent disapproving. The 32 percent net beat Alabama by 5 percentage points.
With 35 percent of Alabamians disapproving of Trump's performance, the president enjoys a net positive of 27 points in the Yellowhammer State.
The survey is based on 86,930 interviews with registered voters in all 50 states and the District of Columbia. The margin of error in Alabama was plus or minus 2 percentage points.
After Wyoming and Alabama, Louisiana, West Virginia and Mississippi round out Trump's top five states. On the other end of the spectrum, Trump remains most unpopular in the District of Columbia, where 82 percent disapproved in February compared with just 16 percent who approved.
The other states where Trump performed worst in the survey are no surprise — the deep blue states of Vermont, Hawaii, Massachusetts and California.
Trump's 61 percent approval rating in Alabama is almost exactly where it was when he took the oath of office in January 2017 — 62 percent. His disapproval rating in Alabama is 9 points higher, however.
The latest survey indicates that Trump is above water or flat in 24 states and has a higher negative rating than positive assessment in 26 states and the District.
The poll suggests warning signs for Republicans in three crucial battleground states that Trump carried during the 2016 election — Michigan, Wisconsin and Pennsylvania. The president has a net negative rating of 10 points, 9 points and 5 points, respectively. All three states look to figure prominently in the midterm election battle for control of the House of Representatives.
Trump also is 8 points under water in Nevada, one of the few states where a vulnerable Republican senator is up for re-election in November.
The news is better for the president in handful of other swing states. He is up 5 points in Missouri, where Democratic Sen. Claire McCaskill is a top Republican target in November. Trump is 3 points above water in Arizona and 2 points in Florida. His negative rating is 1 point under his approval in Ohio and 2 points in Iowa.
Brendan Kirby is senior political reporter at LifeZette.com and a Yellowhammer contributor. He also is the author of "Wicked Mobile." Follow him on Twitter.