Saturday, former President Donald Trump took aim at Republican U.S. Senate hopeful Katie Britt, former head of the Business Council of Alabama, by questioning her qualifications for the job.
In a statement, Trump said she was not qualified, nor was she "what our Country needs or not what Alabama wants."
Earlier this year, Trump endorsed one of Britt's opponents, U.S. Rep. Mo Brooks (R-Huntsville), in the race.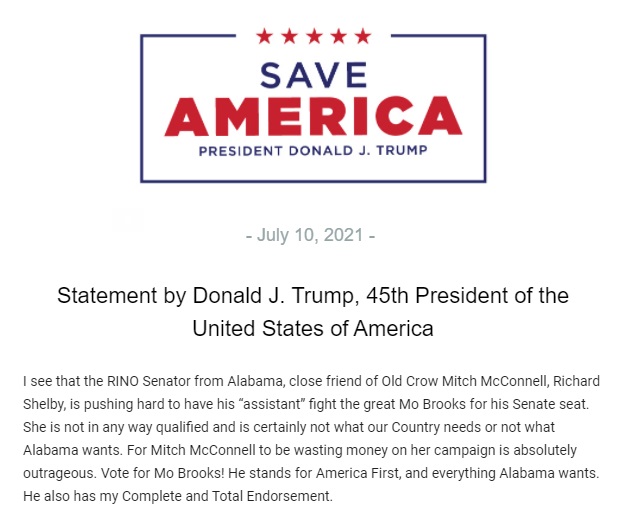 "I see that the RINO Senator from Alabama, close friend of Old Crow Mitch McConnell, Richard Shelby, is pushing hard to have his 'assistant' fight the great Mo Brooks for his Senate seat," Trump wrote in a statement sent to the media. "She is not in any way qualified and is certainly not what our Country needs or not what Alabama wants. For Mitch McConnell to be wasting money on her campaign is absolutely outrageous. Vote for Mo Brooks! He stands for America First, and everything Alabama wants. He also has my Complete and Total Endorsement."
Shortly after issuing the statement, the Britt campaign sent the following response to Yellowhammer News, which noted Brooks' 2006 lieutenant gubernatorial and 2017 U.S. Senate campaign losses:
"I don't need anyone else to fight my battles, and as Alabama's next U.S. Senator, I won't be a rubber stamp for anyone. I am proud that over 90% of the $2.24 million we raised in June came from Alabamians, because that's who I'll be going to work for and representing every single day," said Katie Britt. "What we're seeing now is a reaction to the incredible momentum that continues to build for our campaign. My opponent is obviously panicked; he's been in elected office for 40 years, but the people of Alabama are eager for a real conservative choice and someone who's going to bring change to D.C. My opponent lost statewide in 2006. He lost again statewide in 2017. And he's going to lose in 2022, because our Alabama First team is on the road to victory."
What we're seeing today is a reaction to the incredible momentum that continues to build for our campaign.

Some more thoughts from the trail:#alpolitics #BrittForAlabama #AlabamaFirst pic.twitter.com/h8gYzjVYyn

— Katie Britt for AL (@KatieBrittforAL) July 11, 2021
Alabama Republican voters head to the polls on May 24, 2022 to vote for their preference on the November 8, 2022 ballot from a field that includes Britt, Brooks, Prattville businesswoman Jessica Taylor, and former U.S. ambassador to Slovenia Lynda Blanchard.
@Jeff_Poor is a graduate of Auburn University and the University of South Alabama, the editor of Breitbart TV, a columnist for Mobile's Lagniappe Weekly, and host of Mobile's "The Jeff Poor Show" from 9 a.m.-12 p.m. on FM Talk 106.5.
Don't miss out!  Subscribe today to have Alabama's leading headlines delivered to your inbox.