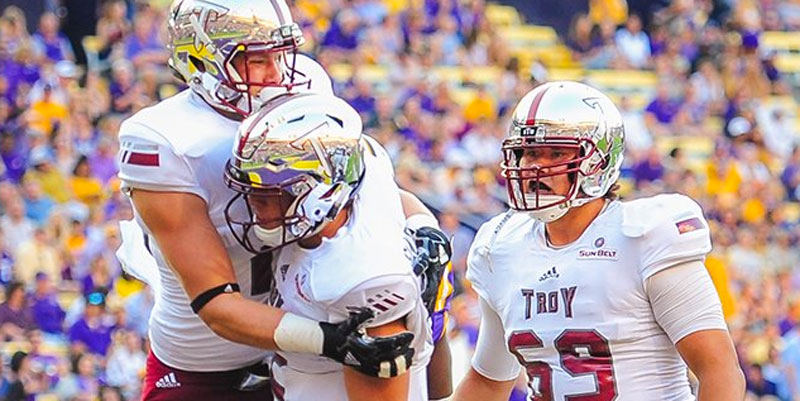 If this past Saturday taught the world of college football anything, it taught every Power Five football team in America that the old adage "they're everybody's homecoming game" should never be applied to the Troy Trojans.
LSU invited Troy to Death Valley Saturday, which is quite common when schools in Power Five conferences expect an automatic win on homecoming. However, as reigning National Champ Clemson learned one year ago, nothing can be taken for granted when playing the Troy Trojans.
Troy went to that Death Valley early in the 2016 season and came within a gnat's hair of derailing Clemson's perfect season before it ever left the runway. As Dabo Swinney said at the time, "I just want to congratulate Troy. I thought they played an outstanding game. They outplayed us in a lot of areas and never quit….We were very fortunate to win today."
Fast forward one year and the Trojans headed west Saturday to play another team of Tigers in another Death Valley, only this time, they closed the deal. In so doing, they hurt the feelings of the LSU football program and everyone in Bayou Bengal Nation.
The victory is especially sweet considering the fact that Troy not only left Baton Rouge with a "W" but with $985,000 to boot.  All of this sweetness was best captured in Troy's epic tweet that has already garnered 65,000 re-tweets and 176,000 likes.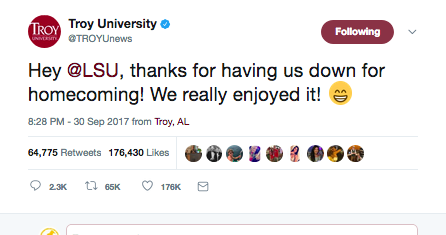 As Troy's Quarterback Brandon Silvers told reporters after the game, "This is a huge win for the program. I was in the stands for the game in 2008," he said, referring to the hard-fought 31-40 loss to LSU nine years ago. "We dedicated this game to them tonight and the whole university. It feels great. I can't really describe how it feels. But walking off that field, man, and seeing the fans in the stands who made the trip — to be able to send them home with a win is fantastic. They were there for us, and we got to be there for them tonight," Silvers added.
Steve Knudsen, father of Trojan defensive back and special teams player, Kyler Knudsen, shared his perspective as a parent watching from the stands as the underdog Trojans beat LSU. "It was incredible! The big hit to start the game got the fans into it, and we never sat down! Our kids left it all on the field! It's almost surreal that they pulled it off. We couldn't ask for a better football experience for our son than the experience  Troy is providing!"
Mr. Knudsen's sentiment is surely shared by every parent whose son was wearing that Trojan uniform Saturday. For two years in a row, Troy has proven that they can play with anybody, and it's highly unlikely they will be scheduled as anyone's homecoming opponent for a very long time to come.
More importantly, Troy Athletics Director Jeremy McClain, Head Coach Neal Brown, and everyone associated with the Trojans football team has built a program where young men can thrive as student-athletes, have an incredible Division 1 football experience, and always be proud that they chose Troy.
Hat's off, Troy Trojans!!! The state of Alabama couldn't be more proud of you. Keep Tweeting and keep slaying the giants!
Don't miss out!  Subscribe today to have Alabama's leading headlines delivered to your inbox.