Troy King files suit against Steve Marshall, heating up final days of attorney general's race
The race for Alabama's attorney general got hotter Wednesday when Troy King, who faces Attorney General Steve Marshall in a primary runoff next Tuesday, filed suit against Marshall's campaign seeking a temporary restraining order against Marshall's use of campaign contributions given to him by the Republican Attorneys General Association (RAGA).
King called those contributions illegal in an ethics complaint that he filed on Monday, alleging that Marshall has committed "intentional, willful, and flagrant violations of Alabama's Fair Campaign Practices Act" by accepting "PAC-to-PAC" contributions from RAGA. The lawsuit raised the stakes from the initial ethics complaint.
Marshall's campaign, citing the Alabama Ethics Commission and Secretary of State, said in a statement that there has been no violation of the law.
A laywer for RAGA, which King was an active member of when he was attorney general, yesterday called King's complaint "a desperate ploy of a flailing campaign."

Alabama's Fair Campaign Practices Act (FCPA) makes it illegal for any PAC or 527 political organization to make "a contribution, expenditure, or any other transfer of funds to any other PAC or 527 organization."
FCPA also requires such unlawful contributions to be returned. The statute reads, "It shall be unlawful for any person acting on behalf of a principal campaign committee or political action committee to retain or cause to be retained a contribution that the person knows or reasonably should know was made in violation of this chapter."
RAGA is a 527 organization that has both accepted PAC-to-PAC transfers and contributed funds to Marshall.
However, it's unclear whether or not RAGA's contributions, and therefore Marshall's acceptance of them, are illegal, due to ambiguity from the Alabama Ethics Commission.
Ethics Commission Director Tom Albritton told the Associated Press on Tuesday that such contributions from federal PACs are not illegal.
"Our commission has not formally determined the substantive issues here, but practitioners and the secretary of state's office have said that it does not violate any laws," Albritton said.
Even still, Albritton had at one time told candidates inquiring about the matter that such contributions are not legal, according to AL.com's Kyle Whitmire.
Albritton could not be reached for comment regarding what specifically the secretary of state's office has said of the legality of contributions such as RAGA's to Marshall.
Secretary of State John Merrill on Wednesday reiterated to Yellowhammer News the need for the Ethics Commission to offer a clarification on federal PAC-to-PAC transfers.
In any case, Marshall's campaign accepts Albritton's argument, saying in a statement to Yellowhammer News that there have been no infractions.
"As Ethics Commission Director Tom Albritton stated yesterday, practitioners and the Secretary of State's office agree that there is no violation of the law here," the statement said.
King's argument focuses on statutory language in Alabama Code 17-5-2 (13) which defines political action committees subject to FCPA's transfer rules as those located both in the state and outside of it, and says that guidance from the Ethics Commission is wrong.
"It's not about the ethics commission," Angi Horn Stalnaker, King's campaign manager, told Yellowhammer News on Wednesday. "It's about what the law says."
As for FCPA's jurisdiction, a source on the Marshall side of the debate contends that there is a serious legal question of whether Alabama actually has the ability to regulate something like federal PAC-to-PAC transfers, a task that federal law has relegated to the Federal Election Commission.
King's lawsuit is part of a broader argument that King has made against his opponent's election, with Marshall's involvement in RAGA taking center stage.
In a Tuesday press conference, King said that Marshall has been "bought and paid for" by RAGA, as evidenced by his attendance to various meetings and fundraisers also attended by wealthy donors.
However, King was also an active member of RAGA during his time as attorney general. He attended at least 14 RAGA meetings from Spring 2004 to Winter 2010 and held fundraisers at two of the events, according to RAGA.
The following example documents are provided by RAGA to Yellowhammer News.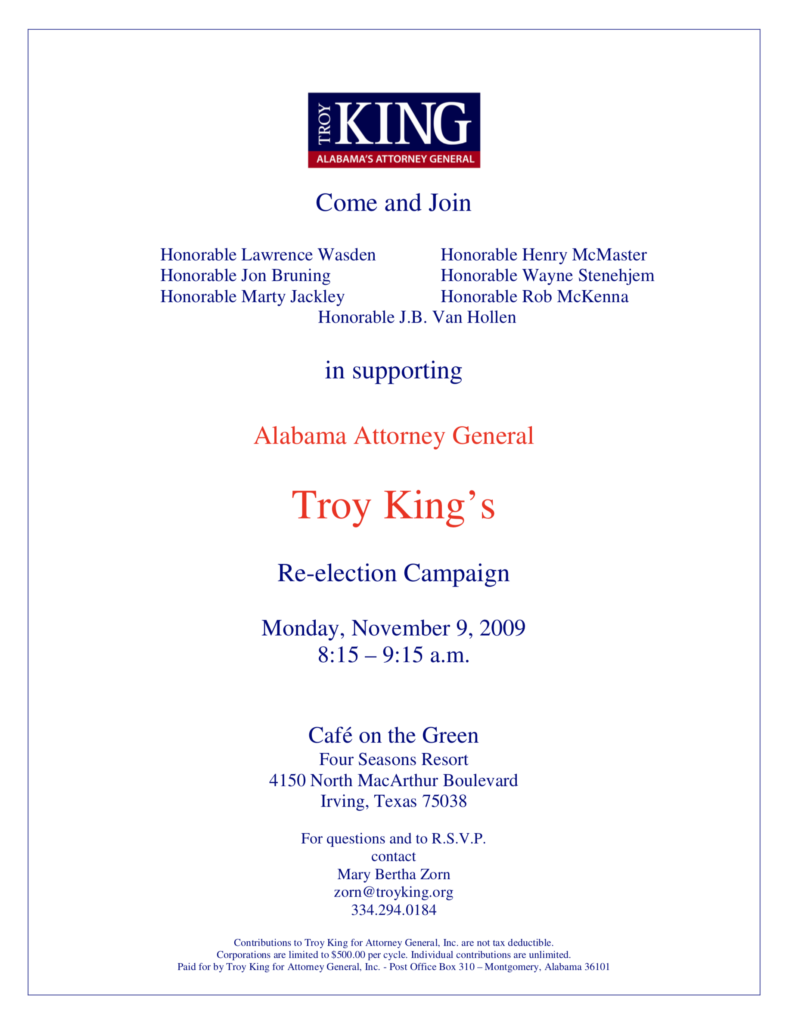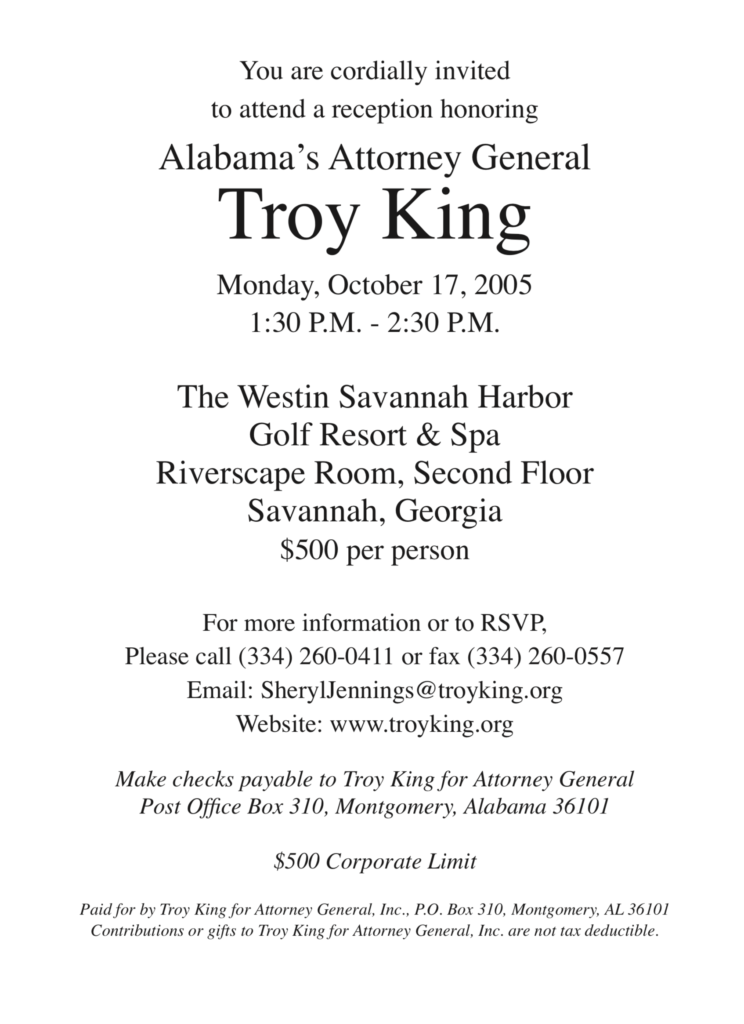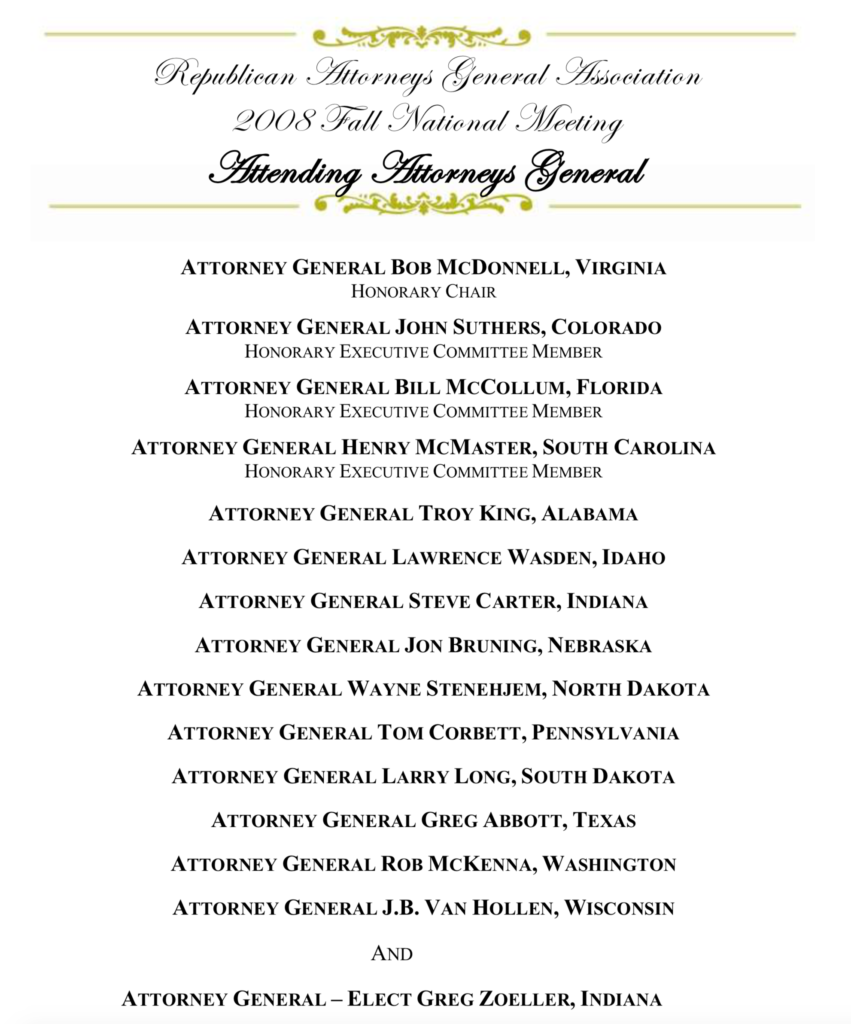 King said in his press conference yesterday that RAGA has become "an organization whose activities have become more sinister and controversial" since he left it.
In response, RAGA lawyer Charlie Spies said Tuesday, "This complaint is a desperate ploy from a flailing campaign filed one week before the election against the wrong entity and based upon an incorrect reading of the law."

@jeremywbeaman is a contributing writer for Yellowhammer News