Chris Hardy, a graduate of Troy University, is set to be inducted into the Ranger Hall of Fame July 13 at Fort Benning.
Hardy, the senior vice president of operations at Yorktown Systems Group, served a total of 27 years in the U.S. Army. A majority of his military career consisted of serving as an Army Ranger in the 75th Ranger Regiment.
Hardy's initial combat deployment was to Somalia with Task Force Ranger. He also deployed numerous times in support of Operation Enduring Freedom and Operation Iraqi Freedom.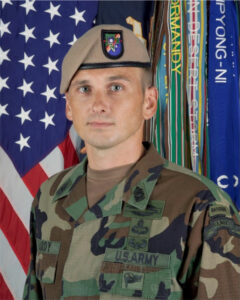 As part of his experience holding executive leadership roles, Hardy oversaw the completion of over $3.5 billion in construction across the largest training installation in the Army.
In 2013, Hardy retired from a distinguished career as the Command Sergeant Major (CSM) for the Maneuver Center of Excellence (MCoE) and Fort Benning.
In his current role with Yorktown Systems Group, Hardy is responsible for planning, implementing and overseeing the execution and performance of Yorktown's most complex and vital operations.
He also provides training and mission support to the nation's Inter-Agency (IA), Special Operations Forces (SOF) and other joint forces.
In a statement, Hardy expressed his honor in being selected for induction into the Ranger Hall of Fame.
"Successful leadership is about taking care of people and demonstrating the proper example daily, in both word and deed, to earn and maintain their loyalty and respect," said Hardy in a release. "This experience has been incredibly humbling, and I'm honored to be an inductee of the Ranger Hall of Fame."
Hardy has been honored with more than 50 awards and decorations, including the National Infantry Association's Order of St. Maurice, Primicerius Award and the U.S. Armor and Cavalry Association's Order of St. George. Additionally, he is a Distinguished Member of the 75th Ranger Regiment, the 187th Infantry Regiment and the 502d Infantry Regiment.
Dylan Smith is a staff writer for Yellowhammer News. You can follow him on Twitter @DylanSmithAL