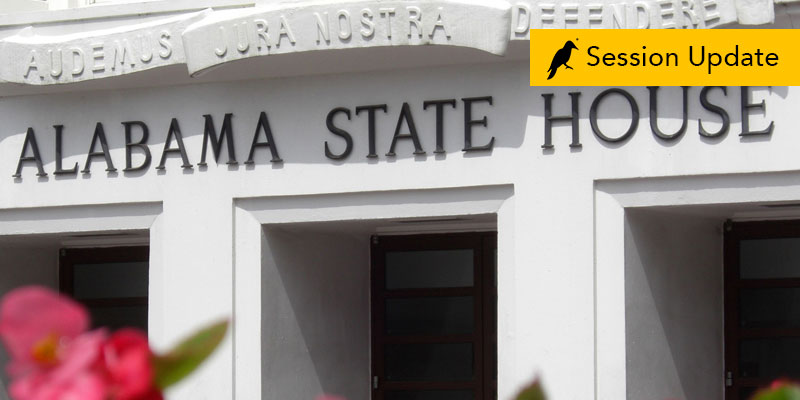 The Alabama Legislature on Thursday moved closer to cutting taxes, saving money for Medicaid and approving rules for ride-sharing companies like Uber and Lyft.
Here are the major developments in Montgomery.
The big story: The Alabama Senate approved a modest tax break, one of the centerpieces of the Republican agenda for the 2018 session.
The bill, sponsored by Senate Pro Tem Del Marsh (R-Anniston) sailed through the upper chamber on a 28-0 vote.
The tax cut would be nothing of the magnitude of the federal tax cut passed last month. But it would give a small tax break to almost 200,000 low-to-middle-income families.
The bill would raise the standard deduction for families with incomes up to $33,000.
"It is a testament to the Republican Legislature that through smart, conservative management we have been able to guide the state through tough financial times and are now in a place where we can bring tax cuts to the hard-working people of Alabama," Marsh said in a statement.
Marsh said in the statement that he will continue to work for "responsible ways to give people a tax cut" until the bill reaches Gov. Kay Ivey's desk.
"I look forward to working with my colleagues in the Legislature to look for ways to reform the tax code that are fair to all of the people of this state," he said.
Kimble Forrister, executive director of Arise Citizens' Policy Project, told AL.com that his advoacy group for the poor would have preferred the Legislature act on its longtime priority of eliminating the sales tax on groceries. But he said the tax bill would be a "very modest improvement" for families.
"It's not as much as they would get from taking the sales tax off groceries," he told the website. "But it's still a few dollars every week and every little bit helps when you're trying to make ends meet."
The bill now moves to the state House of Representatives.
Medicaid reform: The Alabama Senate unanimously approved a Medicaid reform that supporters say will save the state $5 million to $6 million.
Alabama is the only state without a law allowing for its Medicaid agency to collect money from a dead Medicaid recipient's estate. Under federal law, the state has the right to collect from a dead recipient's estate an amount of money equal to Medicaid expenditures.
"Federal law requires the states to seek reimbursement from the estates of deceased recipients — otherwise, taxpayers are going to eat millions of dollars each year in unrecovered costs," the bill's sponsor, state Sen. Arthur Orr (R-Decatur) said in a statement. "Alabama doesn't have an option under federal law, and we do have an obligation to protect taxpayers' dollars."
The recovery law does not apply when the deceased has a living spouse, a child younger than 21, or a child who is blind or disabled.
The bill now goes to the state House of Representatives.
The gig economy: The Senate approved a bill to set up uniform, statewide rules governing the operation of ride-sharing companies like Uber and Lyft.
The bill, sponsored by Sen. Bobby Singleton (D-Greensboro), passed unanimously.
"This is important to the state of Alabama because ride-sharing is the new trend across the United States … It's important for us as a state to keep up with trends," he said in a statement. "If we pass this legislation, we will be the 45th state in the U.S.," Singleton said in a statement. "This will allow citizens in the state of Alabama to be employed and it will allow people who don't have transportation to be able to move around in their cities."
Supporters argue that the uniform rules would promote the growth of such services by wiping away the confusing patchwork of regulations that vary from city to city. Uber and Lyft operate now in only 15 cities — Auburn, Birmingham, Daphne, Gardendale, Gulf Shores, Homewood, Hoover, Huntsville, Mobile, Montgomery, Mountain Brook, Pelham, Tuscaloosa, Trussville and Vestavia Hills.
Currently, only five other states lack uniform regulations. The legislation would task the Public Service Commission with issuing permits that would allow drivers to operate statewide.
"This is a perfect example of a bipartisan bill that works for all Alabamians," Senate Majority Leader Greg Reed (R-Jasper) said in a statement. "Installing this regulatory framework is going to provide folks all over the state another choice in transportation, ensure safe operation for both drivers and riders, and pave the way for more jobs in the state."
The bill now goes to the House.
Get a job faster: Under a bill passed by the Alabama Senate, unemployed workers would have less time to find a job but would receive slightly more generous benefits while they look.
The bill, sponsored by Orr, would cut the maximum time on unemployment from 26 weeks. Instead, people would have from 14 to 20 weeks – depending on the unemployment rate — to find a new job. The maximum weekly benefit would rise from $265 to $275.
According to AL.com, Orr said the move would put Alabama in line with other states in the Southeast that have adopted similar policies.
"Some people will take the full 26 weeks and not look for a job until that 26 weeks is about to run out," he said. "This, hopefully, will encourage them to perhaps look a little bit earlier."
Unemployed people enrolled in a state job training program would get an extra five weeks of benefits.
Despite passing an amendment by Sen. Roger Smitherman (D-Birmingham) to use the county unemployment rate instead of the statewide figure, he still voted against the legislation.
"Even if it was 3 percent, those people who are the 3 percent need the full benefits," he said. "All the low rate is saying is that we have a lower number that needs benefits than we would otherwise. It doesn't eliminate the need of benefits."
Not so fast: A state representative who has proposed making it a crime to disrupt a political speech in public places got a lukewarm reception for his bill, the Montgomery Advertiser reports.
The bill would make it a misdemeanor to "prevent or attempt to prevent another person from making a public speech on public property because of the content of the speech." Rep. Jack Williams, R-Vestavia, said the proposal was a response to a wave of protests shutting down speakers across the country.
"This would make it unlawful to prevent someone from going into a public facility they've been invited to make an address," he said, according to the Advertiser.
But the Advertiser reported that lawmakers of both parties expressed concerns that the bill was too vague and questioned how it might affect free speech. Legislators referred it to a subcommittee.
Tweet of the day:
https://twitter.com/billholtzclaw/status/956694620200632320?ref_src=twsrc%5Etfw
Brendan Kirby is senior political reporter at LifeZette.com and a Yellowhammer contributor. He also is the author of "Wicked Mobile." Follow him on Twitter.
Don't miss out!  Subscribe today to have Alabama's leading headlines delivered to your inbox.