The virtual reality system Auburn football is using could revolutionize sports training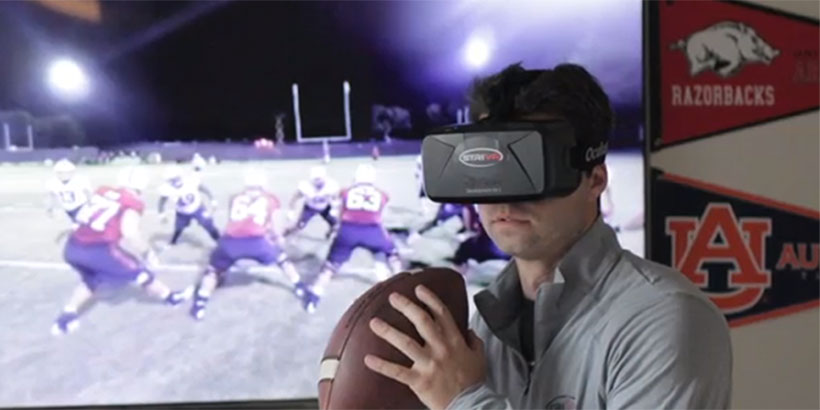 The Auburn Tigers are one of a small number of college football teams that are currently using a potentially game-changing virtual reality training program called STRIVR – Sports Training in Virtual Reality.
Derek Belch, a former Stanford kicker and Graduate Assistant Coach created STRIVR, which combines real film with wearable technology. It gives football players a previously unattainable 360-degree view of the field. STRIVR uses video filmed by six GoPro cameras stationed either by the inside linebackers or right beside the quarterback. This would give players the unique opportunity to review game film from the same vantage point they had on the field.
Belch first tested STRIVR at Stanford, which used the technology before each of their final three games in the 2014 football season. STRIVR helped the Cardinals win their three best games of the season, ending in a bowl game victory over Maryland. Stanford Head Coach David Shaw called the product "game-changing" and told Belch, "You can stay here and you'll be a great coach. But I think you're really on to something here. If I were you, I'd put everything I had into this."
Belch took Shaw's advice and began recruiting more teams to use STRIVR. One of the first college teams to use STRIVR was Clemson, which helped open the door to more top-tier programs.
Auburn was one of the original teams to help Belch pioneer this technology. The Tigers started using STRIVR in the summer of 2015. "When a team like this steps in, it speaks volumes about the legitimacy of it," said Belch. The STRIVR team gave coach Gus Malzahn a demonstration last spring, and he immediately jumped on board.
Along with Clemson, Auburn was able to test STRIVR and use it as a competitive advantage both on the field and off the field. It can be a major recruiting tool for prospects.
Malzahn praised STRIVR, saying, "It's as close to a practice rep as possible." Indeed, even second and third-string players can get reps and experience without getting physical reps on the field. The virtual reality can benefit both offense and defense as well.
STRIVR now works with 14 football teams, including three SEC schools – Auburn, Arkansas, and Vanderbilt, as well as six NFL teams – including the Arizona Cardinals and the Dallas Cowboys. Belch has also started discussing using this technology for basketball, baseball, and hockey.
Arizona Cardinals back-up quarterback Drew Stanton explained the significance of this new technology, saying, "It's easy to sit there and watch film like all of us have in the past and say, 'OK, this is what I would've done. But when you're actually at eye level and seeing everything else around you, it's such an impressive tool from the point you can't simulate it any other way."