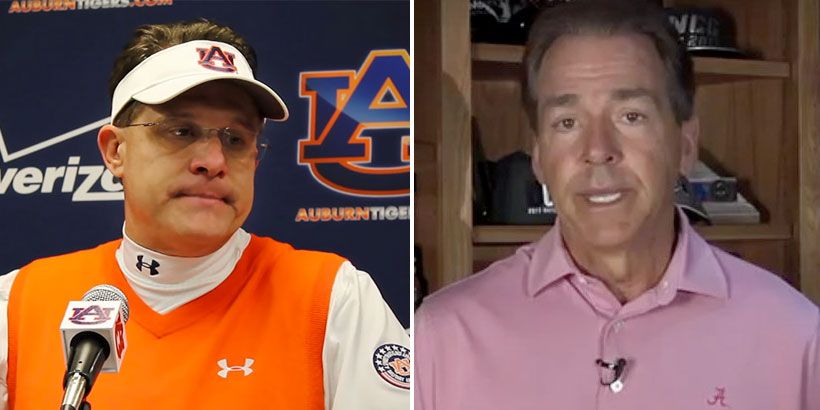 Following Alabama's second scrimmage of its 2017 spring football camp, Alabama head coach Nick Saban answered questions from reporters on a variety of topics. One question concerned a rule that was just passed by the NCAA about programs being allowed to hire a 10th assistant coach. Heretofore, nine has been the limit for on-field assistants at Division I college football programs.
In typical Saban fashion, he decided to redirect the conversation to address some who have commented on the size of coaching staffs in college football.
After affirming that he supports the decision to allow a 10th assistant, he said, "All these people who complain about staff sizes, we pay interns a very small amount of money. You would be shocked at how cheap the labor really is. Almost, like, criminal. And we have administrators complaining about how many cheap labor people you have trying to promote the profession and develop the game. How else do you develop guys?"
Saban went on to draw attention to a new rule restricting the hiring of high school coaches by Division I programs. He also brought up a rule that requires former players to be no more than seven years removed from graduating to be eligible for graduate assistant positions.
The basic point Saban is making is that without these positions, which are clearly not well compensated, many young coaches would not find opportunities to break into the profession. He decries the rule about not hiring high school coaches as being against the growth and development of the game of football.
He finished with this shot at other head coaches, "I guess it's the paranoia that we all have that someone else is doing something. Everybody else is allowed to do it, but you choose not to do it. Just like when I used to go on the road in the spring. Everybody could have gone on the road in the spring. Urban Meyer (Ohio State's head coach) and I were the only two that went out every day. Everybody else complained about it, but they could've done it. It wasn't against the rules. So, they just don't want to work?"
Saban is not alone in his criticism of the new 'high school rule.' Auburn head coach Gus Malzahn, who began his career as a high school coach, said it could be a "death sentence" for some coaches. Georgia head coach (and former Alabama defensive coordinator under Saban) Kirby Smart also voiced his opposition to it, adding that he is the son of a high school coach.
Saban has been to the mountaintop of his profession on multiple occasions. He started as a graduate assistant at Kent State. With very few exceptions, coaches begin their careers as high school coaches, graduate assistants, analysts, interns, and other entry-level positions. Five-time Super Bowl champion Bill Belichick started as a special assistant for the Baltimore Colts in 1975.
If such staff rules are being implemented simply to stop the coaches at the top of the profession, such as Nick Saban and Urban Meyer, it is very shortsighted. At some point these coaches will retire. This rule could keep many quality high school coaches from breaking into the business at the college level, impacting the growth of the game for years to come. It truly is a rule that harms the grassroots of college football.
You know the rule must be a bad one to get Saban and Malzahn to line up in solidarity opposing it.
Don't miss out!  Subscribe today to have Alabama's leading headlines delivered to your inbox.