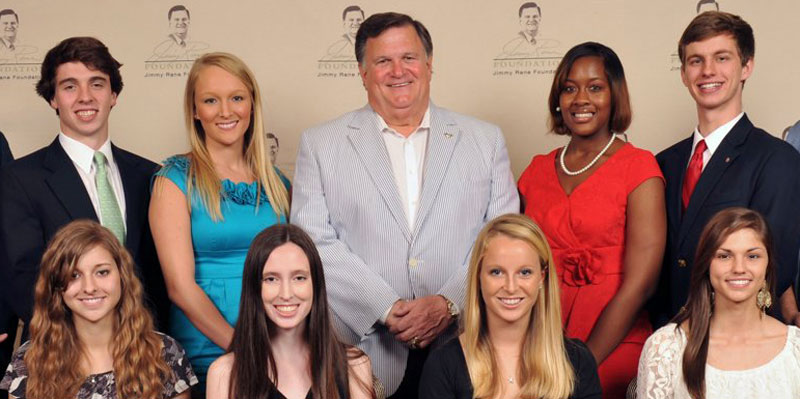 Last week marked the 17th annual Jimmy Rane Charity Golf Tournament and Banquet, and for the 17th consecutive year, a group of fortunate Alabama students received college scholarships because of this event.
This year, 34 students received scholarships, the most ever. Mr. Rane noted the most difficult part is narrowing down the recipients, as there are more deserving candidates than there are available scholarships. However, he said it's encouraging to see the heartfelt appreciation of those who are chosen.
"I wish you could read some of the stories and letters thanking us," he said, adding that he just received one letter from a young man that was able to attend college because of his Foundation's scholarship, and that led to this student becoming a Rhodes Scholar who's soon headed to Oxford to continue his studies. "This young man was thanking us for all the ways the Foundation changed his life and it was very meaningful," Rane said.
Mr. Rane was quick to add, however, that the Foundation and this event isn't only his doing. "It's important to remember that this program isn't about any one person. This couldn't be accomplished without a large team of people and our generous sponsors…it's not a one-man show. I'm really appreciative of all the people who have believed in this Foundation and contributed to these scholarships. As I just said to the recipients, they need to thank those who made this possible because their scholarships have been donated by hard-working individuals who believe in them. I'm excited for these young people and what their future holds."
"We've been very blessed with the Foundation's continued growth," Rane said. "We're going to raise right at $800,000 tonight and give more scholarships this year than we've ever given before."
With this year's 34 scholarships, the 17-year total is 348, representing some $3.5 million in scholarships given to in-state students. Of these recipients, Rane said "238 have already obtained their degrees and are now in the workforce contributing back. That's a lot to be excited about."
As in year's past, the evening featured an extraordinary lineup of celebrities, mostly associated with basketball and football. From former Alabama coach Gene Stallings to Ed "Too-Tall" Jones, the 73 celebrities attending the event were a who's who of gridiron greats. At Coach Stallings behest, this year's keynote speaker was Pelham, Alabama native and Clemson's head coach Dabo Swinney, who in many ways represents what the Jimmy Rane Foundation is all about.
When asked why he loved coming home to Alabama, Coach Swinney said, "Being home reminds me that I was a kid who didn't have much of a chance that God gave a chance." He went on to talk about his immense respect for Coach Saban, his fond memories of playing and coaching for the Crimson Tide, his appreciation for the Foundation, and his abiding love for Gene Stallings, who he simply calls "Coach."
"It's great to be around Coach," Swinney said, "and I always feel like I'm 20 again when I'm with him. It's 'Yes Sir and No Sir', Swinney quipped, as Jimmy Rane added with a chuckle, "We all say 'Sir' to Coach Stallings!"
When asked how the kind of love Stallings showed him as a young graduate assistant impacts his teams today, he said, "It's simple, I'm not sitting right here right now if it weren't for people like Coach caring about me. That's why I love the Jimmy Rane Foundation because it's all about caring for kids and giving them a chance," he said.
Swinney continued, "I try to always remember where I came from and I'm not any different now than I was years ago as a G.A. (graduate assistant) working for Coach back then. It's just the light's a little brighter now, but I don't do it any different. I think the key to coaching is to love my players. I'm relationship driven and it's hard to have a relationship with someone unless you know them and care about them. The whole philosophy of our team is to love, serve, and care for our players. If we do that, we will empower young men to go out in life and do the same thing. They'll love others, serve their families, and their communities, and I think that's been the key for our success at Clemson. If there's a secret sauce, that's it. Nobody's perfect, but we truly try to love our guys. That's the culture we've built at Clemson and I think it's the key to most anything, just love your neighbor."
As Coach Swinney said, that's what the Jimmy Rane Foundation is all about, loving young people in Alabama by providing them with the means to attend college so they can better their futures. And as Mr. Rane concluded, "it's amazing to see their appreciation."
Don't miss out!  Subscribe today to have Alabama's leading headlines delivered to your inbox.