'Tis the season for gift giving. This year, consider shopping local for all your holiday gifts. It's especially important to support small businesses who may have been impacted by the COVID-19 pandemic. Our state is home to many talented artists, makers, and clothing designers from whom you can purchase local, Alabama-made gifts. From home decor to gourmet food to trendy accessories, here is your essential Alabama-made gift guide.
Alabama-made Gift Guide
HOME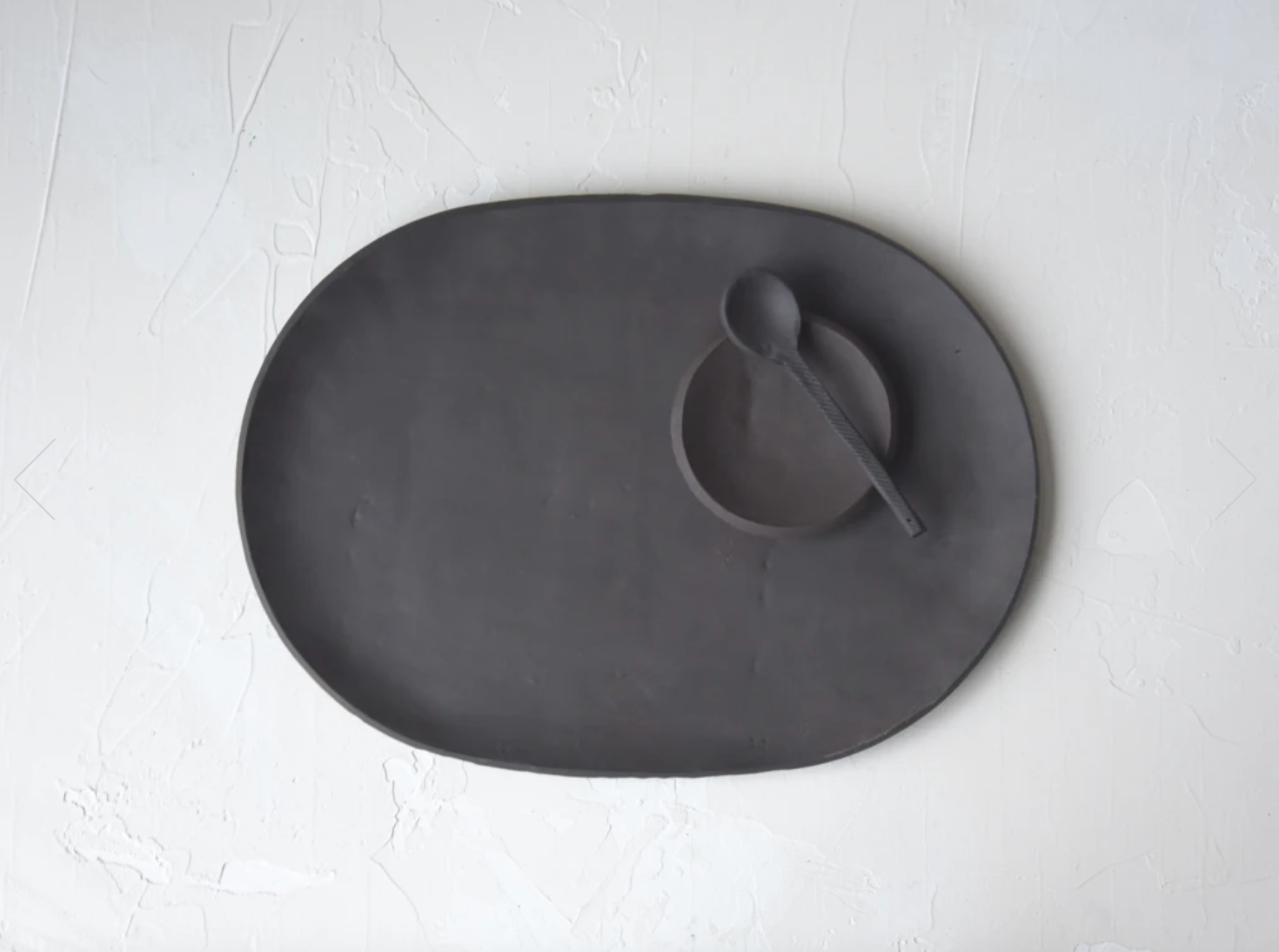 Birmingham-based Civil Stoneware is known for its signature, charcoal-colored pottery. The pieces make a statement on any table, and this server is great for charcuterie, appetizers, or even the holiday ham.
Cheer Candle from Great Bear Wax Company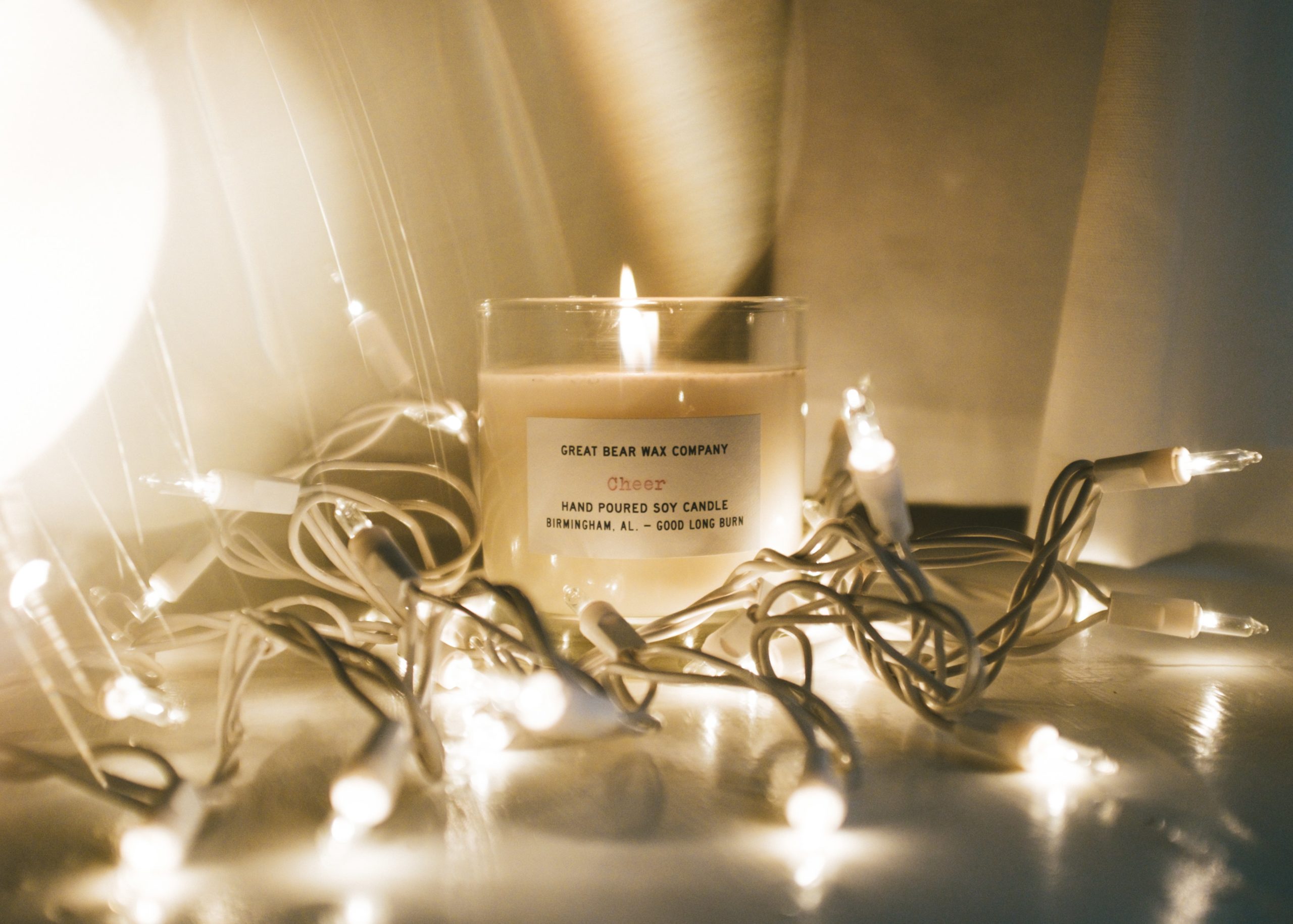 With notes of balsam fir, cedar, and a burning fireplace, this Cheer candle from Great Bear Wax Company smells like the holidays in a jar. Choose from an 11 ounce or 6 ounce candle.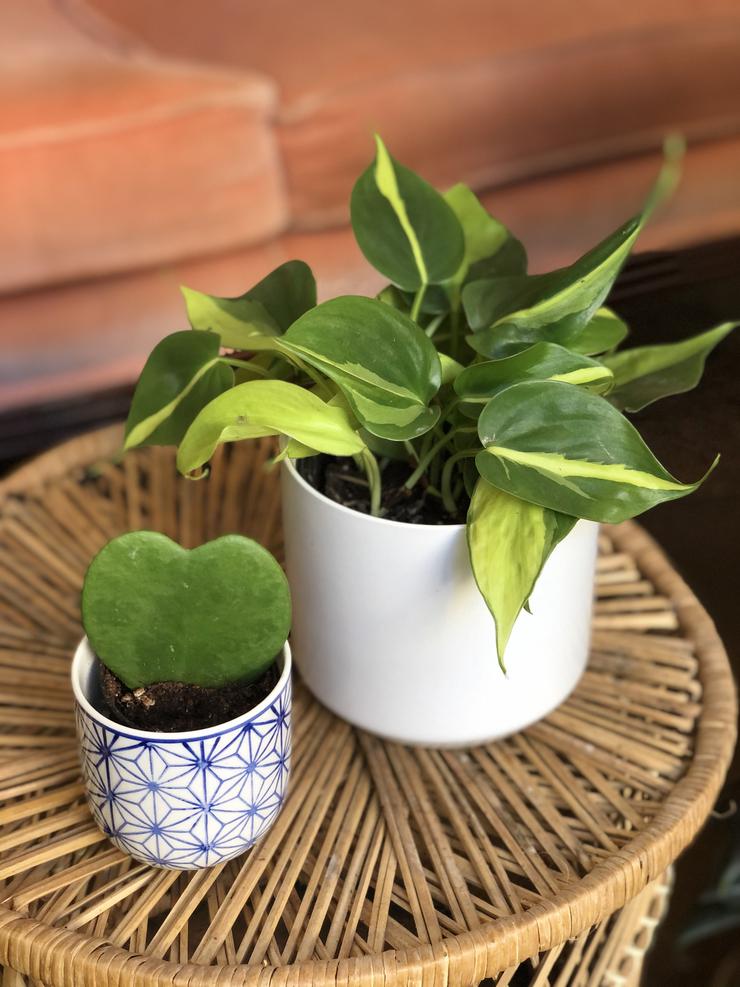 House plants are thriving this year. Local plant shop Botanica has the best collection of plants and pots, and has locations in Birmingham and Huntsville. Purchase a holiday gift set of two plants in pots.
Candy Dish from Orbix Hot Glass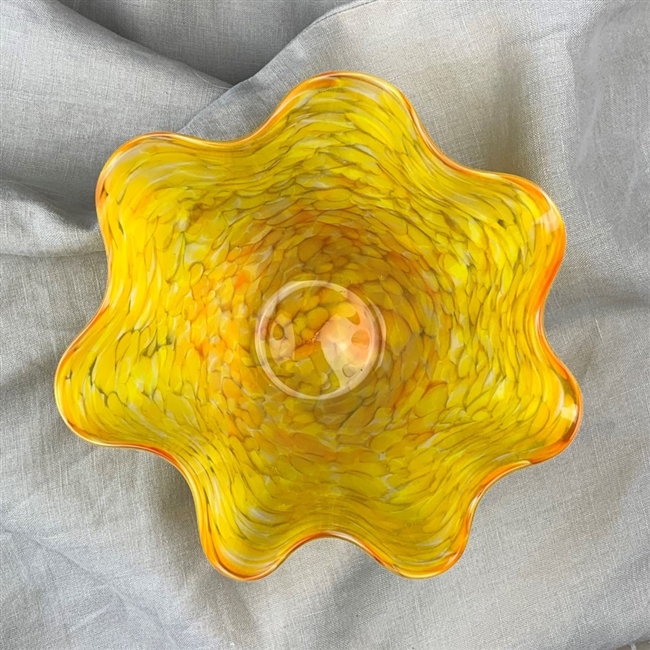 Orbix Hot Glass in Fort Payne hand blows the most beautiful glass creations. Give the gift of a colorful glass candy dish that's perfect for displaying Christmas treats!
Heart of Dixie Alabama Ornament from Prodigal Pottery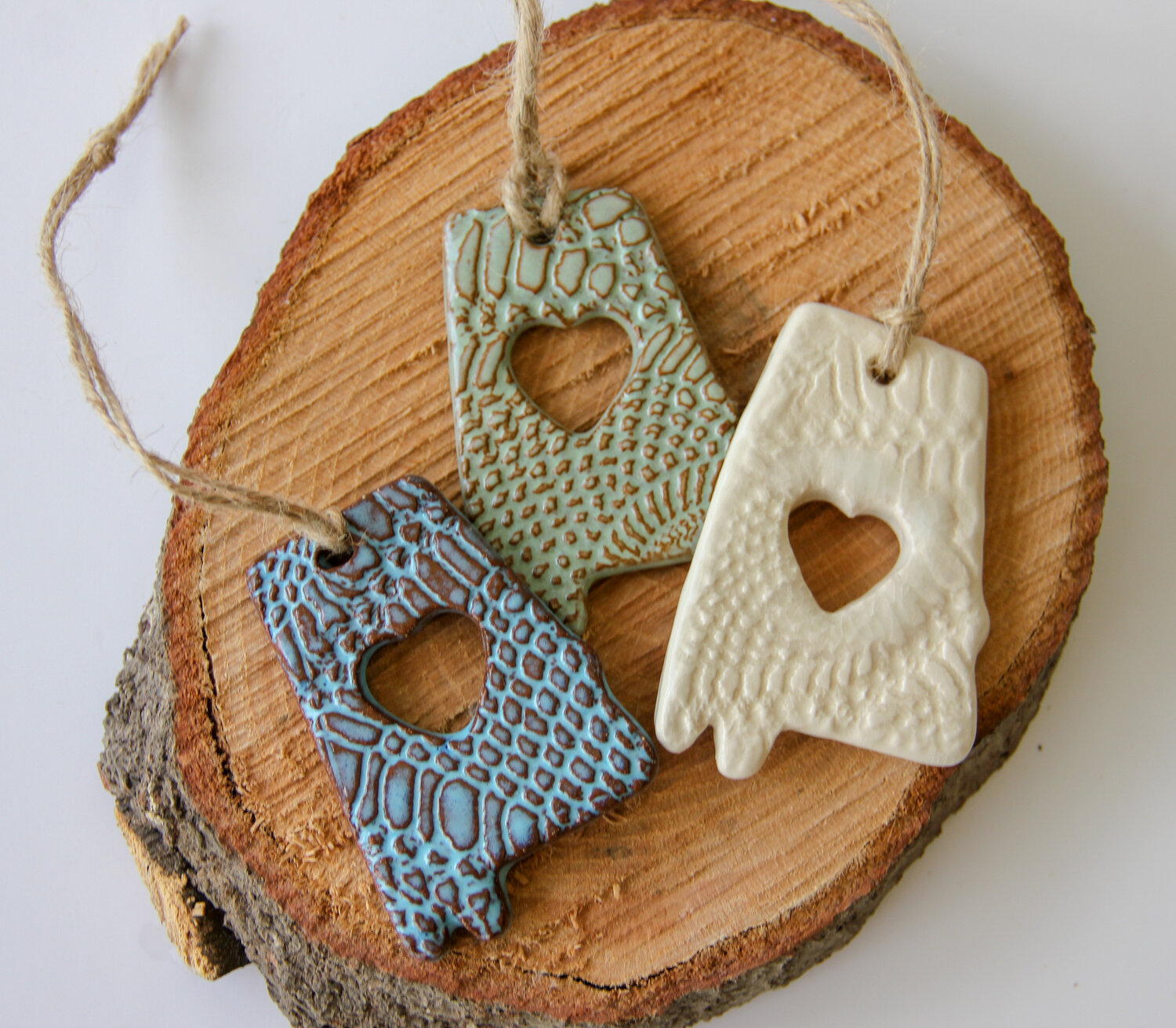 You can feel especially good about this Alabama-made gift from Prodigal Pottery. These state-shaped pottery ornaments are made in Chelsea by women fleeing homelessness, domestic abuse, and sex-trafficking. One hundred percent of the proceeds go toward supporting those women.
Love My State Hand Towel from Coast & Cotton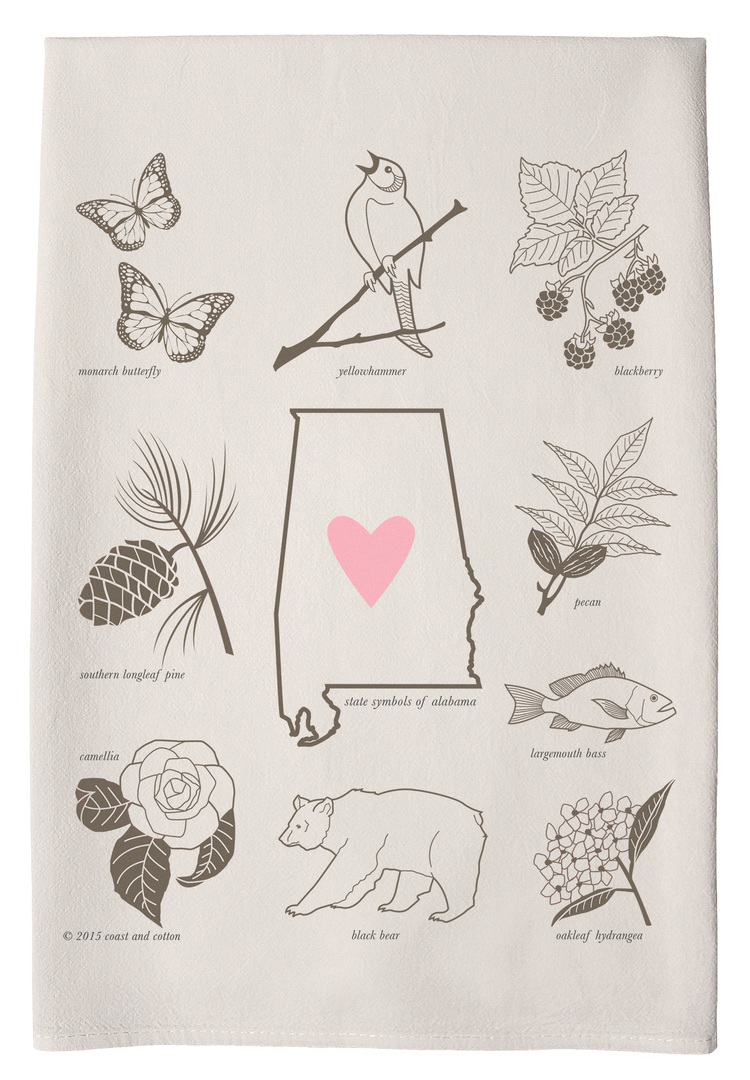 For the person who loves to show off their state pride, these cotton flour sack hand towels depict hand-drawn state icons. Made in Auburn, Coast & Cotton offers towels for all 50 states, as well as holiday towels and other signature patterns.
FOOD & DRINK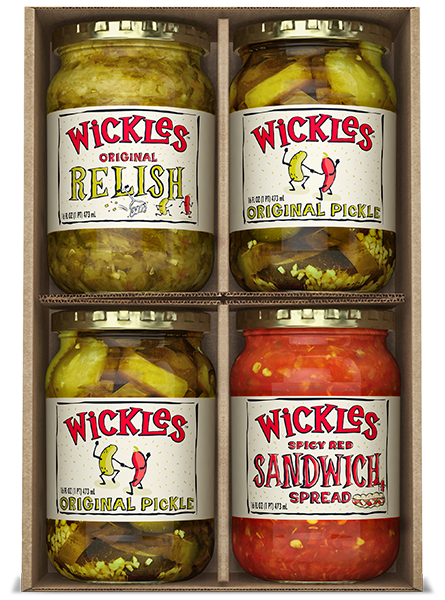 Spice up your gift-giving with Dadeville-made Wickles Pickles. These spicy lil' pickles are one of the most popular food items to come out of Alabama. The gift box includes two jars of Wickles Pickles, one jar of Red Sandwich Spread, and one jar of Relish.
Spirits from John Emerald Distilling Company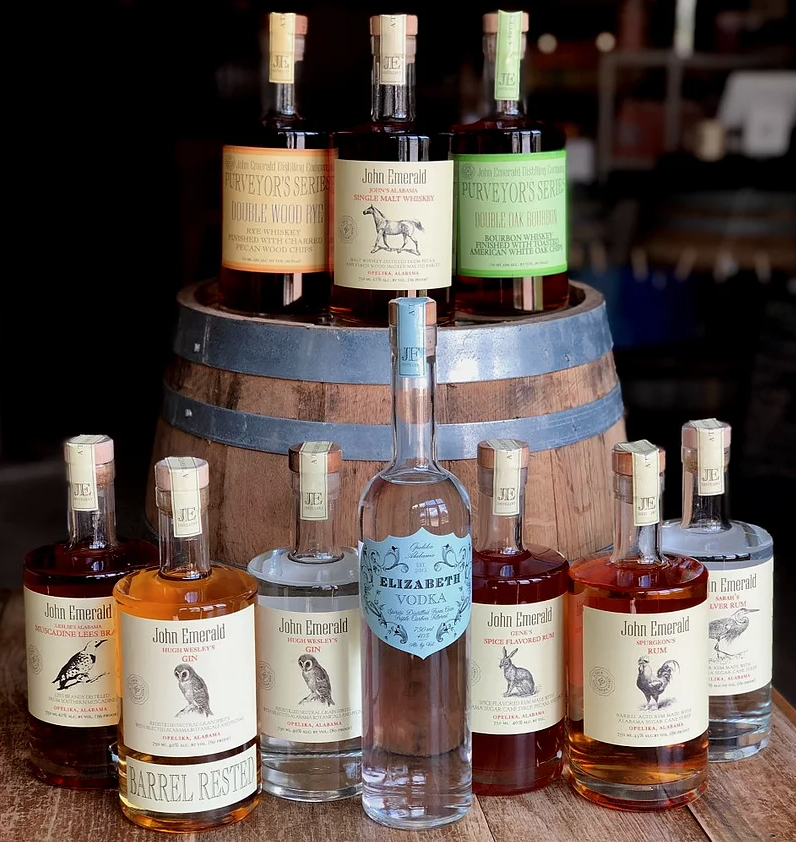 This small-batch, craft distillery in Opelika offers 10 spirits, including whiskey, rum, brandy, gin, and vodka. Each of the spirits is named after one of the owners' forefathers in order to honor their heritage.
Tea Subscription from Piper & Leaf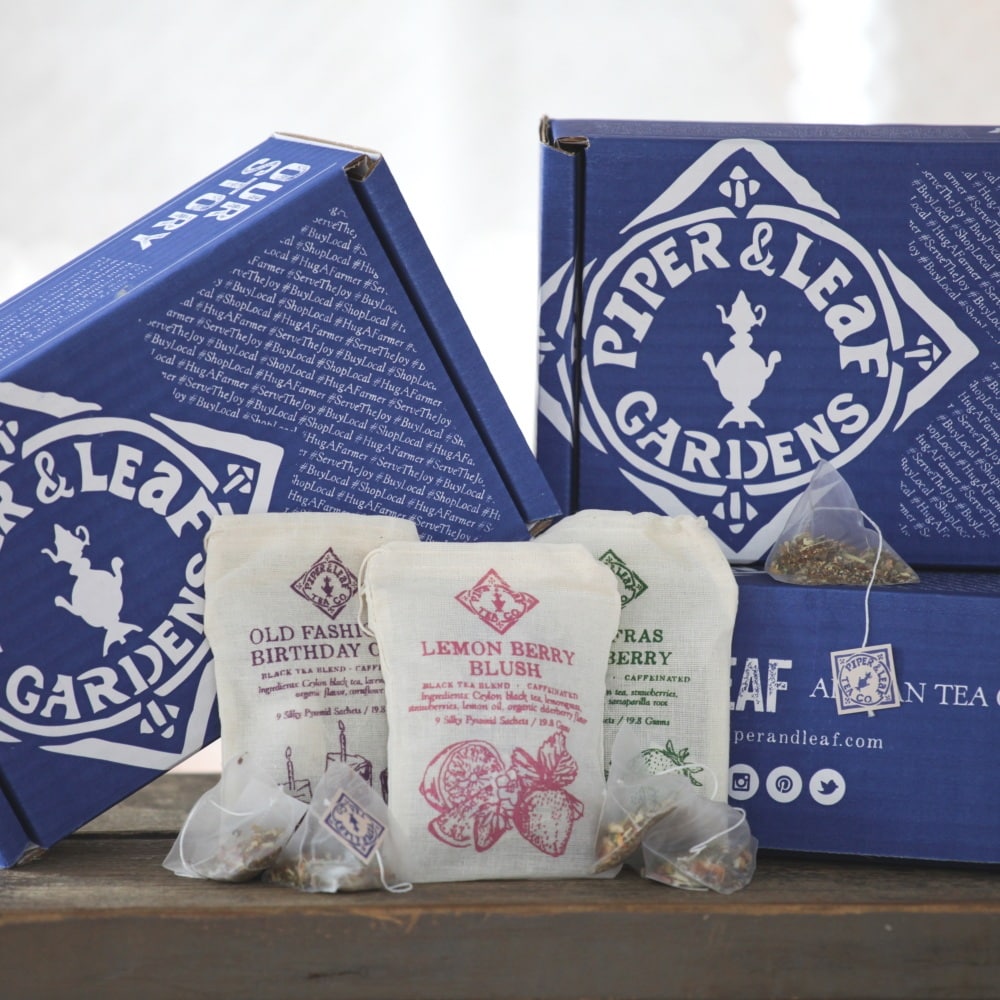 Give the gift that keeps on giving to the tea lover in your life. Piper & Leaf is a Huntsville tea company that became known for their signature jars of iced tea sold at farmers markets. The tea is made from their loose leaf blends. They offer a subscription box of one to four bags of tea per month.
Christmas Gift Box from Kettle Bros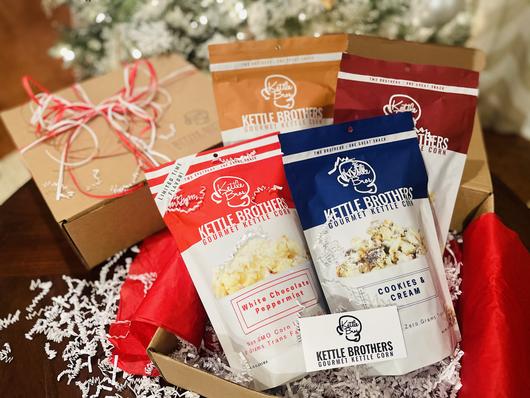 For the one with a sweet tooth, gift them a four-flavor box from Gadsden-based Kettle Bros. This salty-sweet kettle corn comes in flavors like cookies and cream, cinnamon roll, white chocolate peppermint, and more. Select your choice of flavors for the box.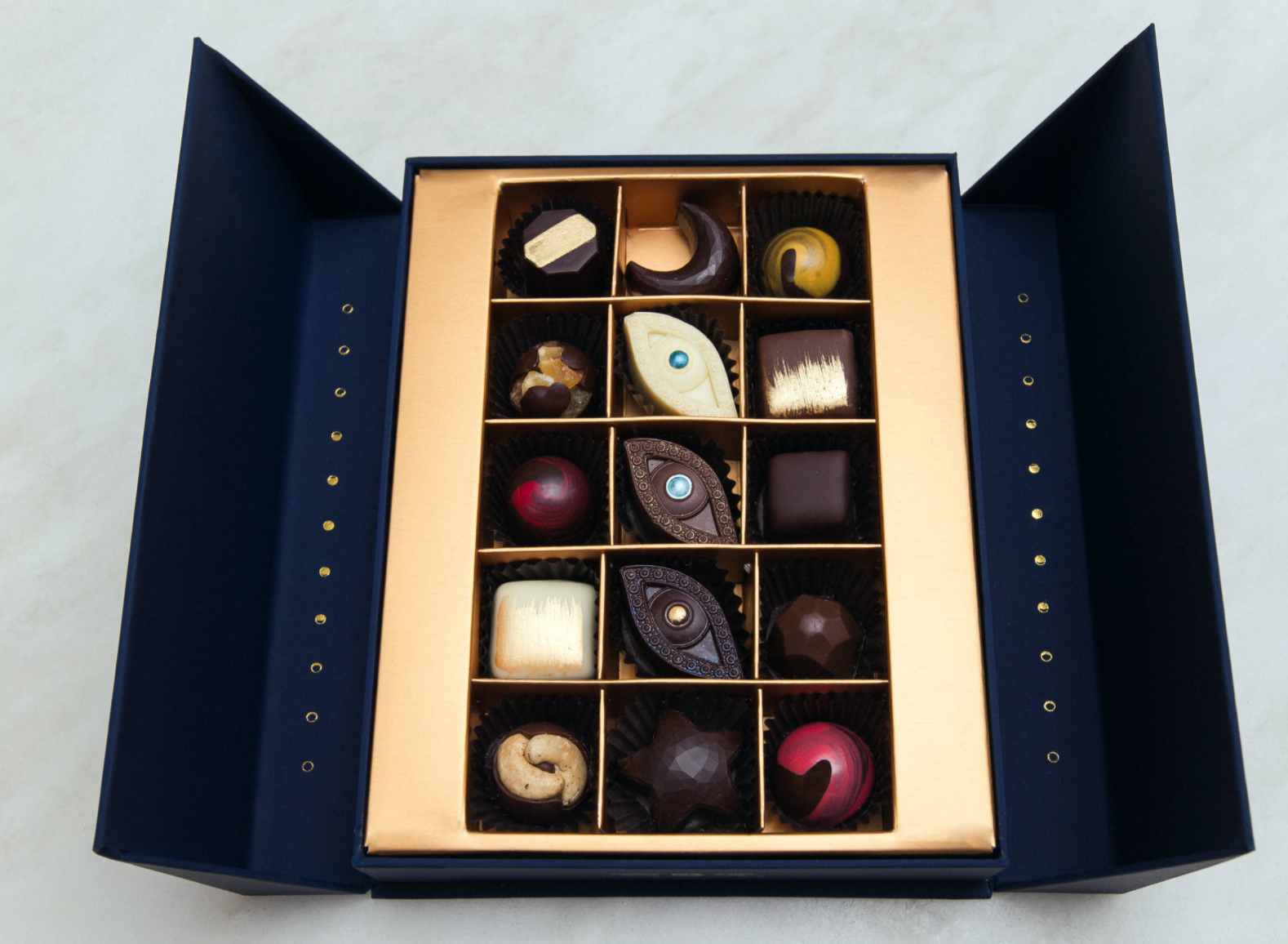 These chocolates are almost too pretty to eat — almost. As delicious as they are beautiful, these truffles are made by Birmingham chocolatier Kathy D'Agostino. Order a mixed assortment or choose one of her signature candy bars.
Candied Pecans from Superior Pecans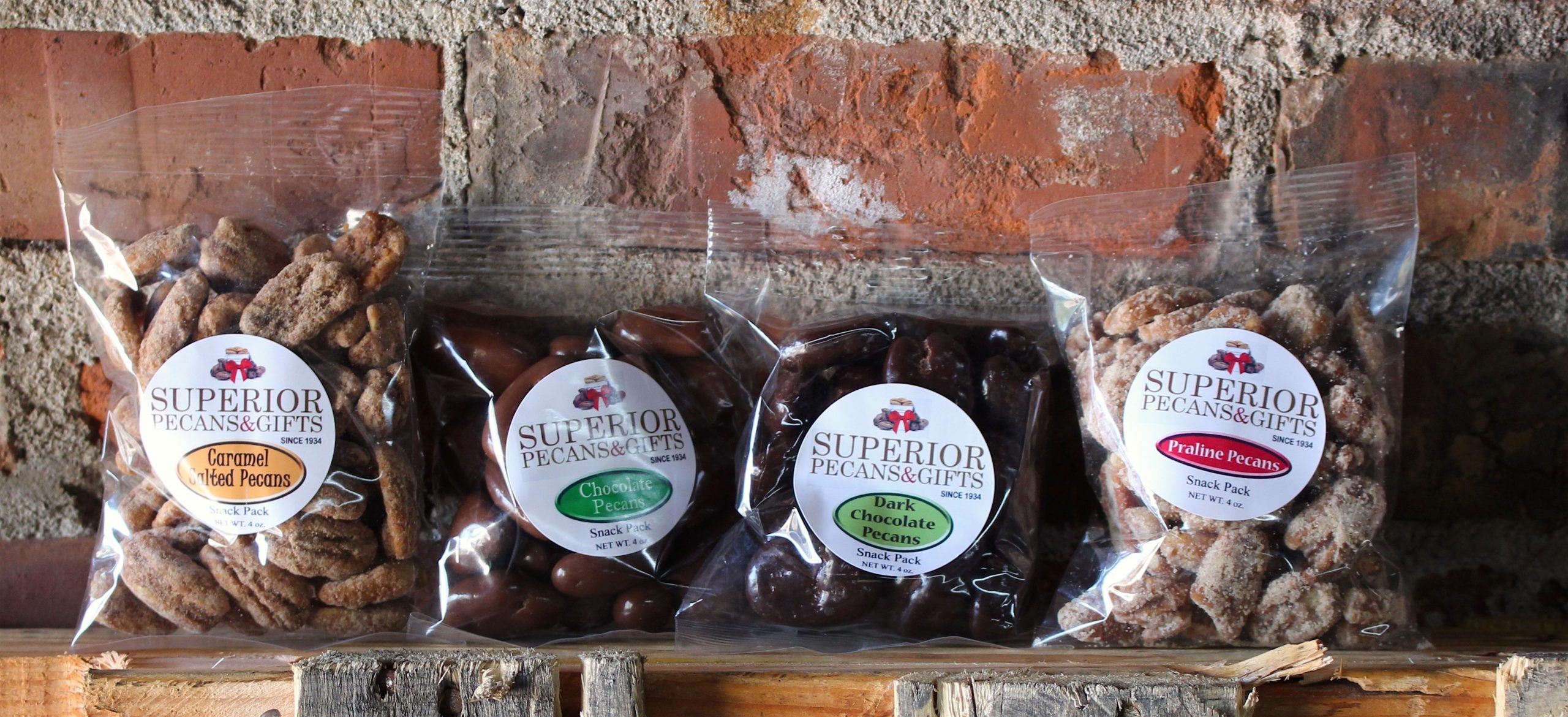 It wouldn't be Alabama without pecans, and Superior Pecans in Eufala is known for their candied pecans — especially at Christmas time. Order bags of bourbon praline pecans, butterscotch pecans, or chocolate pecans and gift them to your nutty friends.
Christmas Blend Coffee from OHenry's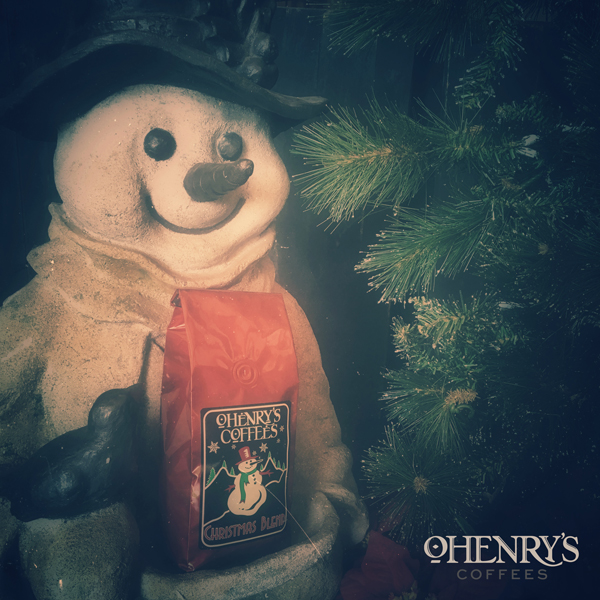 OHenry's has been roasting coffee in Alabama for more than 25 years. They sell ground coffee in a number of signature blends, as well as K-cups. A bag of their Christmas Blend, a six-bean blend with Swiss chocolate and holiday spices, makes the perfect gift for the coffee lover in your life.
Peanut Caddy from Alabama Goods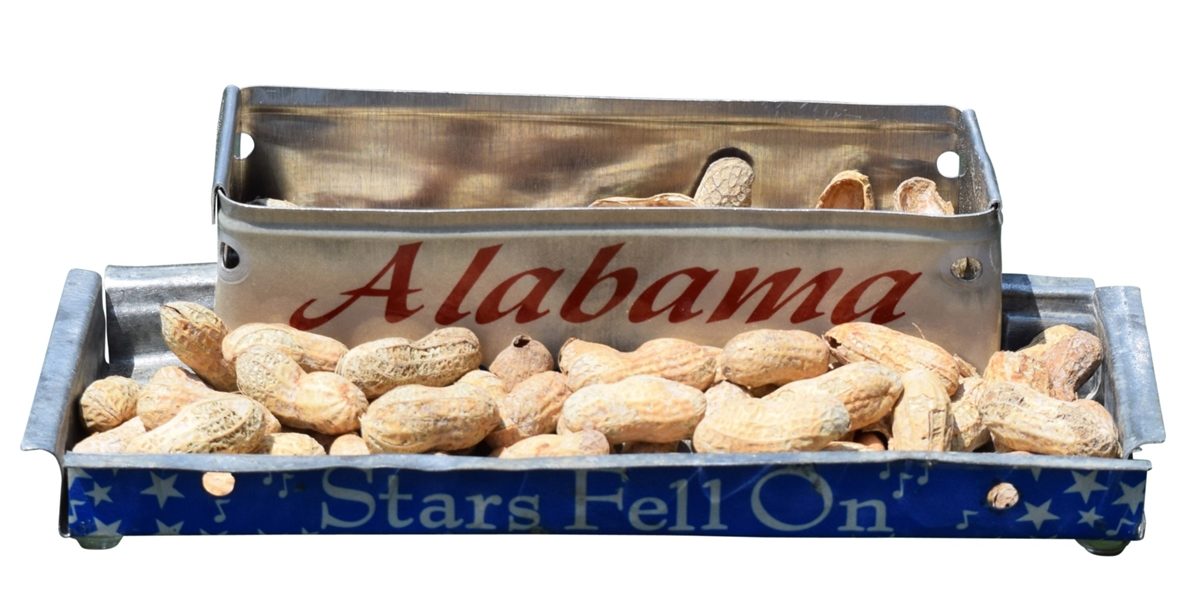 If your spouse or kids are always leaving their peanut shells around, give them this cute and clever caddy made from an Alabama license plate to contain the empty shells. Pair it with a bag of roasted or boiled peanuts from Alabama Peanut Company.
BATH & BODY
Soap from Left Hand Soap Company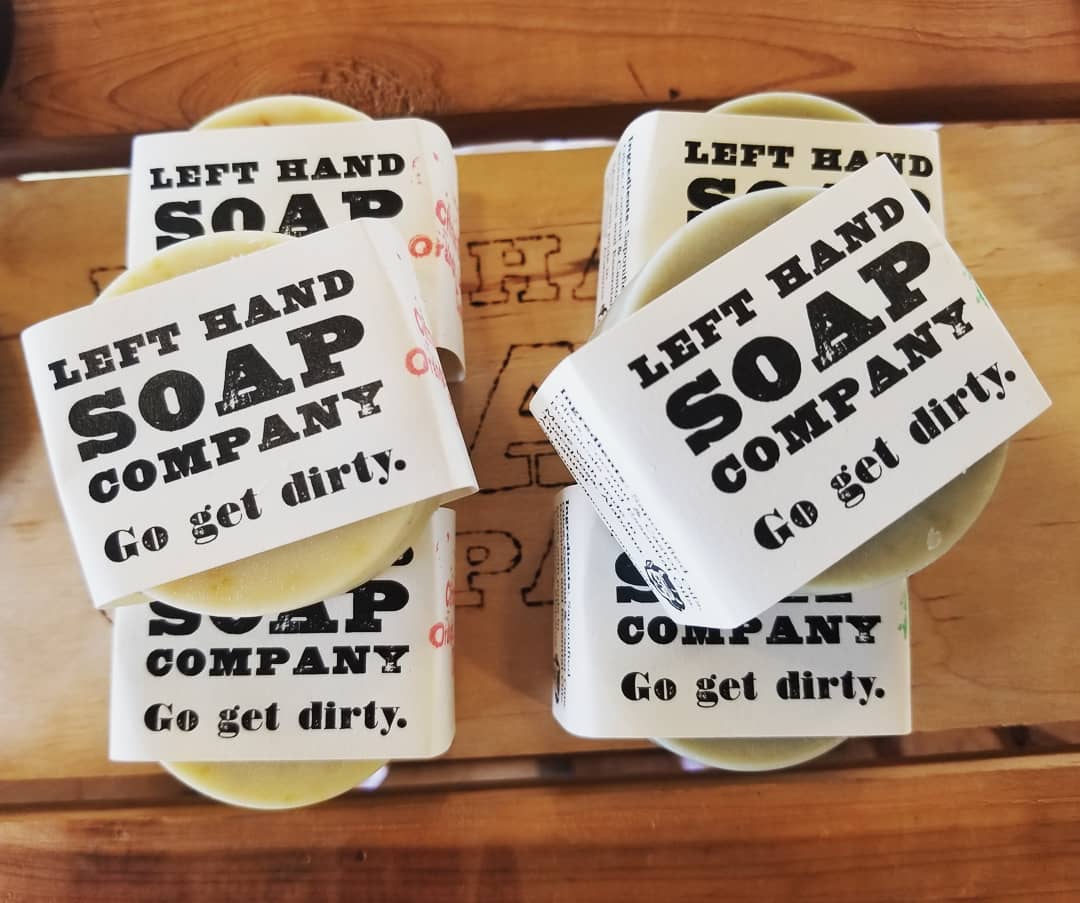 Put a bar of soap from Left Hand Soap Company in everyone's stocking this year. This Tuscaloosa company makes handmade soap from a base of olive, coconut, and castor oils. Different scent blends make an ordinary shower like an aromatherapy experience.
Spa Experience from 1818 Farms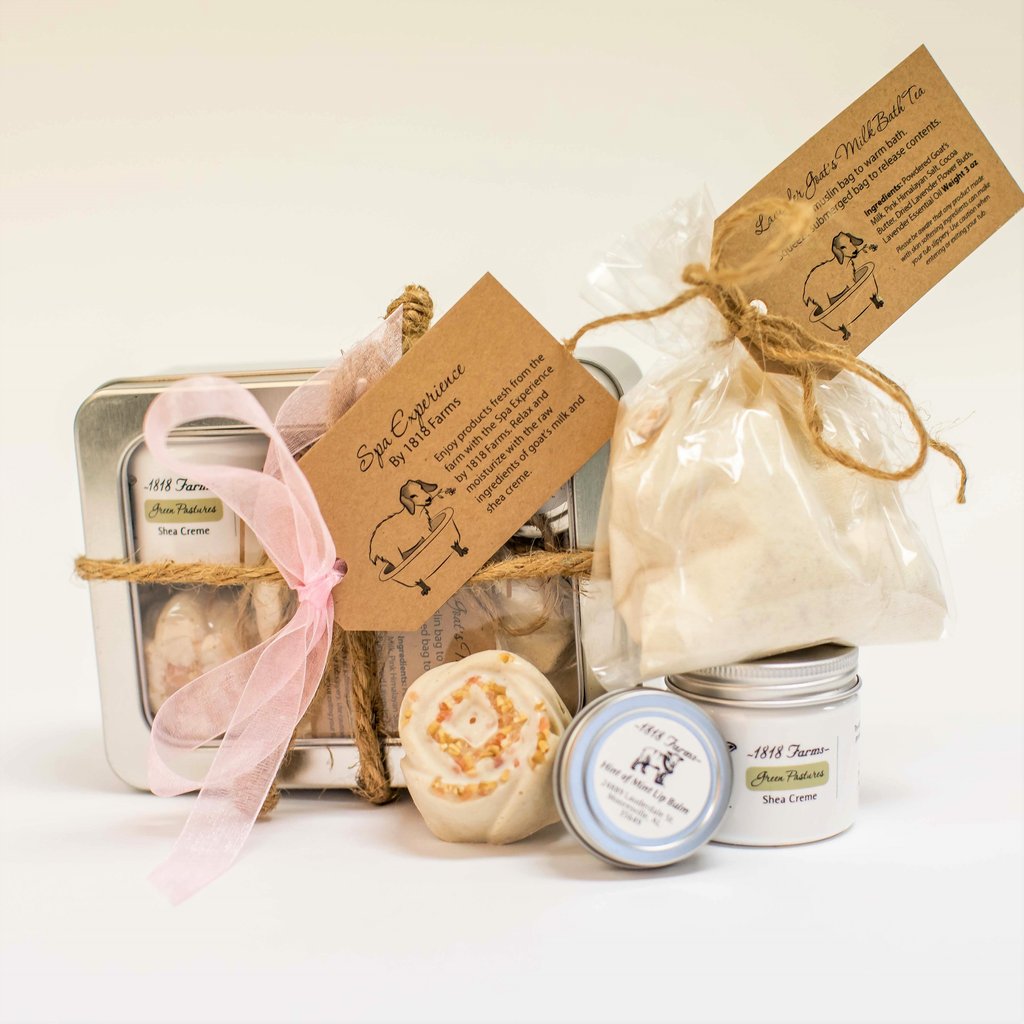 Give this gift basket to someone who needs to treat themselves. 1818 Farms is a flower farm in Mooresville that also makes spa products and has the cutest babydoll sheep. The Spa Experience gift basket includes a lavender goat's milk bath tea packet, bath truffle, and lip balm or cuticle balm.
Perfume from Stone Hollow Farmstead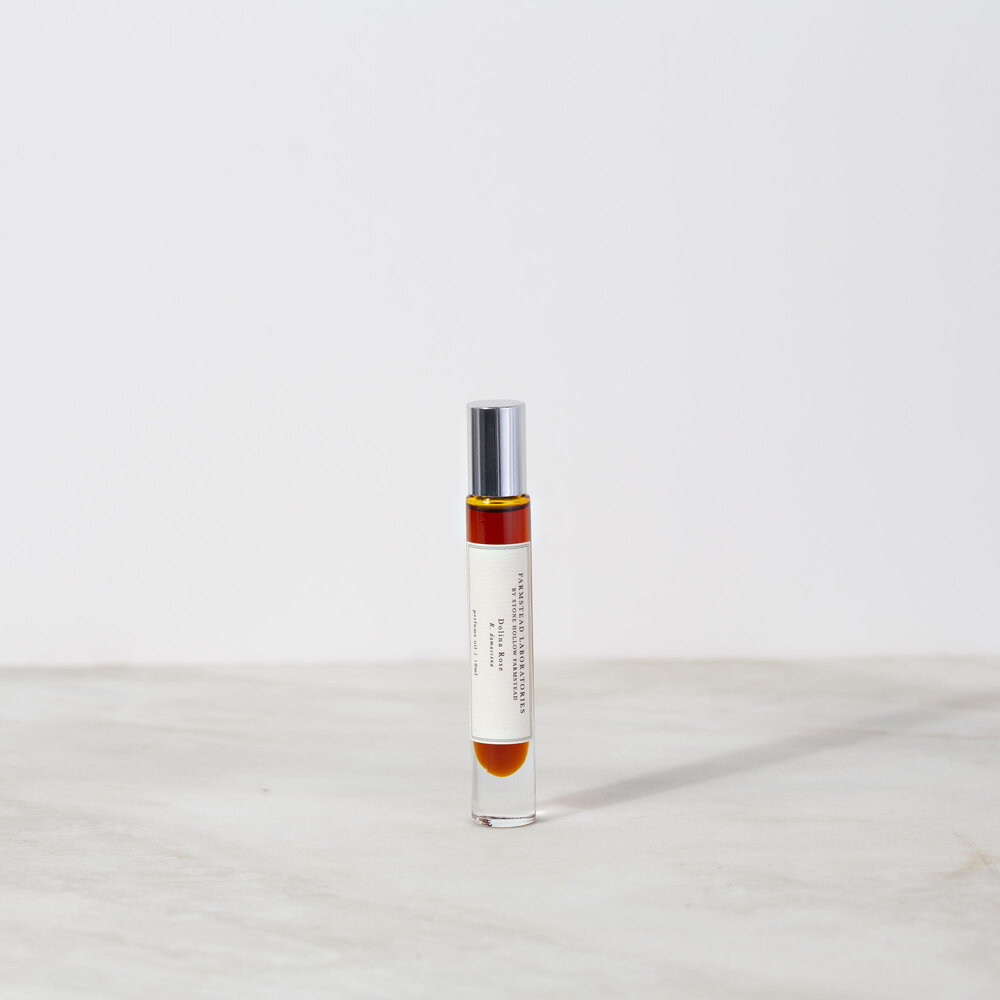 Stone Hollow Farmstead literally does it all, from skincare and beauty products to goat cheese and gourmet food products. They have their own line of perfumes that come in a tube that's easy to throw in your purse. All are made from organic essential oils, absolutes, rare finds and concretes, and SCO2 extractions in organic jojoba oil.
CLOTHING & ACCESSORIES
For Him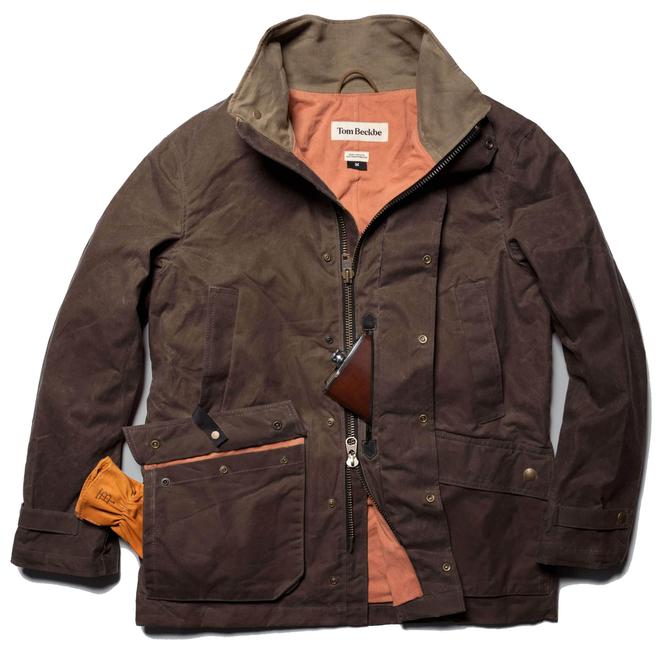 This Birmingham clothier makes goods built for the outdoors. They use classic design and rugged materials that withstand time and elements. The Tensaw Jacket is one of their signature pieces featuring waxed shelter cloth and a cotton lining inspired by Alabama red clay.
Big Dixie Bifold Wallet from Holtz Leather Company
This wallet is handcrafted in Huntsville from full-grain American leather. Holtz Leather Company handpicks their leather hides from a local tannery for a rustic look and feel. Personalization also is available.
Holiday Socks from Zkano Socks
Guys love to show a little flair under their suits with fun socks. Add to his collection with holiday socks from Alabama sock maker, Zkano. The company continues a century-long sock making tradition in Fort Payne.
For Her
Vesper Pea Coat from Billy Reid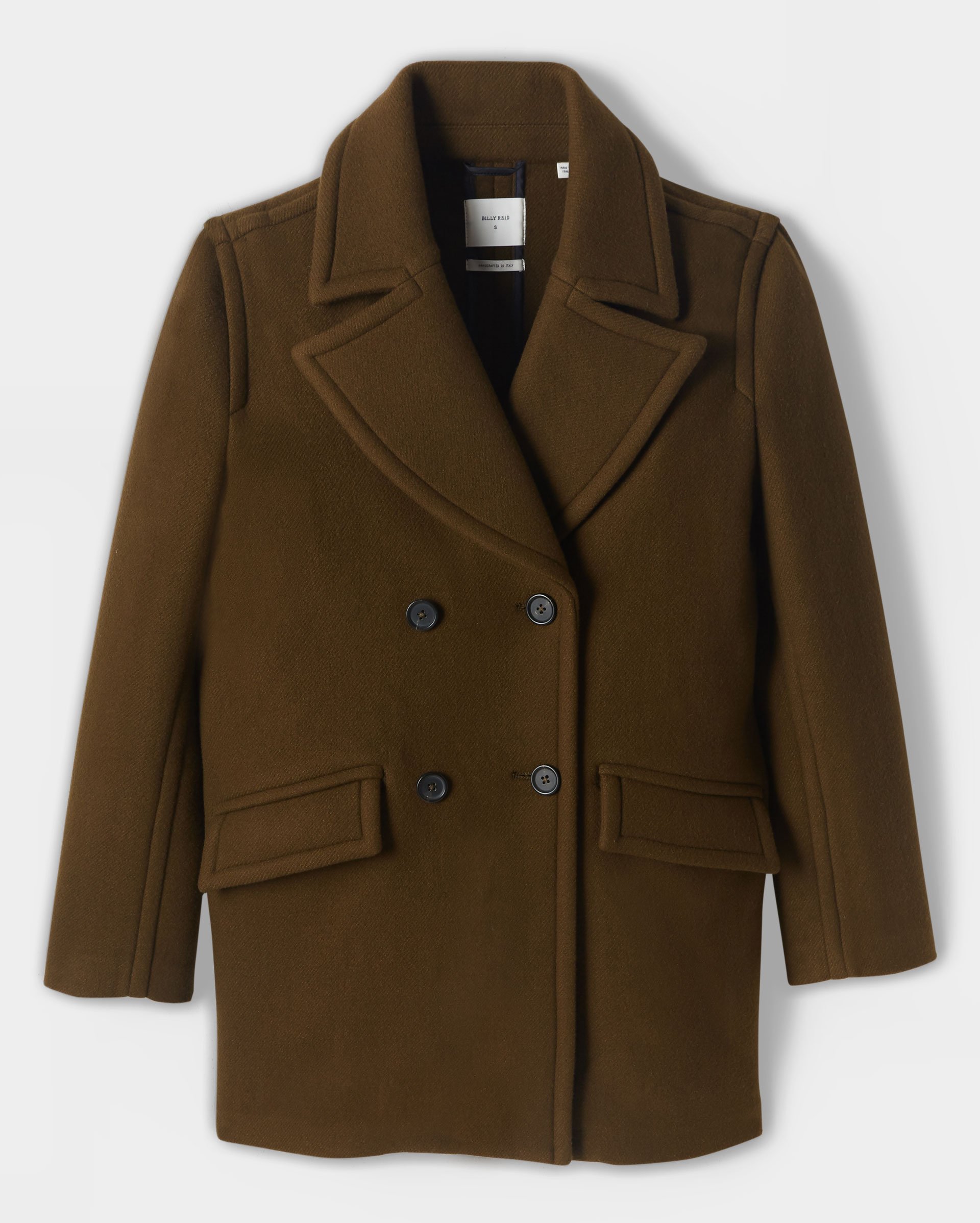 Buy her a staple piece from Florence designer Billy Reid that she can use for years to come. This modern pea coat is made from a wool blend and features a feminine double-breasted silhouette.
Polymer Statement Earrings from Bonnybee Designs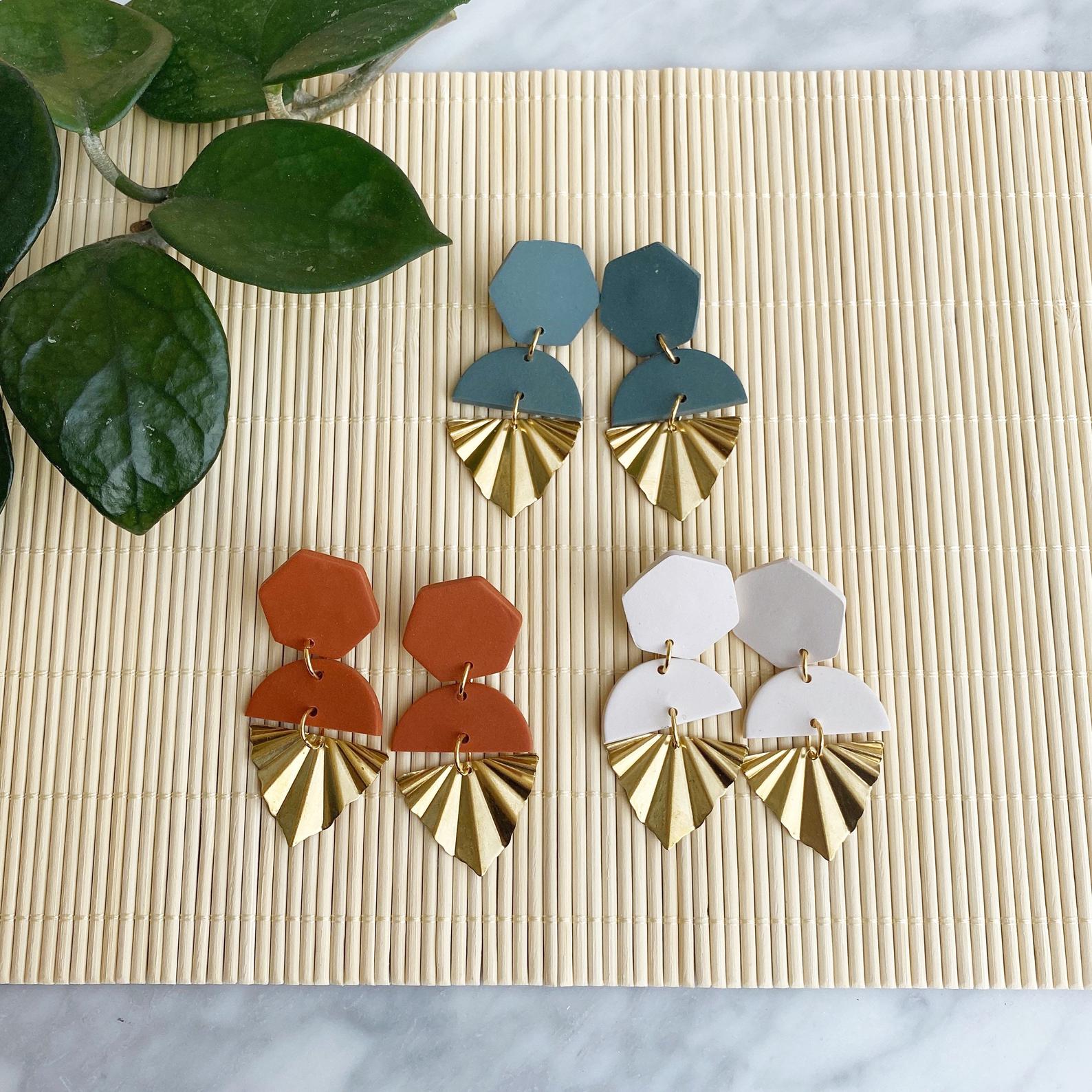 Polymer clay earrings are all the rage this year, and Bonnybee Designs was the first to popularize them in Birmingham. These lightweight earrings make a statement with fun shapes and the addition of gold accents.
Goldie Lock Necklace from Kate Morris Jewelry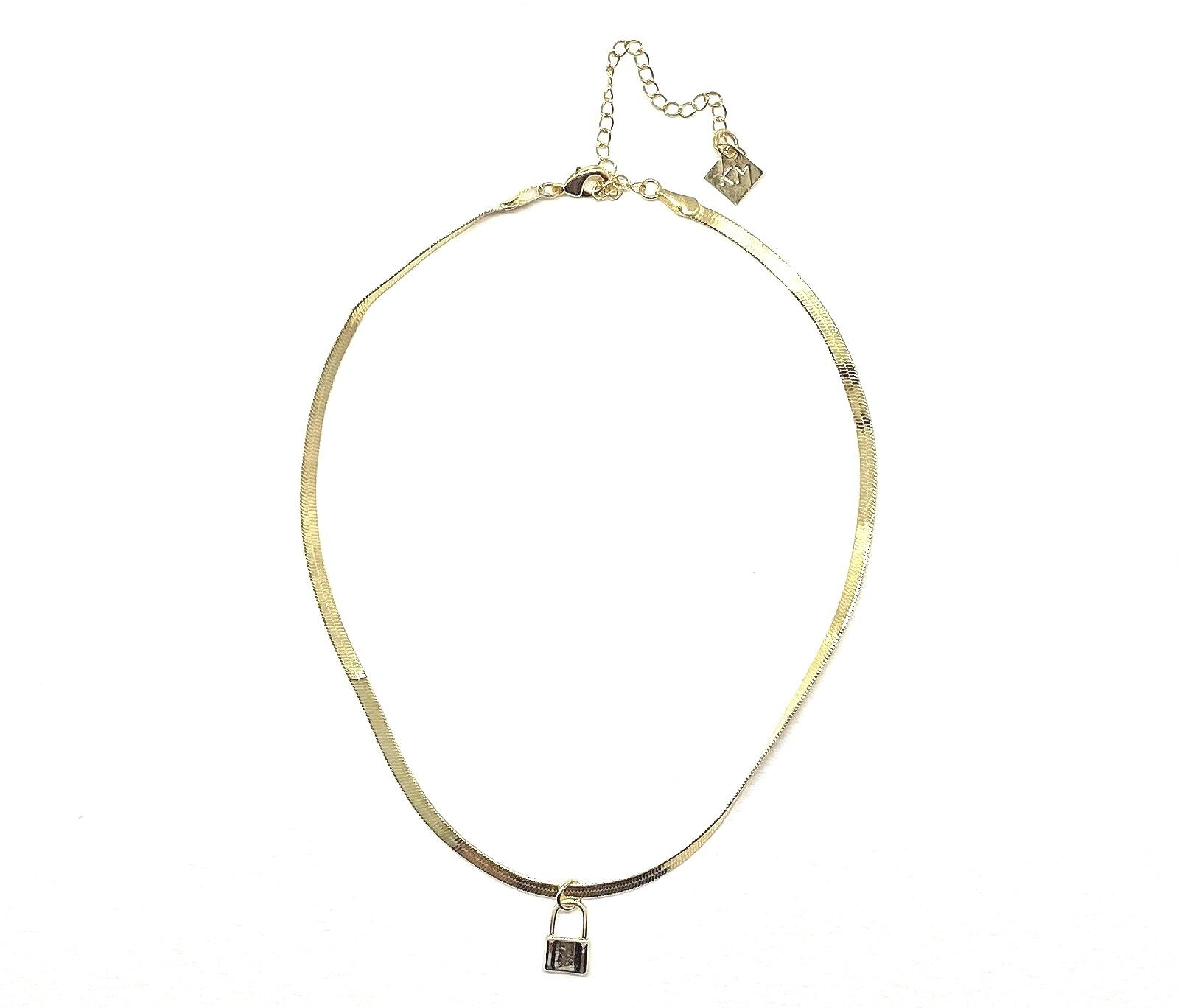 Lockets are old fashioned. Instead, give her this 14-karat gold lock necklace from Kate Morris Jewelry. Handcrafted in her Homewood studio, Kate Morris Jewelry features both trendy and timeless pieces.
KIDS
Color the Ham coloring book from Down in the Ham
Featuring 40 illustrations of famous Birmingham landmarks, this coloring book allows children to add their flair to some famous city scenes.
Alabama Onesie from Yellowhammer Print Shop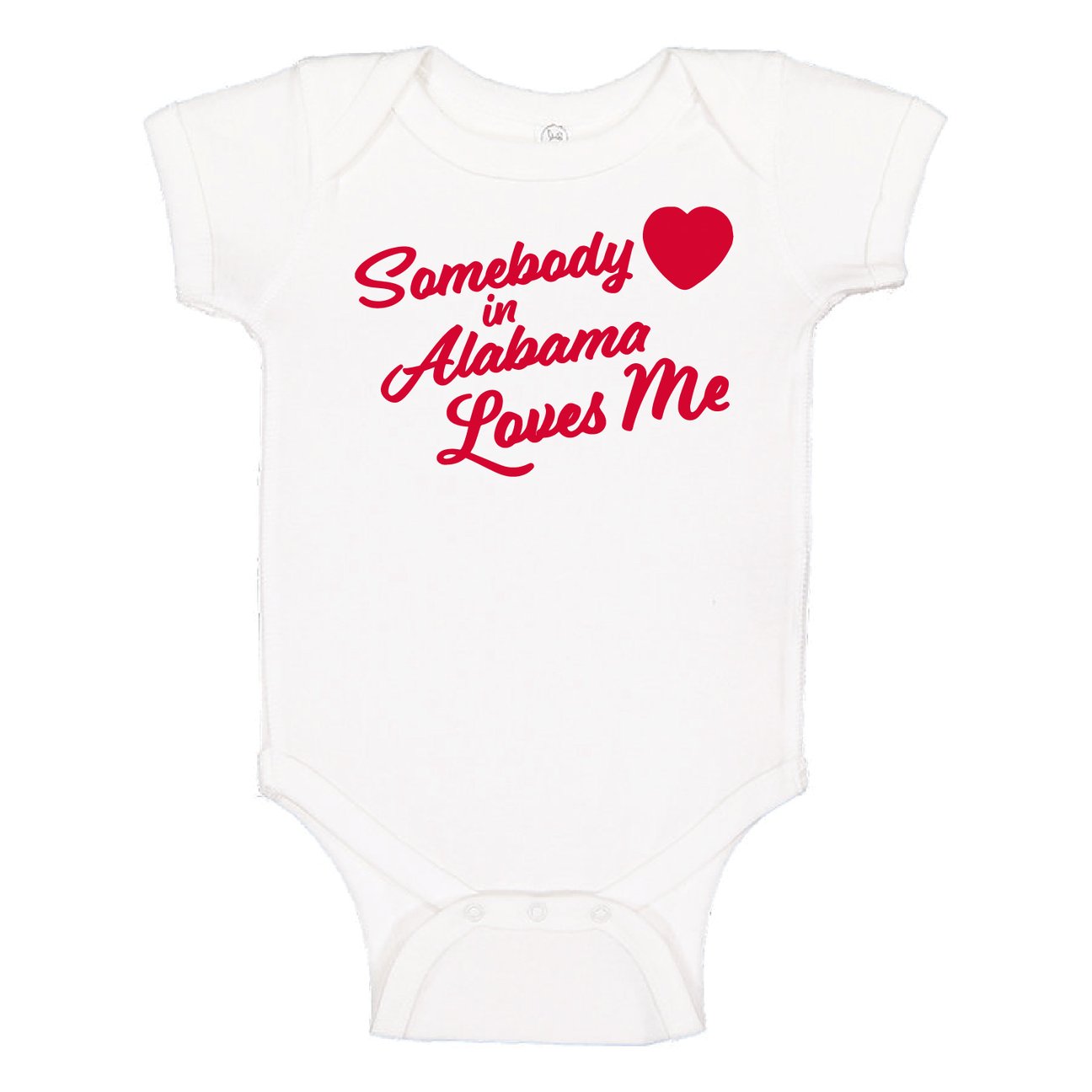 Yellowhammer Print Shop features handprinted goods for Alabama icons, sports teams, and sayings. This onesie will remind the recipient that somebody in Alabama loves them!
ART
Art print from Andrew Lee Design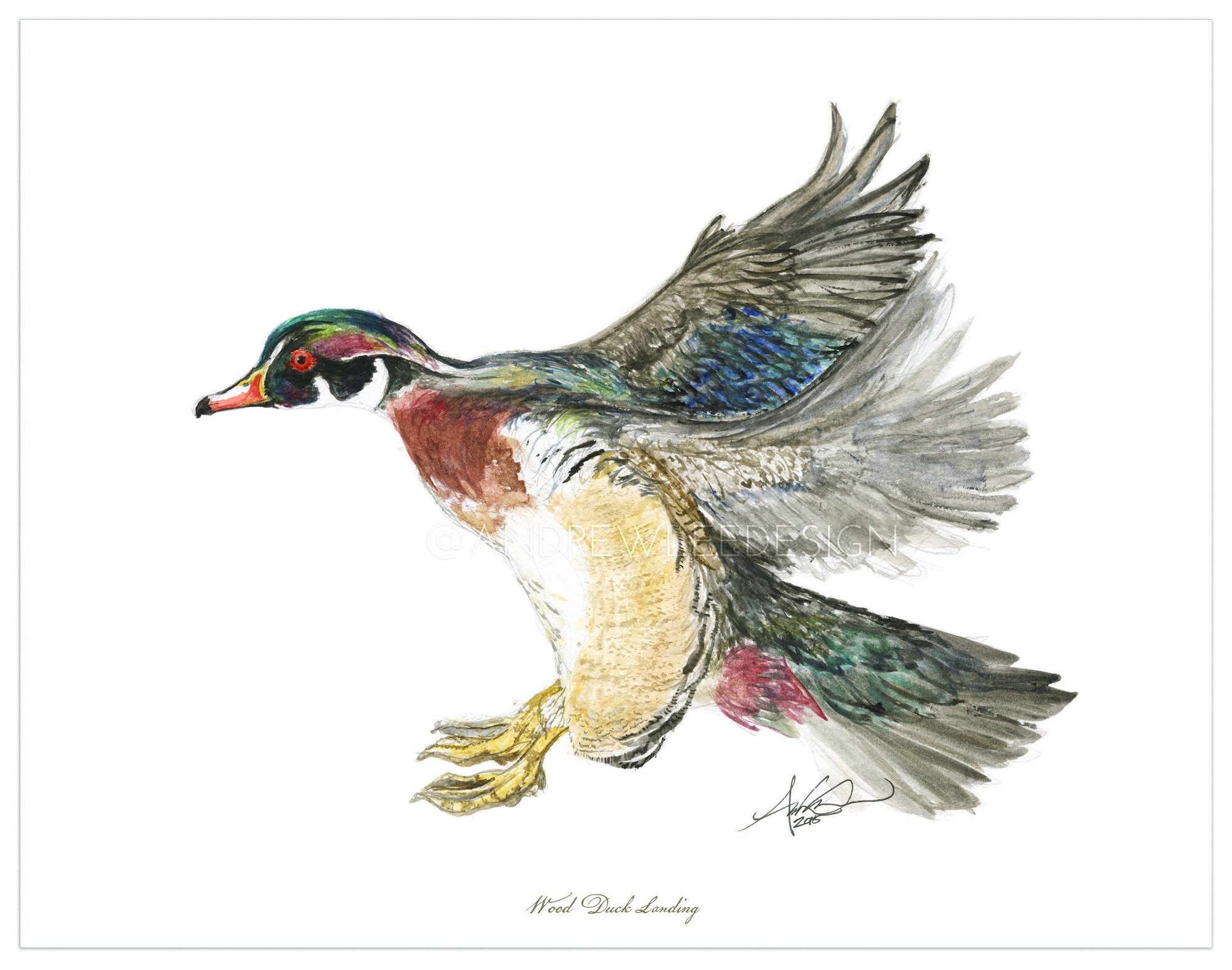 This Auburn artist creates beautiful paintings and sketches that embody Alabama, from wildlife to flora to scenery. In addition to his art pieces, he also has t-shirts, stationery, and home goods.
These art prints by Kaitlin West feature a city's iconic images within its name. The 8×10 prints are ready to frame.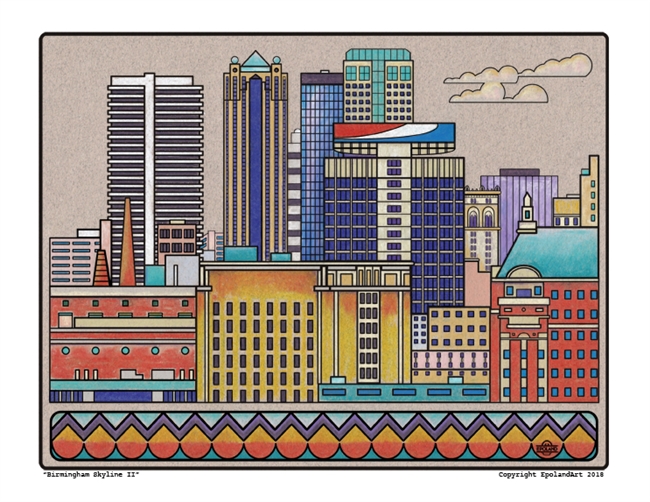 These colorful reimaginings of city skylines are done by artist Eric Poland. The art is printed on archival quality paper and is varnished, signed, and numbered by the artist.
2020 GIFTS
Sanitizing Elixir from Distill Brand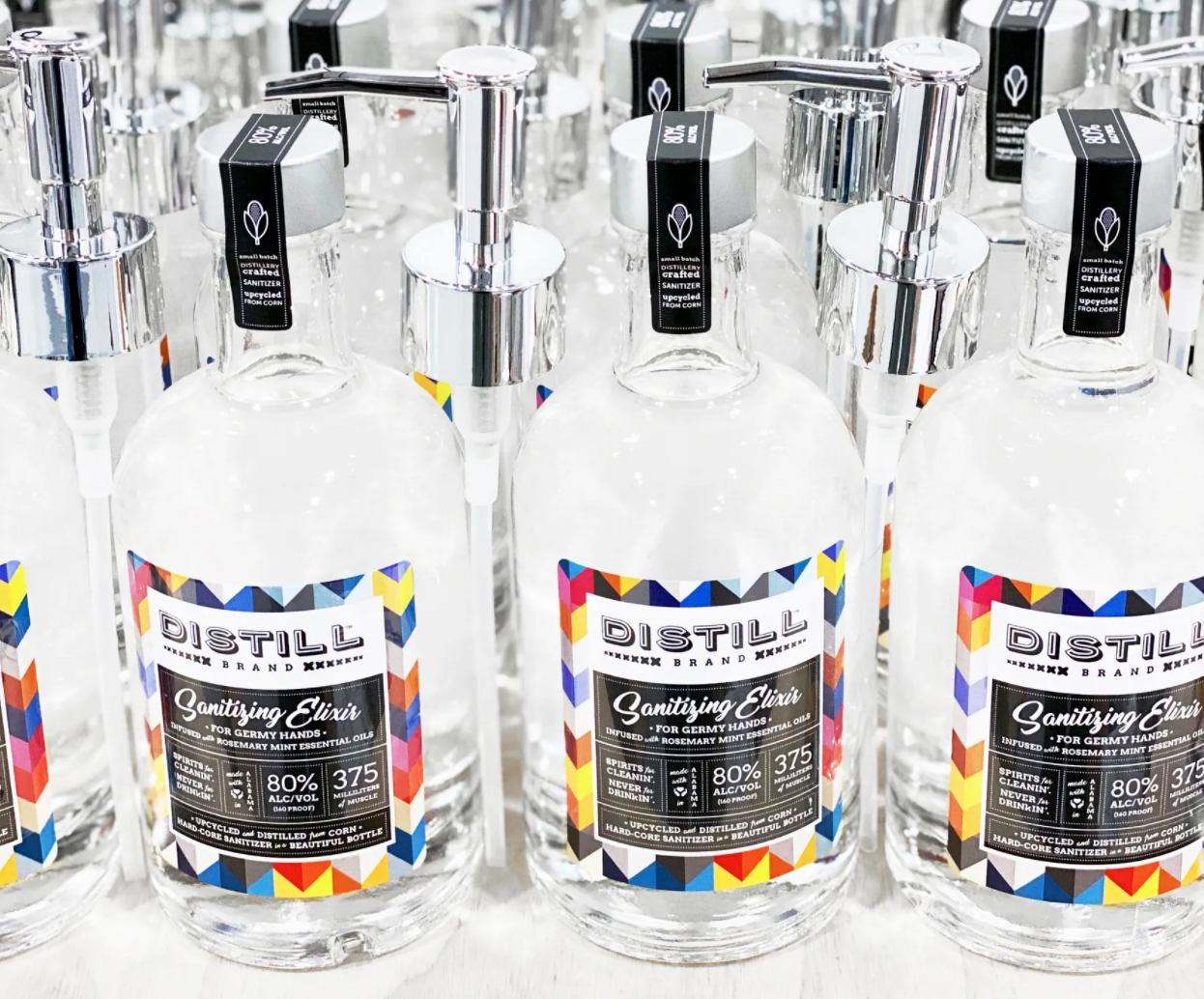 2020 is probably the only year you can give hand sanitizer as a gift and get away with it. An Alabama distillery is making their sanitizing elixir, an 80% ethyl alcohol blend, in two scents: Rosemary Mint and Lavender Cream.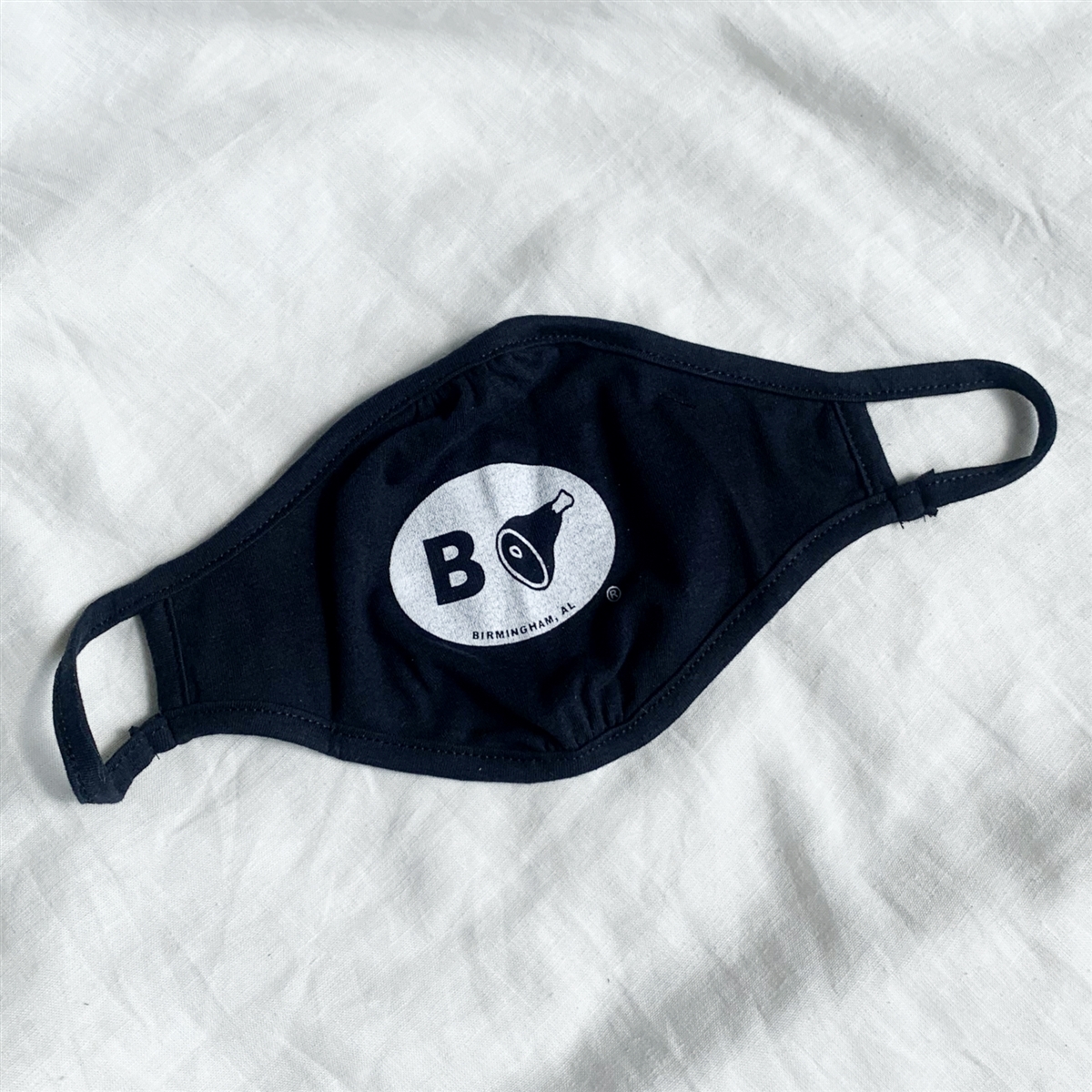 Upgrade someone's mask game with this Birmingham mask from Original Bham. It features the company's signature logo featuring an illustration of a ham to represent "Bham."
Julia Sayers Gokhale is a writer and editor who has been working in the lifestyle journalism industry since 2012. She was Editor in Chief of Birmingham Magazine for five years and is now leading Yellowhammer News' lifestyle content. Find her on Instagram at @juliasayers or email her at julia@new-yhn.local.