Talladega Superspeedway formally launches $50 million 'Transformation' infield renovation with groundbreaking ceremony
TALLADEGA — It was a meeting of past, present and future at the Talladega Superspeedway on Tuesday.
Although the checkered flag waved marking the end of the second biannual race weekend held at the track more than a week ago, construction formally began on the speedway's "approximately $50 million" infield redevelopment project, called "Transformation."
The opening salvo in this massive undertaking is the creation of an "Oversized Vehicle Tunnel" on the speedway's backstretch near the entrance to turn 3. Tuesday marked the start of excavation for the 16-foot-8-inch-tall, 28-foot-wide, 208-foot-long tunnel and speedway officials say it will be completed in time for the track's next event in late April 2019.
"The tunnel itself is going to be a two-lane tunnel that has dimensions capable of allowing vehicles as large as a race team hauler and fans' recreational vehicles to enter and exit the track simultaneously," Talladega Superspeedway chairman Grant Lynch announced. "It's big like 'Dega, and it's open 24 hours starting Wednesday morning of our race week."

Lynch explained how this added amenity will allow for more flexibility given now there are oversized vehicles that cannot make through the track's existing tunnels and presently have to cross the track while race operations (practice, qualifying and the race itself) of all the series that compete at Talladega Superspeedway on a given race weekend are not underway.
In addition to Lynch, who is set to retire as track chairman at the end of next year and was celebrating his 65th birthday, on hand for Tuesday's groundbreaking ceremony was Del Hill, son of track grandstand namesake O.V. Hill and participant in the track's original groundbreaking ceremony in 1968. Also participating in Tuesday's ceremony was Lana Osborn, the first Miss Talladega 500 for the track's inaugural race in September 1969.
Hill explained to Yellowhammer News how Talladega was a good fit for the sport and the local community. However, he explained that Talladega was unique in that it allowed for never-seen-before speeds.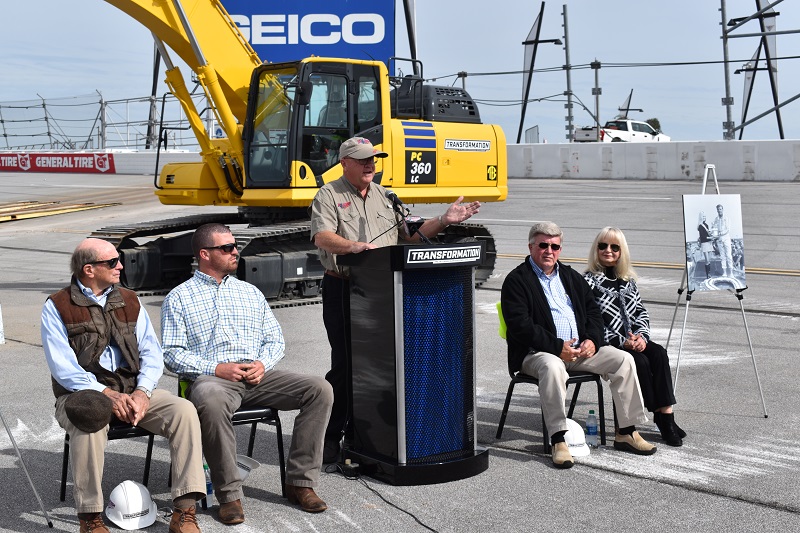 "Increasingly you're seeing more and more superspeedways built," Hill said. "At the time this was built, you had Daytona, and Charlotte, Atlanta, but they were mile-and-a-half tracks. This was going to be another two-and-a-half-mile track, and they were going to run 200 miles per hour, which was sort of a milestone, and some of them did before they downsized the engines."
The "Transformation" project is a part of Talladega Superspeedway's parent company International Speedway Corporation's long-term capital allocation plan and reinvestment into its national track portfolio. It will also include amenities that will offer "a one-of-a-kind Garage Fan Zone Experience," "up-close" access and "interactive attractions and enhanced amenities for fans, sponsors, teams and stakeholders" in the speedway's infield.
Completion for the entire project is slated for October 2019, in time for Talladega Superspeedway's fall slate of race activities.
@Jeff_Poor is a graduate of Auburn University and is the editor of Breitbart TV.