MOORESVILLE – Ribbon-cuttings are about separating but a ribbon-joining is symbolic for connecting.
So with that age-old tradition in mind, the Singing River Trail formally "tied the knot" at its new headquarters in Mooresville.
The McCrary family, owners of 1818 Farms in Mooresville, donated a two-story family home on six acres of natural woodland off Arrowhead Landing Road, to the Singing River Trail to serve as its permanent headquarters.
The Singing River Trail is an eight-county, 220-mile biking, hiking and walking trail that connects small and large cities, towns and rural communities across North Alabama.
Just over a mile from Limestone Bay, the house is off the beaten path in what the McCrarys call "Little Switzerland."
"We are in Limestone County, but just across the old Highway 20 roadbed less than a mile from the city of Huntsville and close to the city of Decatur to the west," said the trail's Executive Director John Kvach. "So, you have Morgan County, Limestone County, and Madison County all triangulating right here.
"We always wanted to have a home where the better angels of people's nature could shine through. What I love about this property is that it represents a middle spot in the trail that signifies we are not a Huntsville project, or a Decatur project, or a Florence project. We are a North Alabama project."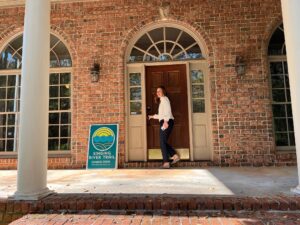 Natasha McCrary said donating the house was a no-brainer for her family, who has owned the land for six generations.
"We have family who goes on vacations every year, traveling around from town to town," she said. "People are looking for an experience when they do that, and we see it with people who visit 1818 Farms. They want to be outdoors because it is healthy for people physically and emotionally.
"Anyone will have access to this trail … and we feel SRT will affect thousands of people for years to come, even after I'm gone, this trail will still be here.
"It also shows the impact that can be made when businesses, municipalities, and nonprofits work together to put North Alabama on the map."
In 2014, the land-use committee for Launch 2035 had a plan to build a greenway system between Calhoun Community College in Tanner and the Huntsville campus. Very quickly, it became a way to also connect Huntsville to Madison to Decatur to Athens.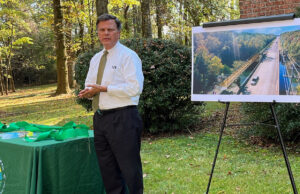 Kvach mused that it is doubtful anyone on that committee envisioned a day when community leaders and state officials would stand in front of a new headquarters, tying a symbolic knot that was so strong, the rope used to tie it would frazzle long before the knot itself broke.
"I feel like the Singing River Trail project was, from the get-go, an idea born from goodness," said Kvach. "It takes people with passion to make it work and what we have here today means we are living an early legacy that continues."
He recalled that day in August 2020 when, amid the pandemic, Huntsville Committee of 100 CEO John Allen hired him.
"John handed me a check, a $200,000 master plan, and a hearty handshake, and said, 'Go get 'em'," Kvach said with a laugh. "As a historian, I was excited about it, but I had no way of knowing this would happen, either."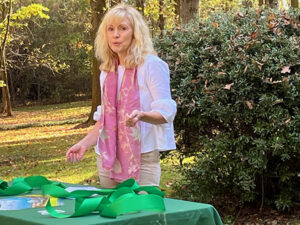 Three months later, after meeting with Mayors Jim McCamy of Scottsboro, Ronnie Marks of Athens, Tab Bowling of Decatur, Stan Simpson of Gurley, Nikki Sprader of Mooresville, Lawayne Harrison of Leighton; and Mayor Linda Peebles of Courtland who drove to Huntsville to track Kvach down, it became obvious the original North Alabama component of the Singing River Trail had not been fully flushed out because they all wanted in, according to Kvach.
But it was a meeting with State Sen. Arthur Orr (R-Huntsville), however, that saw the vision and put the trail on the path to state funding. He was followed by State Reps. Rex Reynolds (R-Huntsville), Anthony Daniels (D-Madison), Danny Crawford (R-Athens) and Madison County Commissioner Phil Riddick, who all worked together to find funding. But it wasn't money just for the trail; small towns such as Courtland, Gurley and Leighton could use $1 million grants to redo their downtowns with the Singing River Trail as their centerpieces.
"Suddenly, you have this synergy and that's how the trail grew in size and scope," said Kvach. "Redstone Federal Credit Union stepped up with funding that propelled the Gurley project, while Bank Independent matched funding for Leighton."
Sprader said the City Council recognized early on that the trail concept would be a perfect complement to Mooresville's long-term vison.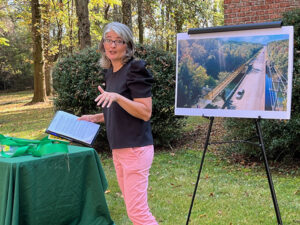 "That vision is to personify history," said Sprader. "We see quality of life for our residents combined with historic preservation and education. Historic Mooresville sees the trail as a vital partner who provides safe and easily accessible opportunities for active living, in addition to the positive economic impact on our town's small but mighty business district.
"The Singing River Trail will be a catalyst for setting a tone for future land use that shapes the outlying areas for years to come."
Orr spoke about the challenges ahead with trying to build the trail a mile at a time.
"Working at the state level, we were able to include the SRT in the budget, and we look forward to continuing to do that to support a lot of this preliminary work," he said. "Then with the grants coming for the communities of Gurley and Leighton, we continue that process… It will take a lot of time and effort, but we are making a long-term commitment to ultimately, connecting us all."
Kvach said he often tells people he has the best job in Alabama.
"Now, I can say I have the best office, too."
(Courtesy of 256 Today)
Don't miss out!  Subscribe today to have Alabama's leading headlines delivered to your inbox.