WASHINGTON — According to new information produced by the U.S. Senate Judiciary Subcommittee on Immigration and The National Interest, chaired by U.S. Sen. Jeff Sessions (R-AL), for every 1 new American added to the population over the next 50 years, immigration will add 7 more.
The report, which was conducted by Pew Research Center, projects that freezing any new immigration,  the U.S. population will grow 14 million by 2065. Conversely, the report projects that the current immigration policy will add 103 million future immigrants/residents to the U.S. population over the next five decades.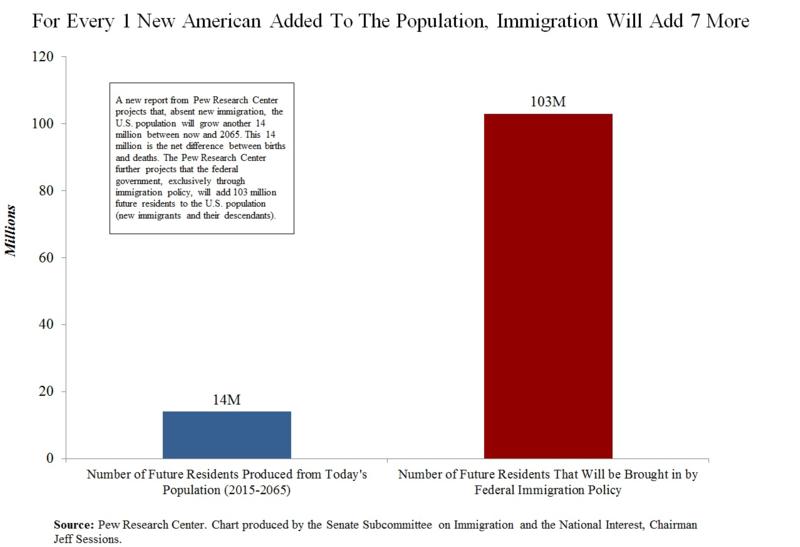 In 1970, fewer than 1 in 21 Americans were foreign-born; today, nearly 1 in 7 are foreign-born, Pew revealed, and the United States has taken in four times more worldwide immigrants than any other nation.
Sunday on Breitbart Sirius XM radio, Sen. Sessions discussed these Pew Research Center findings and how they can help put U.S. immigration policies in perspective in comparison to the rest of the world.
"America is surging past all historical [immigration] levels. I think it's time to slow down," Sessions declared, citing the immigration data and calling on other elected officials to listen to the American people who've elected them."By a three-to-one majority of Americans they say we should reduce the flow of immigration rather than increase it. I think it's time for politicians to look at this. They don't know these numbers and they're not listening to the American people," he added.
Competition among lower-income workers, including prior immigrants, are impacted by the increasing new immigrant workforce that seeks the same jobs which drives down wages. Average hourly wages are lower today than in 1973, with the share of people not working the highest it's been in four decades.
Sessions says that,"It is not mainstream, but extreme, to continue surging immigration beyond all historical precedent. It is time for moderation to prevail, and for us to focus on improving the jobs, wages, and security of the 300 million people already living inside our borders."
---
Thanks for reading! Let me know what you think about this story on Twitter.

— John James (@john_james_20) August 19, 2015