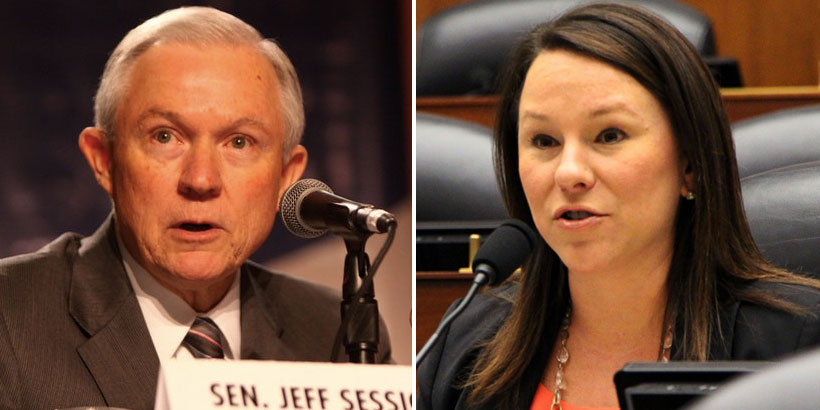 MONTGOMERY, Ala. — Voters in Alabama's 2nd Congressional District still have over a month to decide who they will vote for in the race between incumbent congresswoman Martha Roby and insurgent challenger Becky Gerritson, which Politico has named one of this year's "top primaries to watch," but Senator Jeff Sessions (R-Ala.) has already made up his mind who he'd prefer.
"I've been impressed with Martha Roby since she first came to Congress," Senator Sessions said in a statement of support for the three-term representative.
"Martha took the VA head on to make sure veterans in our state get the quality care they deserve. It's rare to see someone stand up to a federal agency and get results the way she did. Martha works hard every day for our military, especially at our key Maxwell and Ft. Rucker bases, and she is known as one of the strongest pro-life advocates in Congress.
"Martha fights for constituents," Sessions concluded, "and she's an important part of our state's delegation."
Responding to the endorsement, Roby told Yellowhammer she has counted on Sessions' advice since taking office in 2011.
"Senator Sessions is a bold, dynamic leader Alabamians are proud of, and I'm grateful to have his support," she said. "His breadth of knowledge on issues is unrivaled, which is why I have sought his counsel since even before I got to Congress. I admire Senator Sessions greatly, and I am grateful for his leadership within our delegation and our state."
Sessions support has become the gold standard among conservatives in recent years, and could provide Roby with a significant boost as she seeks to hold off Gerritson, whose earned a reputation for being a tenacious grassroots organizer in her role as President of the Wetumpka Tea Party. She is also the Alabama co-chair of Senator Ted Cruz's presidential campaign.
Gerritson received an endorsement from the TEA Party Patriots Citizens Fund earlier this week, and enjoys the support of a vocal and active contingent of grassroots activists, but her campaign has not yet attracted the financial backing of some of the big-money conservative groups who are known for taking on incumbents.
In addition to Sessions, Roby's list of notable endorsements includes 36 local mayors from 2nd Congressional District towns, and the Alabama Farmers Federation.
Alabama's primary elections are set to take place March 1st.
Don't miss out!  Subscribe today to have Alabama's leading headlines delivered to your inbox.