Alabama Secretary of State Wes Allen made an unannounced visit to the published address of the headquarters of the Electronic Registration Information Center (ERIC) this month, but found no ERIC headquarters at the location.
As his first official act in office, Allen withdrew the state from the voting registration system, keeping a promise he made on the campaign trail.
"I was in D.C. for a meeting of the National Association of Secretaries of States and, since I was in town, I went to see the ERIC Headquarters," Allen said. "What I found was that there was no ERIC headquarters at that address. There were no employees. There were no servers. There was no ERIC presence of any kind.
"Instead, I found a virtual office that is rentable by the day. What it was missing was people, servers and any sign of the ERIC team."
ERIC's published address is 1201 Connecticut Ave NW Ste 600 in Washington, DC., but Allen found that the location is actually operated by Expansive, a company that offers virtual workspaces across the country and rents space by the day.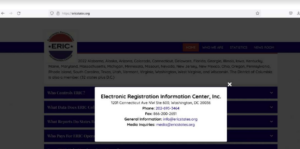 "Before I took office, Alabama transmitted the personal information of millions of our citizens to this private organization for the past several years," he said. "That information is stored on a server somewhere but we do not know where. There is no ERIC operation at the location they claim is their office.
"A lot of personal data and taxpayer money has been transferred to ERIC. Where is that data? Where are the employees? Where are the offices? Where are the computers?"
According to the Secretary of State's office, Allen has ceased transmitting any data from Alabama to ERIC, and the official withdrawal process takes 90 days, meaning Alabama will be officially withdrawn by mid-April.
Yaffee is a contributing writer to Yellowhammer News and hosts "The Yaffee Program" weekdays 9-11 a.m. on WVNN. You can follow him on Twitter @Yaffee
Don't miss out!  Subscribe today to have Alabama's leading headlines delivered to your inbox.