After another record breaking Rock the South this year, the producers of the event have announced that beginning in April 2024 they won't just be rocking the south anymore — they'll be rocking a large portion of the entire country as well.
Organizers of the new event, Rock the Country, are billing it as a traveling two-day country music extravaganza with headliners including Jason Aldean, Kid Rock, Miranda Lambert, and Hank Williams Jr. set to take the stage.
"Rock The Country aims to bring the excitement and energy of a large-scale music festival to small towns across the country," said Shane Quick, President of Touring and Strategic Expansion for LiveCo and one of the event's main organizers.
"With seven big shows in seven different towns, this event promises to be an experience like never before. Fans can expect a weekend filled with incredible performances, great food, and a sense of community that only small towns can offer."
One of the "small" towns Quick was referring to is Mobile, Alabama, where the music festival is scheduled for June 21-22 at The Grounds.
Nathan Baugh, President of 46 Entertainment and another lead organizer, echoed Quick's sentiments.
"This festival is our way of giving back to these communities and providing an experience like never before. We are passionate about curating an event that combines top-tier musical talent with the charm of small-town America, and we can't wait for fans to join us on this historic musical journey," Baugh said.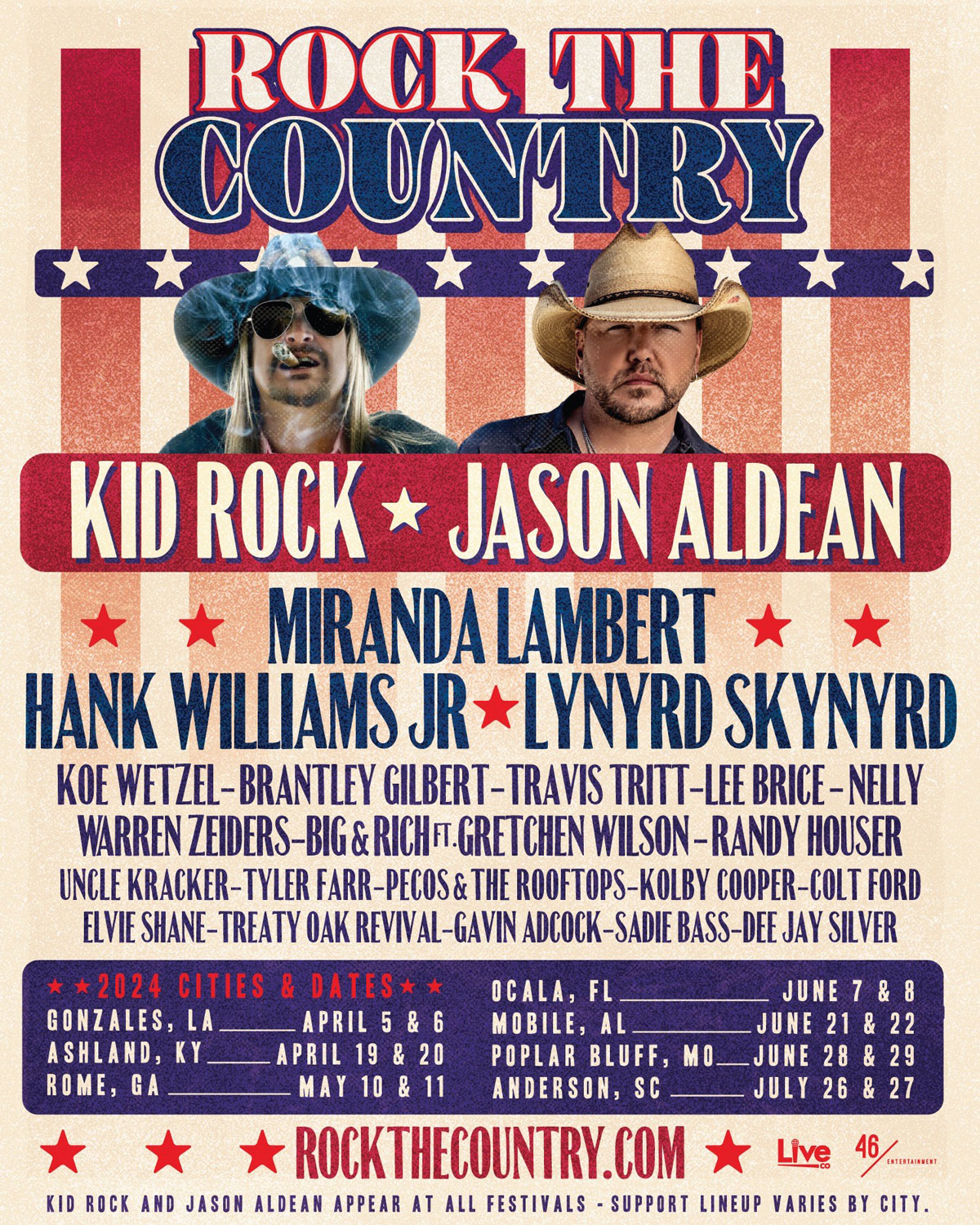 "Rock The Country is more than just a festival; it's a celebration of music, community, and the shared love for country music that binds us all together."
The festival will take place in seven different states on the following dates and at the following locations:
Gonzales, LA – April 6 at Lamar-Dixon Expo Center
Ashland, KY – April 19-20 at Boyd County Fairgrounds
Rome, GA – May 10 & 11 at Kingston Downs
Ocala, FL – June 7 & 8 at Majestic Oaks Ocala
Mobile, AL – June 21 & 22 at The Grounds
Poplar Bluff, MO – June 28 & 29 at Brick's Offroad Parks
Anderson, SC – July 26 & 27 at Anderson Sports and Entertainment Center
Presale tickets will be available on Thursday, November 16, 2023, from 10am to 10pm CST. Public on sale begins Friday, November 17, 2023 at 10:00am local time.
Austen Shipley is a staff writer for Yellowhammer News.
Don't miss out!  Subscribe today to have Alabama's leading headlines delivered to your inbox.