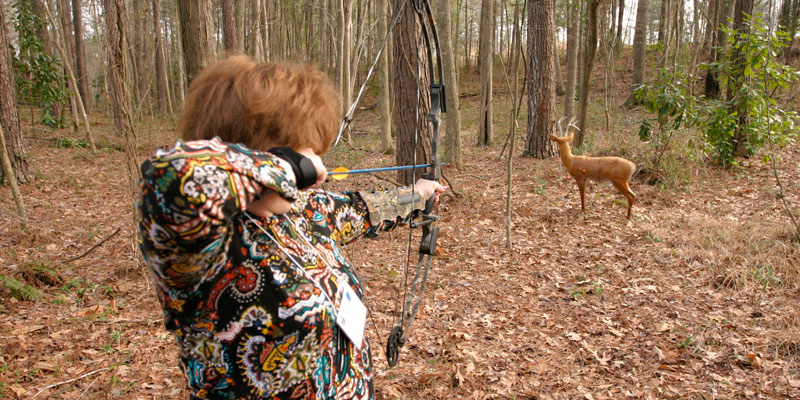 Registration for the next Alabama Becoming an Outdoors-Woman (BOW) workshop opens on January 3 for first-time attendees and January 8 for both first-timers and those who have previously attended. The Alabama Department of Conservation and Natural Resources (ADCNR) sponsored event takes place at the 4-H Center near Columbiana, Ala., on March 2-4, 2018.
BOW is a three-day workshop designed for women ages 18 years or older who would like to learn new outdoor skills. The workshop offers hands-on instruction in a fun, outdoor learning environment. Participants choose from courses such as rifle, pistol, archery, fishing, camping, hiking, canoeing, mountain biking, and many more. Two new courses will be offered this spring – wildlife identification and predator and prey.
BOW coordinator Hope Grier said the classes offer basic outdoor skills training. "There are many ladies who have not been exposed to these outdoor activities and are apprehensive about trying them," she said. "BOW is ideal for those women because everything is taught at a beginner level."
The registration fee of $275 covers meals, dormitory-style lodging, program materials and instruction. Those interested in attending are encouraged to register as soon as possible because enrollment is limited and classes fill up fast. 
For more information on the BOW workshop including the class schedule, visit here or call Hope Grier at 334-242-3620. 
To view photos of past BOW workshops, visit Outdoor Alabama's Flickr.
The Alabama Department of Conservation and Natural Resources promotes wise stewardship, management and enjoyment of Alabama's natural resources through four divisions: Marine Resources, State Lands, State Parks, and Wildlife and Freshwater Fisheries. To learn more about ADCNR, visit here. 
David Rainer is an award-winning writer who has covered Alabama's great outdoors for 25 years. The former outdoors editor at the Mobile Press-Register, he writes for Outdoor Alabama, the website of the Alabama Department of Conservation and Natural Resources.