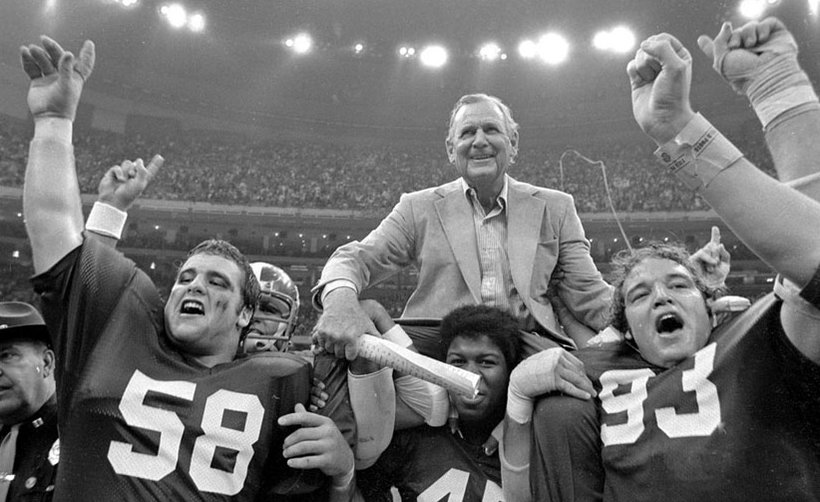 NEW YORK — When thousands of University of Alabama students graduate on Dec. 10, many of them will be making good on promises to their friends and family members — and perhaps themselves — that they would earn their degree. But one of those graduates will also be making good on a 37-year-old promise to the late, great Paul "Bear" Bryant.
Marty Lyons was an All-America defensive lineman at Alabama in the late 1970s and a leader on Coach Bryant's fourth national championship squad in 1978. He went on to become a first round pick of the New York Jets and played 11 seasons in the NFL before becoming a radio analyst for the team in 2002.
When Lyons was preparing to leave Tuscaloosa almost four decades ago, he was 22 years old and 24 credits short of graduating, according to the New York Daily News.
"Promise me one day you go back and get your degree," Bryant told him as they shook hands.
"I promise," Lyons replied.
As the years went by, work and family commitments made it difficult for Mr. Lyons to return to class, but in 2014, University of Alabama academic counselors helped him come up with a plan to finish his degree online.
"It was time consuming," he told the Daily News. "I had to carve out the time. Once I got the first three credits, I was able to see some light at the end of the tunnel. All these different professors, they were there to hold my hand, telling me, 'Don't forget you need to hand in this assignment by next week. If you don't, I have no choice. I can't pass you.' They held me accountable."
Even though it was difficult, Mr. Lyons said it will all be worth it when he walks across the stage in Coleman Coliseum — not only because he will be a college graduate, but also because he will be making good on a promise he made to one of his greatest mentors.
"I made him a promise, and if you want to be a man of integrity, you do what you said," Lyons said, and he hopes his experience will inspire others as well.
"Don't ever feel like you can't accomplish the goal you have in mind, even if it's the steepest hill you have to climb. It's taken me 41 years. To be honest with you, I don't know if I would have appreciated it back then as I do now."
"They say college is the best four years of your life," he laughed. "I did it 10 times over. I had fun the whole way."
(h/t New York Daily News)
Don't miss out!  Subscribe today to have Alabama's leading headlines delivered to your inbox.