Early Monday, Rep. Mo Brooks (R-Huntsville) released a copy of a letter he submitted to Sen. Doug Jones (D-Mountain Brook), to vote to confirm current CIA Director Mike Pompeo to be secretary of state.
As of Saturday, a spokesman from Jones' office told Yellowhammer News Alabama's junior senator had not made a decision on which way he will vote on Pompeo's confirmation according to his office. Jones met with Pompeo on Thursday.
"I urge you to vote 'Yes' to confirm President Trump's nominee for Secretary of State, Mike Pompeo," Brooks wrote. "I have personally known Mike Pompeo since he and I came to the U.S. House of Representatives in 2011. I have great respect for his judgment and abilities. His reputation is impeccable. Mike was first in his class at West Point and has served honorable in the U.S. Army, U.S. House of Representatives, and as Director of the Central Intelligence Agency."
Brooks went on to remind Jones that he pledged to be bipartisan and avoid partisan obstructionism during his 2017 campaign, and said a vote in the affirmative for Pompeo would be a way to fulfill that pledge.
Read the full letter: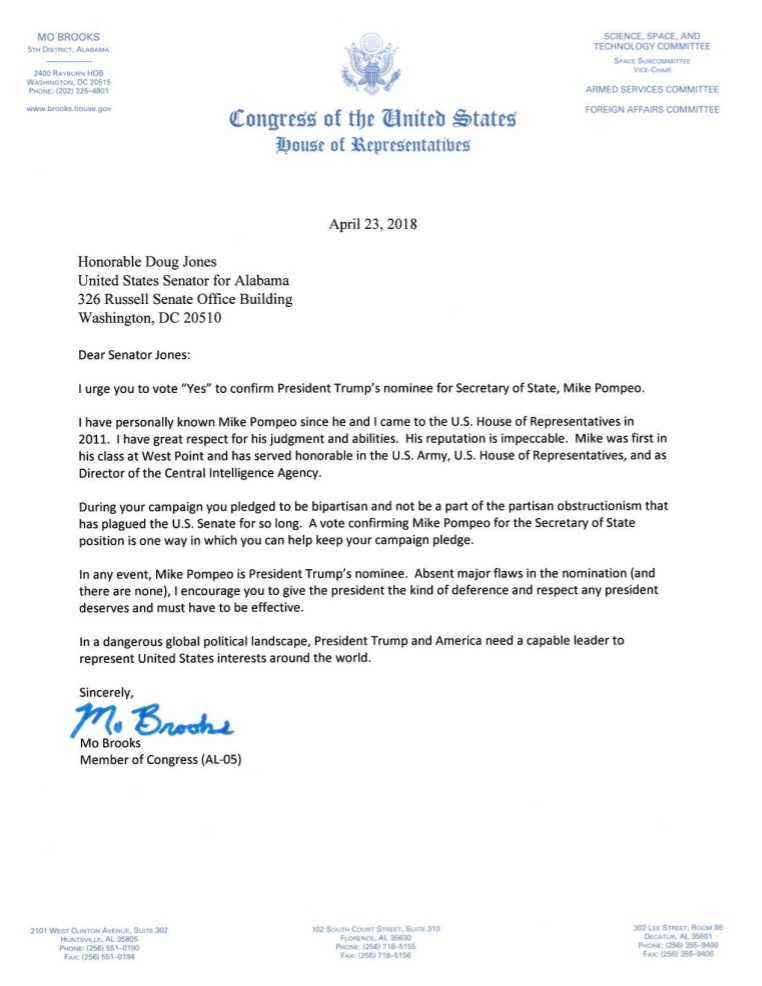 @Jeff_Poor is a graduate of Auburn University and is the editor of Breitbart TV.