Learning about the democratic process is important, even at a young age. Because of this, Milo's Hamburgers has teamed up with local schools to educate children on how voting works. The initiative, called Milo's Civics, is a fun, nonpolitical, interactive program going on through the month of November.
The 30-minute program, which can be in-person or virtual, allows students to learn about democracy and voting requirements; hear from local city leaders and SGA representatives on the importance of elections; and participate in hands-on activities to reinforce the lesson.
So far, Milo's has worked with elementary students and Girl Scout Troops in Tuscaloosa, Prattville, and Montgomery to teach them about the election process through a variety of activities that encourage them to ask questions and get excited to vote one day. Both Mayor Walt Maddox of Tuscaloosa and Probate Judge J C Love of Montgomery have participated in the program by speaking about the importance of voting and the election process.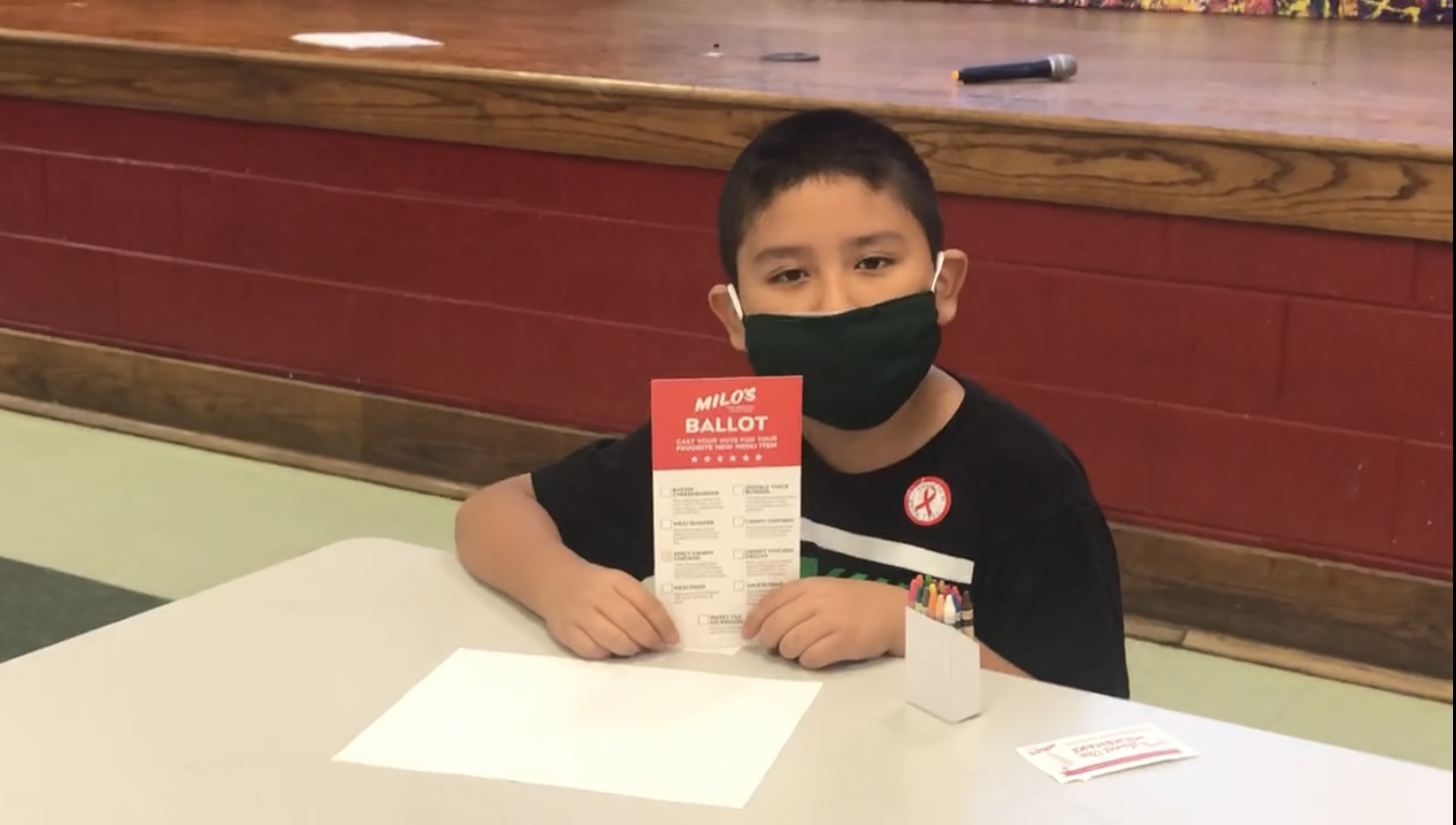 Political parties are explained via "Team Chicken" and "Team Burger." Children even get to practice "voting" in a primary and general election for the best Milo's menu item. A sample ballot includes nine "saucy" candidates that are proposed Milo's menu items. Children will get to see that their vote actually matters, as they'll be choosing which new menu items become regulars. Candidates include a spicy chicken sandwich, Mexi Burger, loaded fries, and more.
"With election season in full swing, we wanted to figure out a fun way to get the community involved with the launch of our new menu items," says Mary Duncan Proctor, marketing director of Milo's. "We know Alabama teachers are counting on local businesses like Milo's to live out our mission to give 'a little something extra' even amid challenges during COVID-19. By allowing students to vote in the Milo's election, we hope one day each of them will vote in many elections to come."
But the fun isn't just for kids. Adults also can cast their vote for the new Milo's menu here and receive a coupon code to try the burger chain's new Sweet Tea Shake for free. Physical ballot boxes and the new menu items can be found in Milo's locations in Tuscaloosa, Montgomery, and Prattville.
An Alabama staple since 1946, Milo's has always been involved in its local community and continues to do so through programs like this.
Julia Sayers Gokhale is a writer and editor who has been working in the lifestyle journalism industry since 2012. She was Editor in Chief of Birmingham Magazine for five years and is now leading Yellowhammer News' lifestyle content. Find her on Instagram at @juliasayers or email her at [email protected].
Don't miss out!  Subscribe today to have Alabama's leading headlines delivered to your inbox.