As school starts this week across Alabama, thousands of students will walk through the doors with a new point of view. These kids will see the world differently because many of them are fundamentally different people than they were when school ended last May.
Two weekends ago, 16,000 students (a conservative estimate) ranging from junior high to college age packed the Birmingham–Jefferson Convention Complex to attend Motion 17, a youth conference hosted by Church of the Highlands.
The conference was first launched in 2009 with the idea that if kids want to truly trust Christ with their lives, the church wants to equip them with the tools and inspiration to put their faith in motion in the real world, outside of the church setting. Since that time, some 48,000 students from 38 states and nearly 1,500 churches have attended the annual summer conference.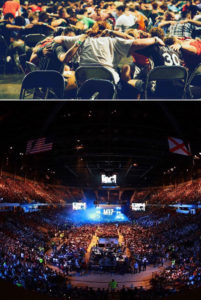 At this year's gathering, music was provided by the church's worship team as well as artists like Hillsong United, Elevation Worship, and Lecrae. Speakers included Church of the Highlands' founding pastor Chris Hodges, Hillsong's Christine Caine, and Rich & DawnChere Wilkerson to name a few.
One of the event's speakers, Highlands' Students and College pastor Mark Pettus, spoke with Yellowhammer and stressed that Motion's purpose is not merely to put on a great program. The goal, he explained, is to equip students with a clear understanding of the transforming power of the Gospel and what that looks like in their daily lives when they return home following the excitement of the conference. Reflecting on this summer's gathering, Pettus said:
It was an amazing moment with God. I know students' lives were touched and changed. What we're most excited about is how they go back to school and live that out. The goal is never just to have a great event. The goal is to awaken a generation.
There's little doubt that thousands of these young people will enter the school year with a new understanding because of the change that occurred in their hearts. And it's the hope and prayer of all the staff and volunteers who hosted this event that these students will put that faith in motion.
Don't miss out!  Subscribe today to have Alabama's leading headlines delivered to your inbox.