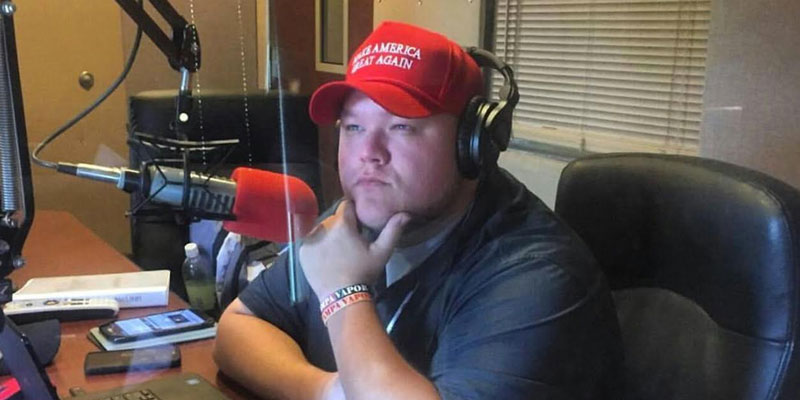 The words "safe space," "entitled" and "protest" increasingly and almost inextricably are associated with the millennial generation. Reports of violent protests on college campuses and the suppression of free speech and opposing views have become routine and cause many to ask how these young adults will ever function in real world settings.
However, despite the negative news surrounding millennials, there are leaders, game changers, visionaries and strong men and women that have managed to rise up from a generation of incompetence and entitlement. Andrew McLain is one of those leaders. As the host of "The Line," a mid-day talk show on Superstation 101 WYDE, McLain discusses the daily local, state and national headlines from a conservative viewpoint.
By speaking out against the very things a majority of his generation supports, McLain is changing the way listeners look at millennials.
McLain's young, conservative voice is a refreshing change of pace from the all-too familiar cries of protest typically heard from the millennial crowd. "'Be the change you wish to see. That is what I believe and that's what I'm trying to do here,'" McLain says of his show. "I get on the radio every morning and stand up for what's right. Every belief is based in God and country, the very things our forefathers built this country on." 

McLain, who was born and raised in central Alabama, arrived at Superstation 101 in the summer of 2016 and quickly cemented himself as worthy of broadcasting from the 100,000 watt station that covers both the Birmingham and Huntsville markets. "I've been a listener of Birmingham talk radio since I can remember. A lot of the men and women I work with now are the same people I grew up listening to. So it is somewhat surreal to be here amongst the legends."
In a medium dominated by older names and personalities, McLain makes a name for himself and offers hope that conservative values have not been abandoned completely by the next generation.

Perfecting a balance of humor, conservative values and the truth behind the news, McLain has managed to develop a show that will not only engage and inform his listeners but will leave them wanting more. "In radio they always say you've got to entertain first and inform second, so we definitely strive to do both of those things efficiently," McLain explains. "But at the end of the day, it's about connecting with our listeners and standing up for what's right."
With the support of Superstation 101's parent company Crawford Broadcasting, whose foundation is rooted in the principals and truths of God's Word, Andrew's passion to make a difference is reflected in his own words: "It's important that people see and understand that there are informed, intelligent and well-rounded men and women in my generation. Sometimes it feels like you're fighting against a definition that has, in some ways, been well deserved. But I'm determined to make a difference behind this microphone and not just for conservatives but for millennials."
"The Line" with Andrew McLain can be heard on Superstation 101 WYDE weekdays from 9:00 A.M to 11:00 A.M. Central Time, on 101.1 FM, 95.3 FM, and 1260 AM.