With more than 23 million acres of timberland in Alabama driving a $28 billion industry, proper forest management is an essential element of the state's economic policy.
Seven members of the Alabama Legislature gained first-hand experience last week in carrying out one of the most important parts of managing the state's forests: the controlled burn.
As part of an event hosted by the Alabama Forestry Association (AFA), and labeled as a "Legislative Learn and Burn," industry officials instructed the legislators on the need to burn and how to safely go about the task. The seminar concluded with members having the opportunity to try their hand at burning a small stand of pines at Little River State Forest.
The seminar was part of the association's "Woods to Goods Week" activities.
Among those in attendance were State Sens. Larry Stutts (R-Tuscumbia), Clay Scofield (R-Guntersville), Steve Livingston (R-Scottsboro), Donnie Chesteen (R-Geneva), Garlan Gudger (R-Cullman), Will Barfoot (R-Pike Road) and Andrew Jones (R-Centre).
Stutts, who serves as chairman of the Senate Agriculture, Conservation and Forestry Committee, emphasized to Yellowhammer News the contribution the state's vast timber reserves make to Alabama's economic well-being.
"The majority of the land in our state is in trees," Stutts explained. "It's a renewable resource and a vital part of our economy."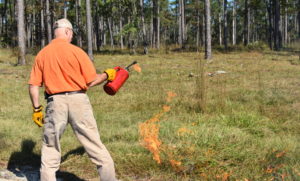 The timber industry is responsible for 49,000 direct jobs and 131,000 indirect jobs, according to AFA president Chris Isaacson.
Isaacson spoke about numerous companies which are looking at building forest products facilities in Alabama and what they need for their operations.
"The number one criteria is sufficient wood supply," remarked Isaacson. "That's the first thing that they start with: an analysis of the availability of timber in a particular area. Our industry is uniquely tied to the raw material that fuels it."
He said that typically there is a 60-75-mile radius around every mill supplying the necessary wood.
"You've got to take the industry to the wood," asserted Isaacson.
Isaacson outlined the economic impact on communities across the state when trees are grown by Alabama landowners, harvested by Alabama loggers, delivered by Alabama truckers, processed at mills by Alabama workers, and then consumed across the country.
"At every cycle of that supply chain, that revenue that is generated by each of those people cycles back through the community at every step," Isaacson said. "All of that starts with raw material."
The agency tasked with protecting that raw material is the Alabama Forestry Commission (AFC). Created in 1924, its primary mission is to protect forests from fire, insects and disease. AFC is also charged with managing forest land and educating the public and policy makers.
Rick Oates, who serves as Alabama State Forester, highlighted his agency's role in deploying across the state to combat fires in forested land.
"When Alabama has a fire going, our guys are out there fighting those fires," he said. "They will drop anything else and get out and fight the fires."
Approximately 180 certified wildland firefighters are employed at the AFC, according to Oates.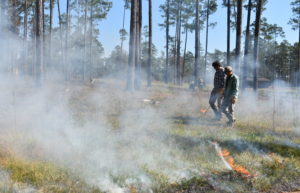 And AFC officials underscored repeatedly that "fire beats fire."
They explained that the benefits of controlled burns include improving wood quality, promoting plant diversity, controlling insects and disease, and improving wildlife habitat.
In addition, reducing the fuel located within the state's forests can limit damage from uncontrolled fires. It is a lack of frequent, low-intensity fire which leaves pine stands unhealthy and at risk for catastrophic fire.
For Alabama's economy, that is a dangerous proposition.
The state has the third most timberland acreage in the 48 contiguous states, behind only Georgia and Oregon. It has gained timber volume at a higher rate than most all other Southeastern states. From 2001 to 2019, Alabama enjoyed a 37.3% increase in timber volume.
Alabama is second in pulp production and second in paper and paperboard production.
With so much at stake, Stutts believes Alabama is well-positioned to grow its timber industry.
"As far as the future, we're in better shape now than we've ever been because of forestry practices and because of replanting and the plan that the state has," he noted.
Stutts sees the fires out West as a lesson for how not to manage forest resources.
"Look no farther than California," he stated. "A sensible plan makes all the difference. The overall most important thing is to manage the forests where they can be profitable for the state."
In the midst of continuing wildfires, California has been criticized for its refusal to prescribe preventative burns.
The policy against preventative burning is one championed by California's radical environmentalist movement and one in which Stutts does not agree.
"Controlled burns are an important part of the plan for timber and wildlife," he concluded. "Controlled burns revive our forests by making them much more desirable for wildlife and creating greater sustainability for our timber."
Tim Howe is an owner of Yellowhammer Multimedia
Don't miss out!  Subscribe today to have Alabama's leading headlines delivered to your inbox.