Pipes and roadways have frozen plus air travel is a mess. Thoughts of sugarplums have passed.
Now visions of warmer weather, sunset watching, and the lake home lifestyle are dancing in peoples' heads.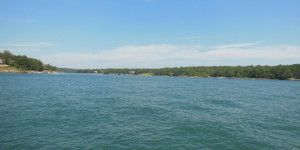 The analysts at Lake Homes Realty, the country's largest lake real estate brokerage, have reviewed more than 50 million pageviews on LakeHomes.com and searched available inventory to determine the 2023 Hot Lakes List for real estate.
Lake Martin is No. 5 and Lewis Smith Lake is No. 8 in pageviews on LakeHomes.com, the brokerage said.
Alabama is third, behind Texas and Tennessee, on the list of "top states searched" for lake properties.
"While lake homes are appealing across the country, lakes in South Carolina, Georgia, Oklahoma, Alabama, and Tennessee made up the Top 10 lakes for pageviews on LakeHomes.com in 2022," said Glenn S. Phillips, CEO and lead economic analyst for Lake Homes Realty. LakeHomes.com features more than 6,600 lakes across the country.
"For the second year in a row Lake Hartwell along the Georgia and South Carolina border had the most pageviews and tops the 2023 Hot Lakes list," said Phillips. "Texas topped the list for most pageviews by state, followed by Tennessee, Alabama, Georgia, South Carolina, and New York.
"LakeHomes.com typically experiences a spike in searches for lake homes after Christmas and at the start of the New Year."
He expects the searches for lake homes and lots to increase as spring approaches.
"To help determine the Hot Lakes for 2023, we reviewed statistics from the more than 50 million pageviews in 2022 and looked at current listings for lake homes and lots for sale across the country," said Phillips.
Lake Martin – One of the largest man-made lakes in the country, Lake Martin covers 44,000 acres in east Alabama and has 750 miles of wooded shoreline. Lake Martin is known for its clear water and is ideal for boating, swimming, fishing, and water skiing. In 2022, Lake Martin had 630,524 pageviews. Lake Martin currently has 203 lake home and lot listings.
Lewis Smith Lake – Located an hour north of Birmingham, Smith Lake is ranked among the three cleanest lakes in the country, reaching depths of 264 feet. Smith Lake covers 21,000 acres and has more than 500 miles of shoreline. This lake welcomes all watercraft types and has no speed limit, besides the no-wake areas. Smith Lake had 611,150 pageviews in 2022 and ended the year with 639 listings.
The 2023 Hot Lakes list was compiled from more than 50 million pageviews on www.LakeHomes.com between Jan. 1 and Dec. 20, and compared with the current lake home and lot listings on the website as of Dec. 28. Listings from 145 MLS areas in 34 states served by Lake Homes Realty are featured on LakeHomes.com.
Don't miss out!  Subscribe today to have Alabama's leading headlines delivered to your inbox.