In good news for Alabama's economy, the state's labor force participation rate of 57% for July matches the rate of this time last year, the Alabama Department of Labor reported today. Also, the July unemployment rate dropped to a record low of 2.1%.
"Alabama continues to set economic records," said Labor Secretary Fitzgerald Washington. "Not only did we maintain our streak of setting employment records, we also saw yet another decrease in our unemployment rate, bringing us to a record low of 2.1%."
Washington said a key turnaround has been in the hospitality industry.
"Another bright spot to note this month is the recovery of the leisure and hospitality sector, which was hit especially hard by the pandemic," he said. "In July, this sector came within 300 workers of reaching its previous (and pre-pandemic) record high of 213,700 workers.
"That's certainly an amazing turnaround in that industry."
The "prime-age" participation rate, which measures the labor force participation for individuals aged 25-54 is 77.8% in Alabama.
As for the unemployment rate, July's rate is below last month's rate of 2.2%, and below July 2022's rate of 2.6%. The rate represents 48,834 unemployed people, a record low, compared to 50,377 in June and 59,409 in July 2022.
The number of people counted as employed increased by 28,382 over the year to a high of 2,258,166. The civilian labor force also reached a record high of 2,307,000, with 17,807 more people joining the labor force over the year.
All 67 counties experienced a stable hold or decrease in their unemployment rate over the month and over the year, the department said.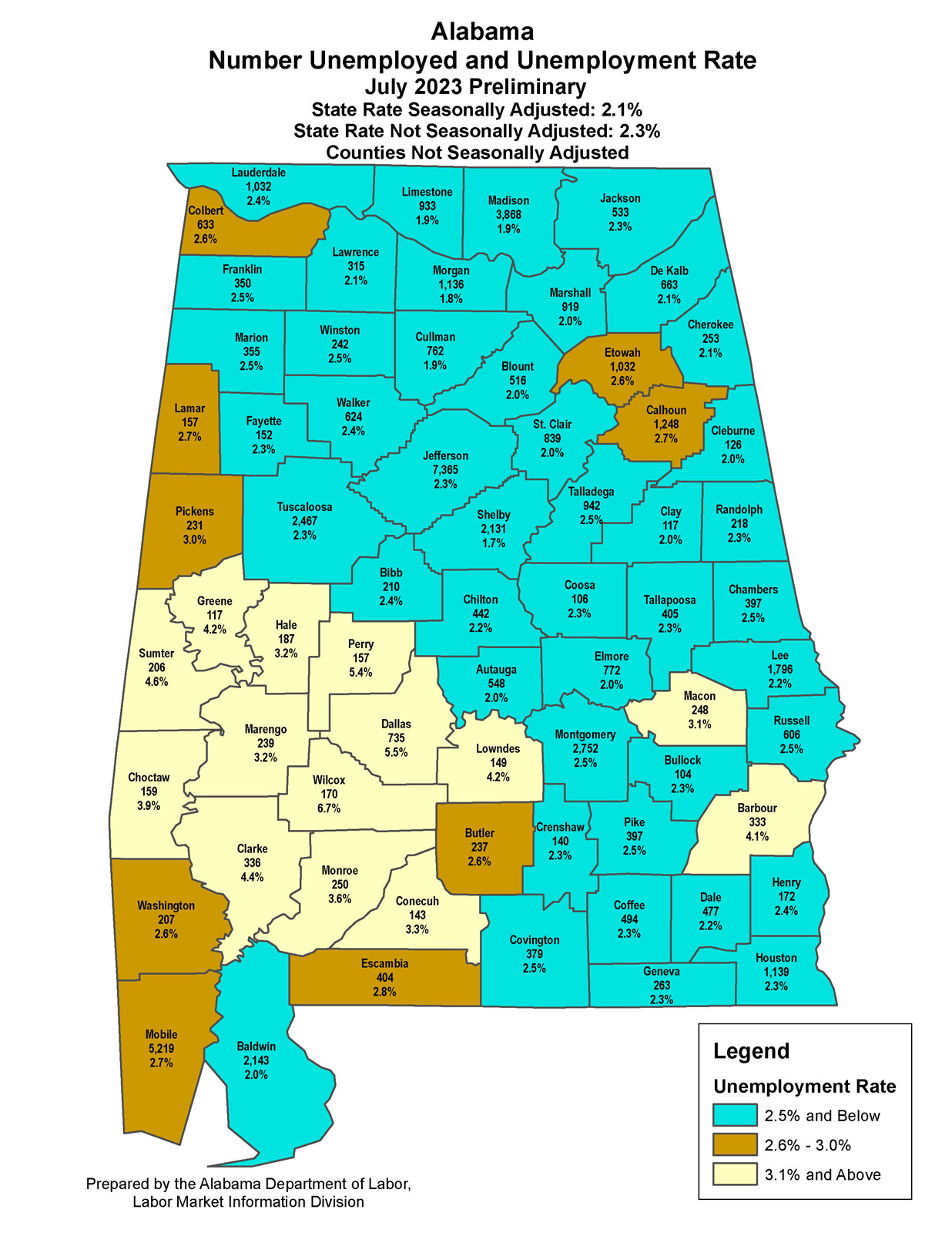 Austen Shipley is a staff writer for Yellowhammer News.
Don't miss out!  Subscribe today to have Alabama's leading headlines delivered to your inbox.