Kay Ivey lauds Shaw Industries $250 million upgrade at Andalusia ceremony
ANDALUSIA — For the last few decades, manufacturing has been on the decline in Alabama. This trend is especially true when it comes to textiles in the southern portion of the state.
Dalton, Ga.-based Shaw Industries officially bucked that trend with a formal announcement on Wednesday that the company was putting $250 million into its Andalusia carpet manufacturing facility. That investment includes technology upgrades with an anticipated completion date of 2020.
On hand for the announcement was Gov. Kay Ivey, local Covington County and City of Andalusia leaders, along with executives from Shaw Industries.

Ivey, who has mastered the art of economic development ribbon-cutting ceremonies since becoming Alabama's governor in 2017, touted the elements that have made announcements as such as the Shaw Industries possible.
"When we talk about building on success and momentum, this is how it is done," she said. "We share with our companies an unparalleled workforce, a favorable business climate, and we work with those companies that choose to be Made in Alabama, We show them if they choose to be Made in Alabama, they can expect excellence."
"Today, we're not only celebrating a major investment of some $250 million here in the state of Alabama — we're celebrating a facility that has grown, been successful and will find even more success in the future. This $250 million investment on this facility took teamwork. In fact, everything the Ivey administration does is a team effort. I'm proud of that."
Among those Ivey recognized were Alabama Department of Commerce Secretary Greg Canfield, Andalusia Mayor Earl Johnson, Covington County Commission president Greg White and the two members representing Andalusia in the state legislature, State. Sen. Jimmy Holley (R-Elba) and State Rep. Mike Jones (R-Andalusia).
"To our friends at Shaw, we thank you for continuing to do business in the great state of Alabama," Ivey added. "Thank you for investing in the development of our workforce. And thank you for participating in Made in Alabama. You're a great team and do great work. And I am confident that I'll be back here pretty soon, not too long — and we'll have another celebration for another expansion."
Andalusia Mayor Earl Johnson called it a "red-letter day," and noted the local utilities that helped make Shaw's expansion feasible.
"This is a red-letter day for Andalusia and Covington County, and by red-letter, I mean a good day," Johnson said. "It has truly been a team effort that has gone over the course of a year. [Plant Manager Ron Fantroy] asked me if I could come out and speak with him one afternoon about a year ago. He said, 'Mayor, we're thinking about expanding, the leaders of our company, investing $250 million in our plant here. And I just wanted to know, would you be willing to help us with that.' And I said, 'Is that a trick question?'"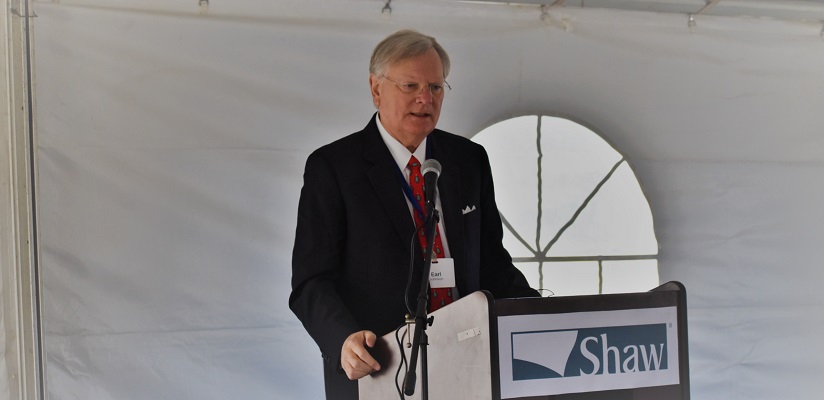 Johnson also credited PowerSouth Energy Cooperative, Southeast Gas and the Covington County Economic Development Commission for help in pushing the investment "across the finish line."
Covington County Commission president Greg White noted that the size of the investment signaled the company intends on having a presence in Andalusia for the long-term.
"I can't overstate how proud we are to have smart, sustainable, surging, advanced manufacturing operations in our county like those that Shaw offers and is now committing to for the long term," White said. "When you make a quarter-of-a-million dollar investment in the community, you're here to stay, and we're thrilled about that."
In comments to the media following the announcement ceremony, Ivey emphasized the importance of the economic initiatives for the rural parts of the state.
"Rural Alabama is very special to me for a lot of natural reasons, but it's most important because we get more of our people employed and they can better care for themselves and their families. So yes, industries like this and towns like Andalusia are very important."
Shaw Industries Executive Vice President David Morgan explained to Yellowhammer News why Andalusia was chosen as the site of his company's expansion and credited the people of the area for Shaw's ultimate decision.
"The technology is changing in this part of our business in the production of fibers and the type fibers that our customers want in the carpets that we produce," Morgan said. "We look at several sites, and we've been working with the technology for about five years, and we looked at this site as one of the potentials to put it. What drew us here was certainly the community, working with the state and the local agencies, the utility cooperation, and primarily the people."
"The people of Andalusia and this facility — it is an excellent team," he continued. "It is very capable of integrating this technology, and we came here to reset this facility rather than move it somewhere else. The people really drew us here. The technology drove us to make the change because our customers were wanting different products."
Long-time plant manager Ron Fantroy said the investment was necessary given the continuous changes in the industry.
"The plant was started in 1982," Fantroy said. "I actually started in 1983 — nine months after the initial start of the facility. Over that period of time, we have seen a lot of change — technology improvements, technology advancements, technology progression and what's happening here is a continuation of that process. From that experience from being here for the past 35-plus years, I have seen where we have undergone major transitions every four-to-five, six years on average."
Fantroy also touted strides the community had made in keeping its workforce on pace with changes in technology.
@Jeff_Poor is a graduate of Auburn University and is the editor of Breitbart TV.