Two pictures of newly elected Jefferson County District Attorney Danny Carr and self-proclaimed Hoover protest leader Carlos Chaverst, Jr. have begun making the rounds, however Carr wants to make it clear that the two are not close.
Chaverst has been the face of protesting in the wake of Emantic "E.J." Bradford, Jr. being shot and killed by a Hoover Police officer at the Riverchase Galleria on Thanksgiving night. The protest leader was arrested Tuesday evening on four misdemeanor counts – three for disorderly conduct and one for loitering – related to his recent activism. Chaverst has also enlisted the assistance of at least two established hate groups in his efforts.
Carr, a Democrat, was elected on November 6 over Republican District Attorney Mike Anderton, who had been appointed to the position by Governor Kay Ivey in November 2017. Carr has since taken office and sent Anderton, a long time assistant district attorney in the county, packing.
While the investigation into Bradford's death and the entirety of the shootings at the Riverchase Galleria are under investigation by the Alabama Law Enforcement Agency's (ALEA) State Bureau of Investigation (SBI), prosecutorial discretion in the case will ultimately fall to Carr.
As a result, questions have arisen after the below pictures of Carr and Chaverst together were discovered, along with the caption that Chaverst added on social media.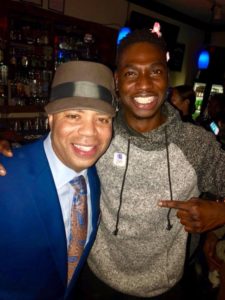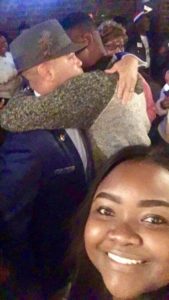 On Instagram, Chaverst wrote the following about the two pictures:
Mannnnnnnnnnnn last night was historic. My brother Danny Carr was ELECTED as the first BLACK District Attorney of Jefferson County. This journey began over a year ago. After it was known that Mr. Charles Henderson couldn't serve as DA, Danny was appointed as Interim DA. That day we launched a campaign asking Governor Ivey to appoint him to the seat until the election. After garnishing thousands of signatures and running an extensive campaign, it still didn't sway her. We knew THEN we wanted Danny Carr elected as DA and that's what we got. What is for you is always for you. #PeopleOverPolitics #RestoringPowerToThePeople
Preciate my sister Sly Kinuthia and my brother Dez Wilson for capturing both moments last night with our new BLACK DA!
In an email to Yellowhammer News, Carr was quick to clarify that the two "aren't friends" and that they have not discussed the ongoing investigation in any manner.
"The photo referred to is a photo taken on the night of the election after I was declared the winner while at an event," Carr wrote.
He continued, "Carlos and I aren't friends. We don't talk very much at all or have casual conversation on the phone. We don't hang out or attend dinner, movies or none of that type of activity. However I know Carlos thru community involvement and neighborhood projects over the years."
Detailing further his relationship with Chaverst, Carr added, "Carlos did not work officially on my campaign, however he may have asked people to vote for me. Carlos did initiate a campaign asking Governor Ivey to appoint me back when the position was open. We have not discussed the death of EJ or the Galleria Shootings."
Carr explained that he was born and raised in Birmingham – specifically in the Ensley area – and that he had been in the Magic City nearly all of his life.
"I understand my upbringing is not typical of most elected officials due to the area that I'm from. However I can assure you that I'm ethical and over the past 17 years I have done nothing but been an upstanding citizen and prosecutor," Carr emphasized.
Sean Ross is a staff writer for Yellowhammer News. You can follow him on Twitter @sean_yhn